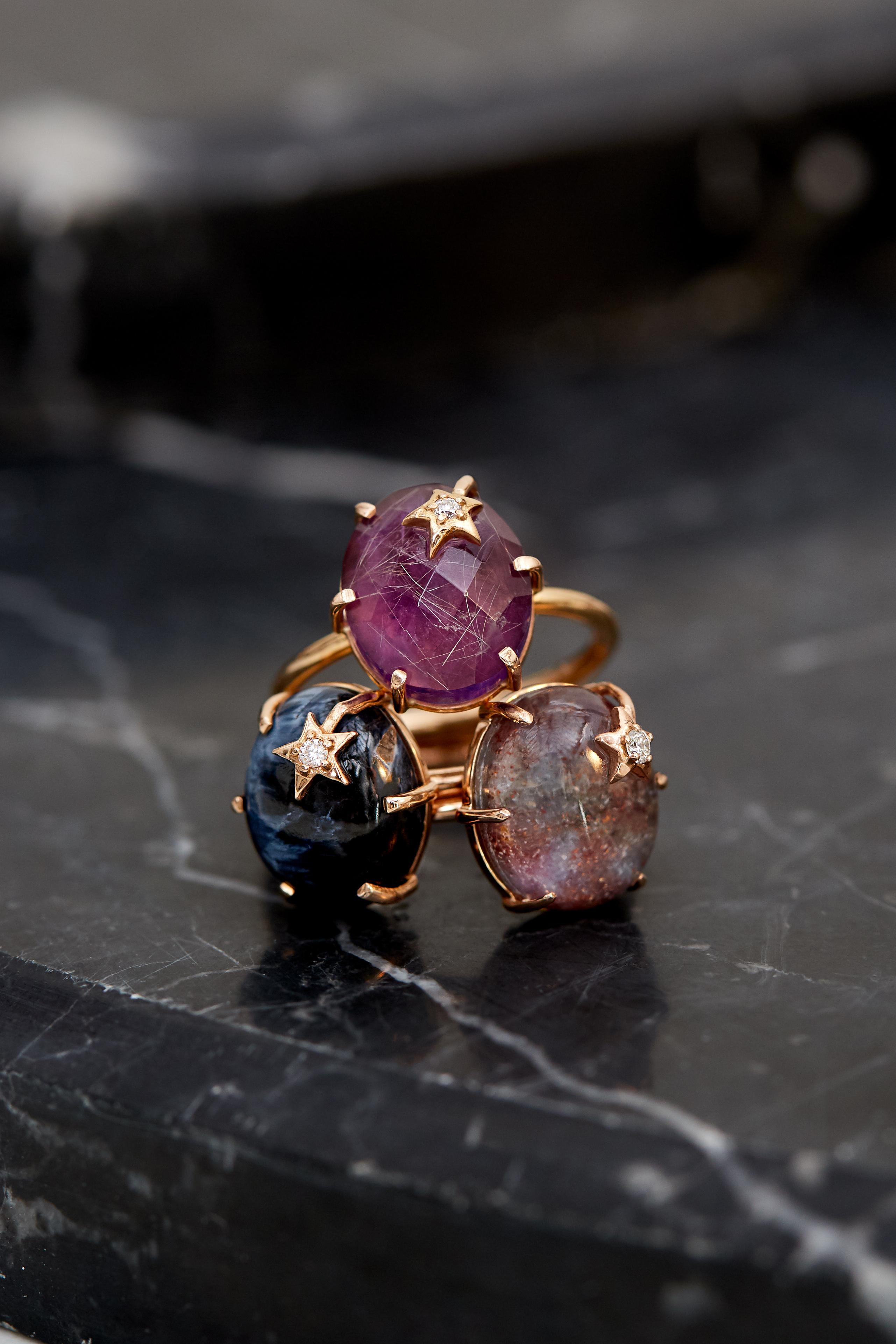 Rules of Engagement
The Liberty Guide to Healing Stones
Far more than just pretty gems, Team Liberty and jewellery designer Andrea Fohrman discuss their favourite stones and the healing potential they hold.
Shop Healing Stones
By: George Elliot
Creating celestial-inspired collections from stones charged with magnetic forces, LA-based jewellery designer Andrea Fohrman's dreamlike pieces are as powerful as they are pretty. As we enter a season of restoration, Fohrman and Liberty shed light on the healing properties of some energising stones – a naturopathic approach to resetting body and mind.
For centuries, rose quartz has been seen as the stone of joy, emotional healing and unconditional love. Available in hues ranging from pale to hot pink, it's also thought to promote feelings of peace and comfort while cleansing you of any tension, stress and anger. Ideal for attracting new love and developing stronger bonds with family and friends, it's usually worn close to the heart for its soothing vibrations.
Shop Rose Quartz Jewellery
Long associated with luck and magic, there are other benefits to wearing opal, according to Fohrman. "There are so many different versions of Opal from all over the world and each has its own beautifully unique colouring and rainbow effect in the background," say Fohrman. "Opals have fiery metaphysical characteristics and bring out one's inner passion and spontaneity. It is said Opals help with creativity and originality. It is also said that Opals help with fighting infections inside the body, along with memory repair inside the brain."
Instantly recognisable and an essential for every crystal collection, amethyst is believed to be a calming stone, the kind that quiets the mind and aids with sleep. Often used to deepen connections with the self and to tap into your intuition, it's worn to help bring inner peace, relaxation and a higher state of mind.
Considered to be an amulet that can protect against negative entities, Malachite is another stone Fohrman recommends investing in. "I like to work with Malachite because it always astonishes me that something so unique and beautiful comes from the earth. I love collecting one of a kind pieces, and also have specially cut stones made in India to go along with my celestial theme," Fohrman says. "Malachite is one of the most healing gemstones and also has the ability to help cleanse your soul and bring transformation from within. That's why I like to gift Malachite to my friends in need of healing energy and improved health."
Known for bringing wisdom and self-expression, Lapis Lazuli is another of Fohrman's favourites. "Because I'm always drawn to colour, there is nothing quite as pure as Lapis Lazuli. It is also one of the oldest known gemstones," she explains. "The cobalt blue colour is rich and smooth but what really attracts me to the Lapis are the natural gold flecks inside it. The power of Lapis is very strong; insight, truth and awareness are all the healing properties of this gemstone."
Shop Lapis Lazuli Jewellery