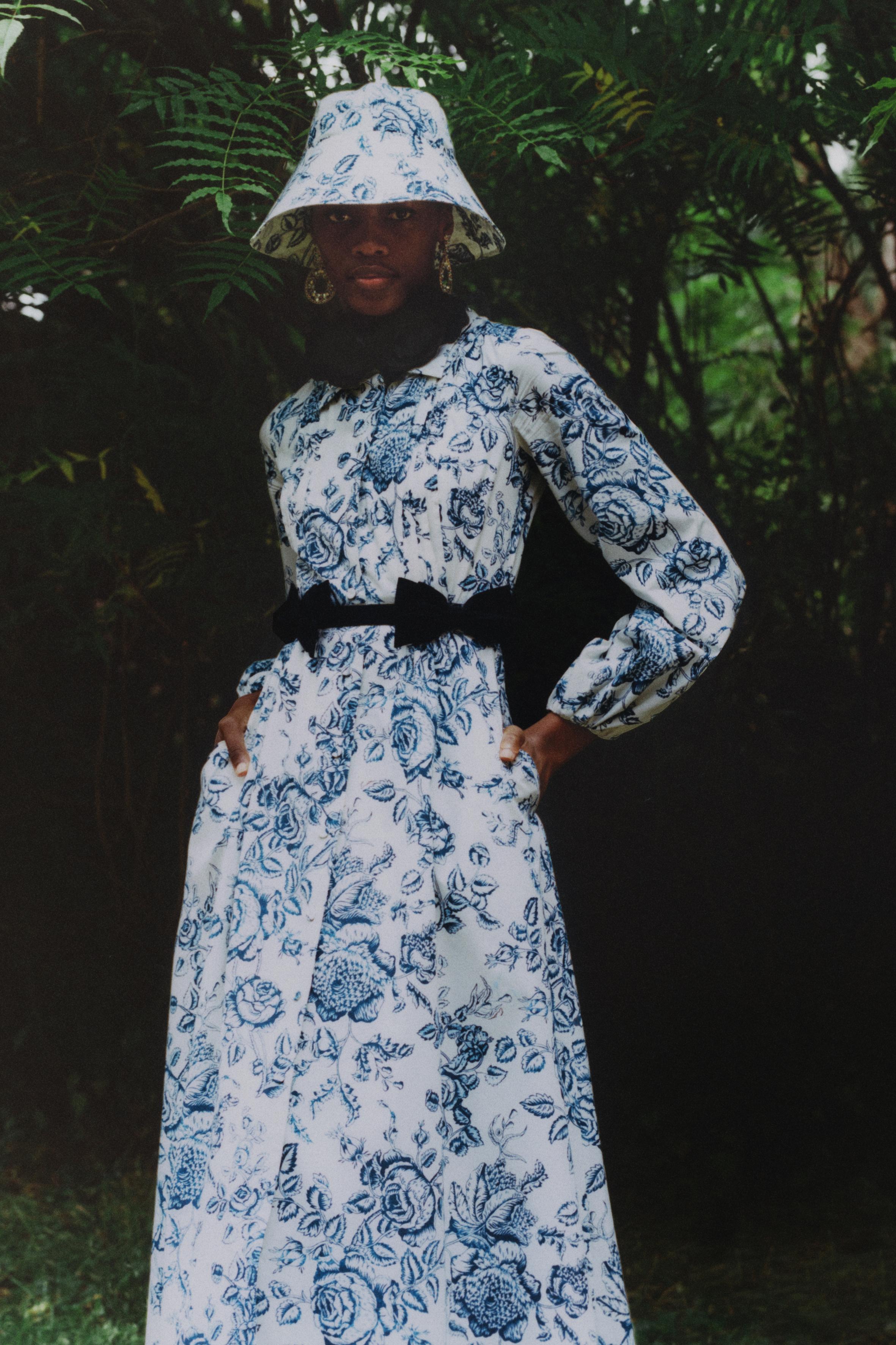 The London Librarian
Erdem Moralıoğlu
London-based designer Erdem Moralıoğlu pieces together stories from those who walked the city's streets before him, transforming historic narratives into romantic accessories and ready-to-wear for the modern woman
Shop Erdem
By: Team Liberty
To Erdem Moralıoğlu, London is an expansive library – housing a never-ending catalogue of multi-generational stories, ready to be devoured, contemplated, and then retold through silk, lace and tulle. "When I start a collection, I need that narrative to propel me forward in the creative process," says the Montreal-born, London-based fashion designer. "So many of these narratives have to do with London."
Moralıoğlu moved to London 20 years ago to study at the Royal College of Art and started his own line - Erdem - in 2005, shortly after winning the Fashion Fringe competition for young designers. "I had spent a lot of time in the UK as my mother was British, so half my family is here - but in the Midlands," he recalls. "London was always where I dreamt to live… I imagined wandering through the Victoria and Albert Museum and dancing until the sun came up in Soho. In a way, it's exactly as I imagined but more than that, it became my home." Home today is Bloomsbury, but his studio is situated in the East End; occupying a historic Victorian loom with imposing windows that were once used to haul swathes of fabrics in and out of the building.
When I start

a

collection, I need that narrative

to

propel me forward

in the

creative process. So many

of

these narratives have

to do

with London.
The signature Erdem pieces that come to life there are a romantic testament to their poetic maker; fil coupe floral dresses, hand-embroidered evening wear and high neck Victoriana that both echo the past and mirror the now. This contradictory 'tension' is Moralıoğlu's driving force, a push-and-pull he revisits time and time again. "For everything that looks that beautiful there is a slightly darker underbelly to it," he says. "For everything that is feminine perhaps a masculinity to contrast it." It reflects how the designer reads his surroundings: "You only have to walk down the street in London to realise it's a city full of contrast and contradiction. New and old buildings next to each other, different decades fighting for attention... I love London's randomness."
Moralıoğlu's last collection was born from the discovery of an old plaque near to his house, dedicated to Victorian cross-dressers Frederick Park and Ernest Boulton - otherwise known as Stella and Fanny - who lived as 'sisters' in the 1860s. His intense curiosity means he is constantly editing and piecing together the lives and experiences of Londoners before him. "London always has a way of threading itself through my work," he says. "Whether it's a collaboration with the Royal Ballet, looking at Marianne North botanical paintings at Kew, or going through the photo archive of Cecil Beaton at the National Portrait Gallery."
In the rare occasions he's not browsing London's boroughs for the next Erdem chapter, Moralıoğlu can be found taking advantage of the city's gastronomic offerings at The River Café, Brat or St. John. But if he really wants to let his hair down, he'll head to Dukes Bar at Dukes Hotel Mayfair for "the best Dirty Martini". After several, one imagines he writes some London stories that are all his own...