The Summer Store
Statement Dresses that Speak for Themselves
There's a Liberty print dress for every occasion, but don't just take our word for it…
By: Laura Kennedy
As we enter a new season, it can be intimidating to rethink your wardrobe. How can you find that perfect dress for a spring or summer wedding? Which date dress hits the ideal balance between 'effortless' and 'naturally colour but still approachable'? And how do you find that one holiday dress that can do it all? Liberty brings you the essential dresses for spring and beyond.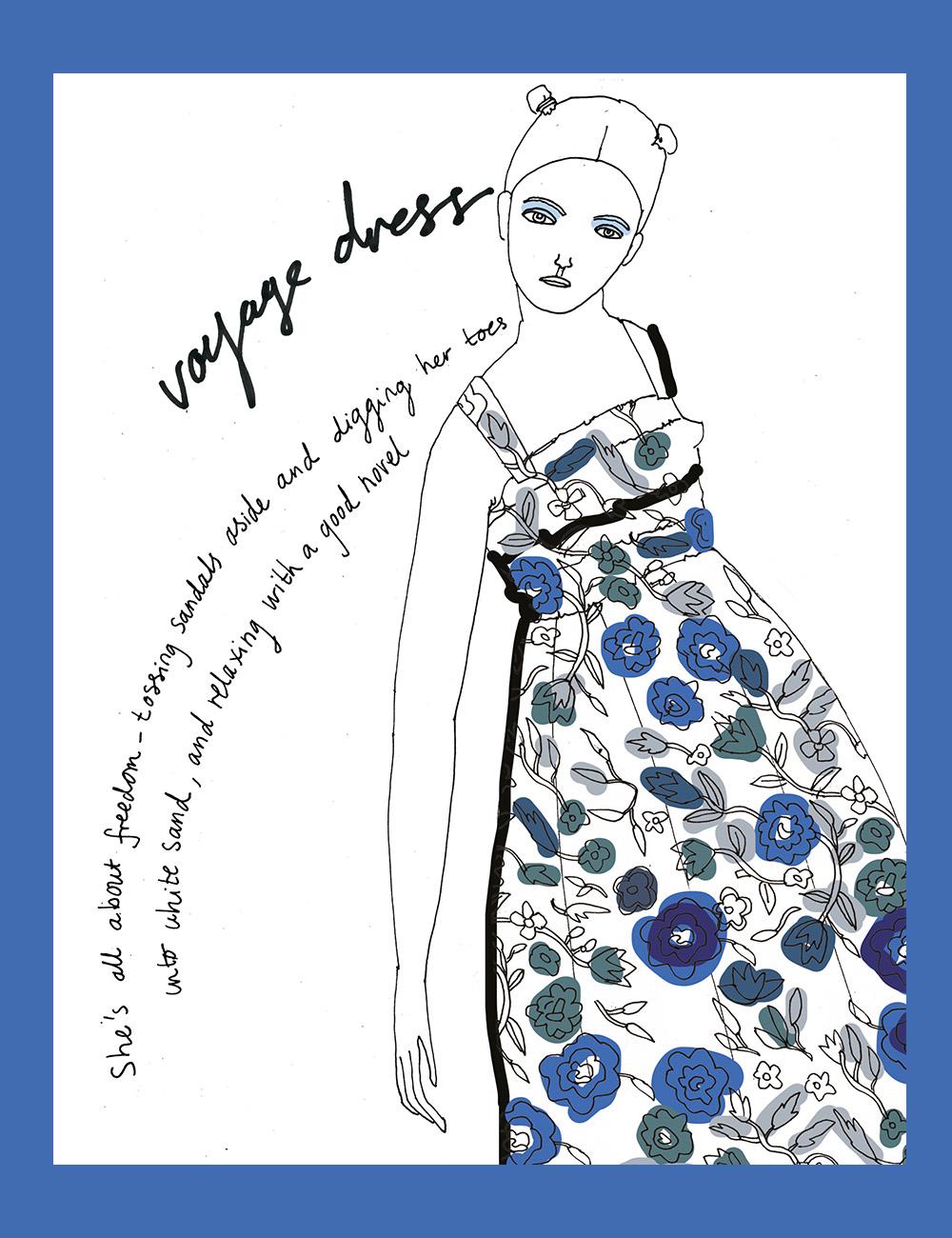 The Voyage Dress
Voyage's spiritual home may be sipping champagne on the deck of a yacht, but if you ask her what she'd really like, she'll confess to preferring something a little more relaxed, like a Pimm's and lemonade. She's all about freedom – tossing sandals aside and digging her toes into white sand, being thrown on over a bathing suit before heading out to dinner and relaxing with a good novel on a sun lounger beneath a parasol. With her smocked bodice, Voyage is always feminine, but she never sacrifices her comfort.
Shop now
The Alfresco Dress
Alfresco is your go-to for any occasion. Whether she finds herself ambling along with a raffia bag on a scenic coastal walk, enjoying a casual country pub lunch or sipping a cortado across from her date (a linen suit) in an upmarket café, she's ready for anything. She's flirtatious with her pleated details and makes a bold architectural statement, but with her Liberty print and fun colour palette, she will stand out no matter the setting.
Shop now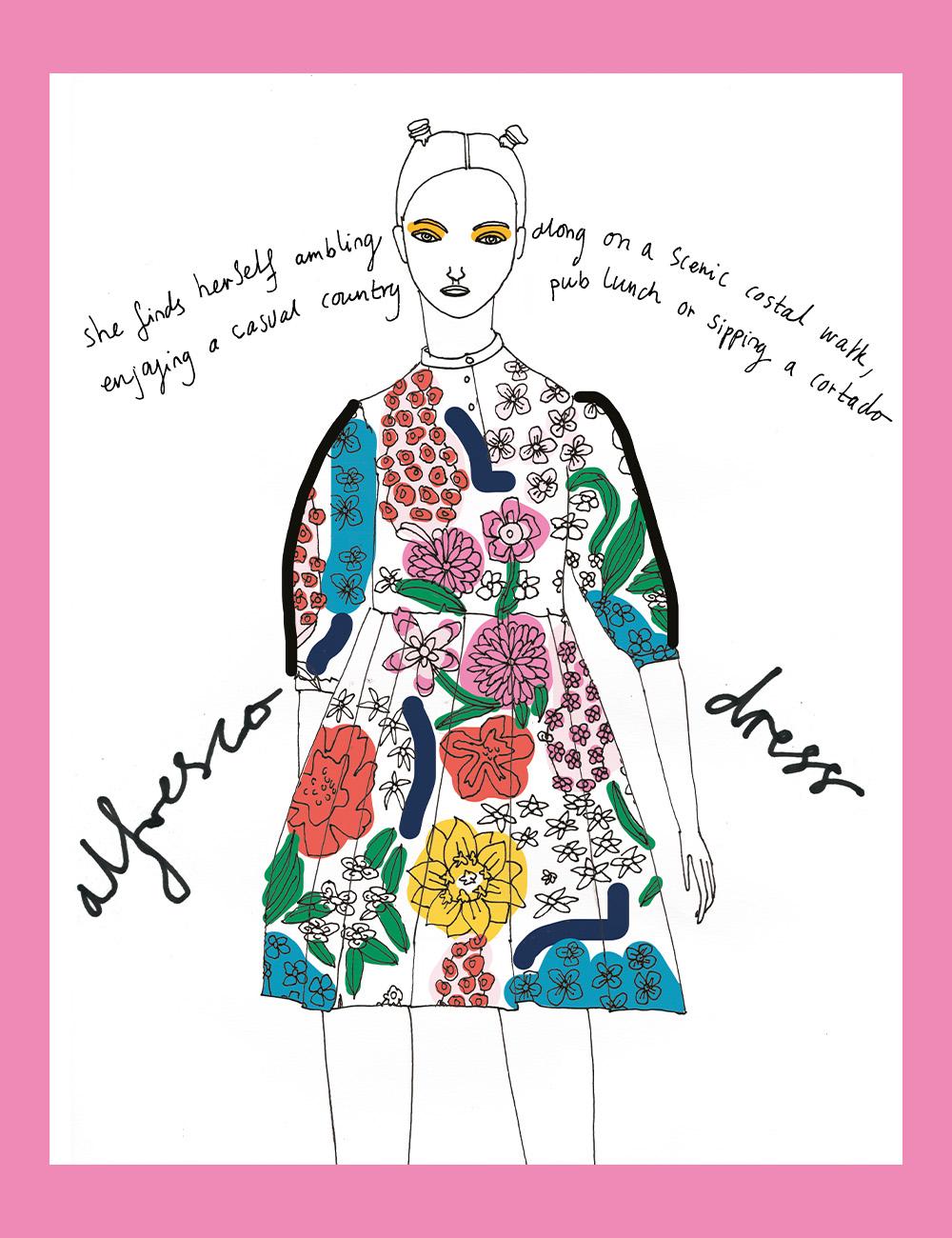 The Poet Dress
If the Poet could spend a day anywhere, she would instantly head to the rose fields of Grasse in the south of France, where the world's most beautiful fragrances are made. She'd picnic among the roses before taking a walk through the flower fields, drinking in the colour and scent. While she loves romance and a whimsical picnic, the Poet also values the ability to move freely. Her soft waisted silhouette, rounded neckline and puff sleeves evoke the romance of a bygone era, but her rich print reveals the strong character within.
Shop now
The Gallery Dress
The Gallery's heroes are Sylvia Plath, Joan Didion and her local librarian. She's the epitome of effortless everyday cool with a playful mix of Tomboy aesthetic and classic feminine cut with her shirred bodice. A natural intellectual, you'll find her looking professional and understated at the office before heading for drinks after work, when her bold Liberty print and easy comfort really sing. She's practical, but never predictable.
Shop now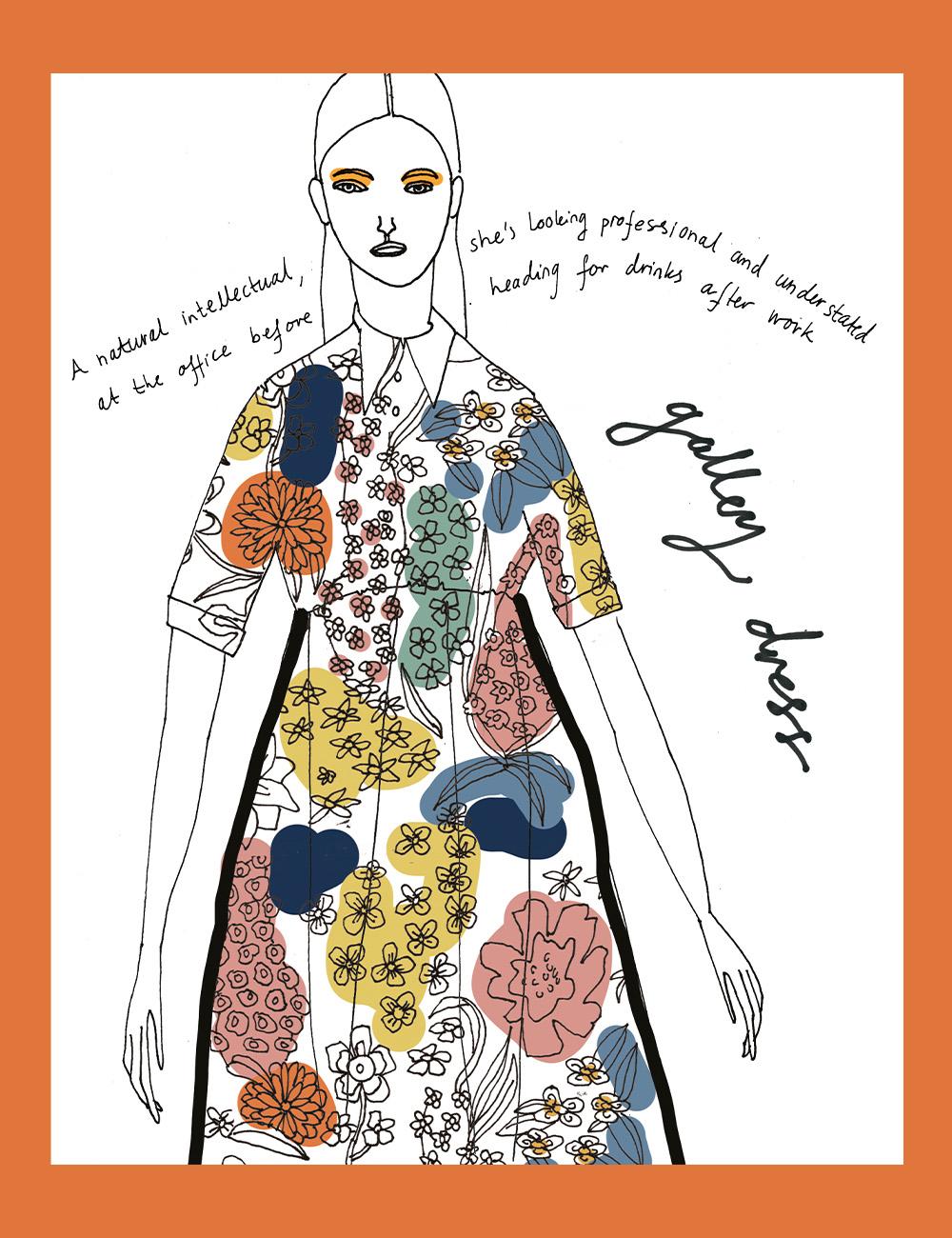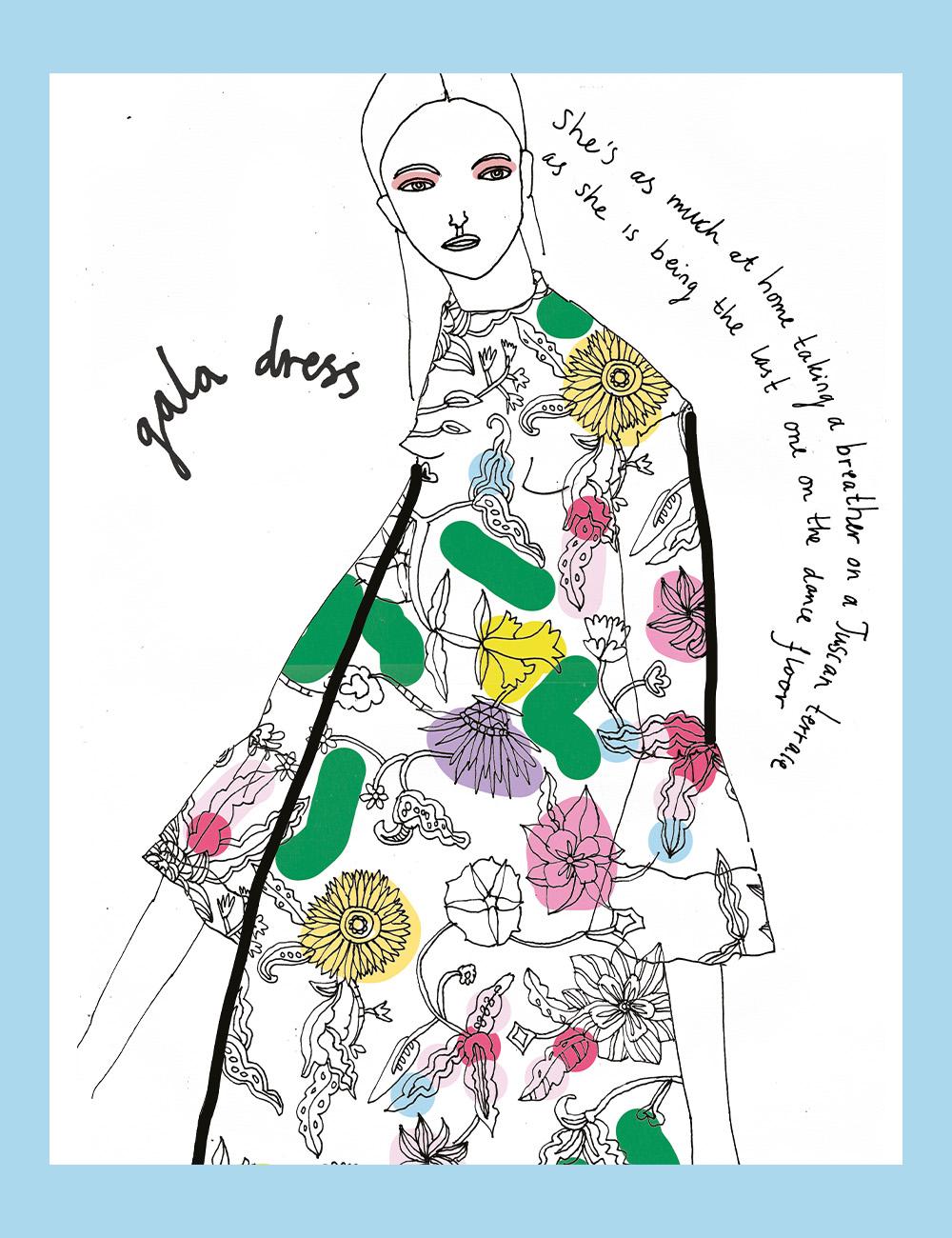 The Gala Dress
Whether she's gently upstaging the other guests at a destination wedding or making a statement at an especially sophisticated party, Gala effortlessly embraces the occasion. Comfortable, easy to wear and elegant while featuring just a hint of 70s-inspired fluted drama, she brings a flavour of Studio 54 to any event. She's as much at home taking a breather on a moonlit Tuscan terrace as she is being the last one on the dance floor at 2am. Gala is the ultimate special occasion dress.
Shop now
Illustrations by Frida Wannerberger