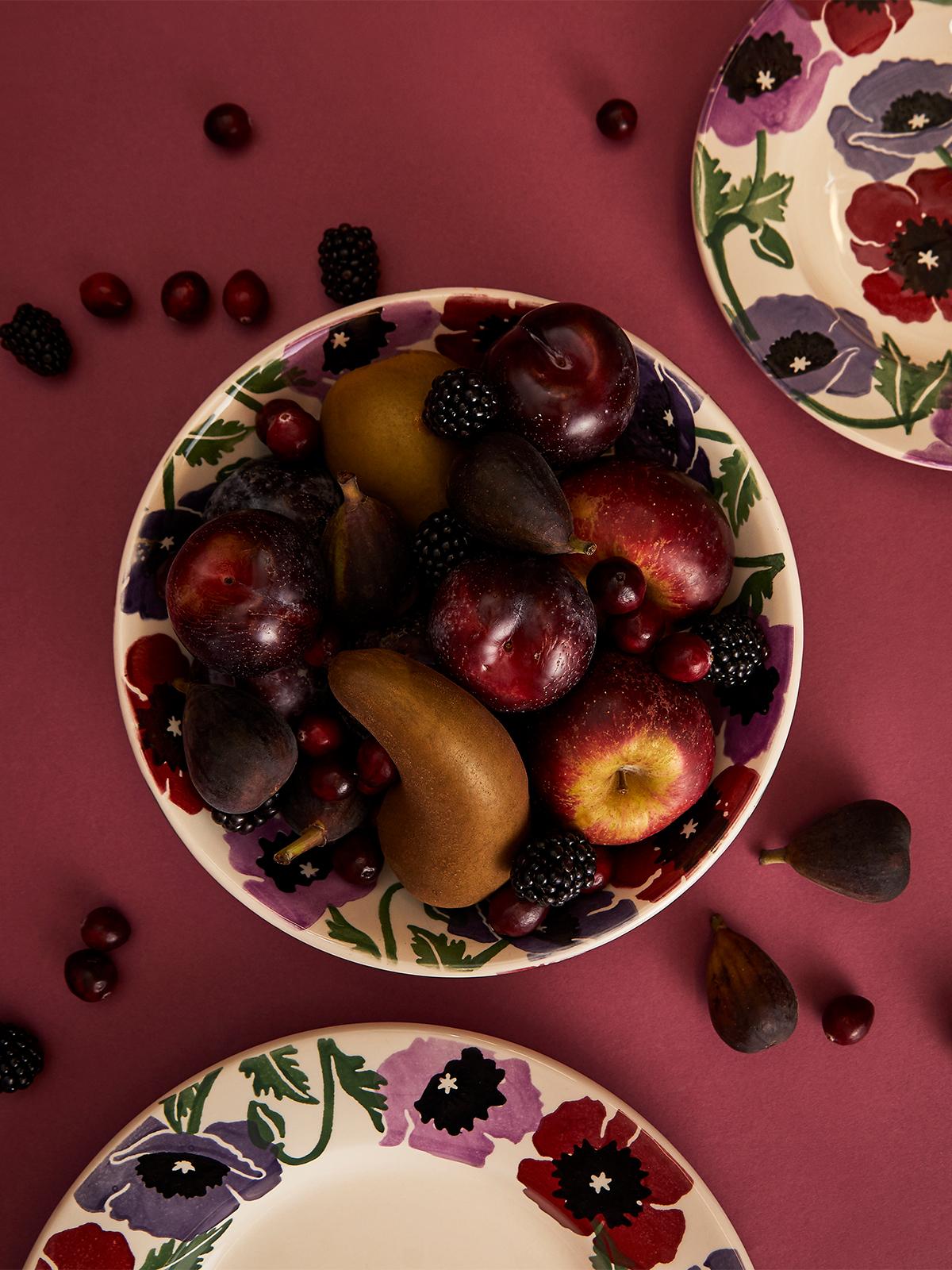 In the Studio
Emma Bridgewater Winter Poppies
Emma Bridgewater's Head of Design talks us through the inspiration and design process behind this year's exclusive Winter Poppies collection
Shop now
Long-time Liberty favourite and leading pottery-maker Emma Bridgewater has been flying the flag for English-made earthenware since her brand's inception in 1985. Still produced in Stoke-On-Trent, Emma Bridgewater pottery continues to inspire the colourful, mismatched kitchens we've come to know and love. Inspired by the rich and velvety jewel tones of Patty's Plum poppies, the new winter collection combines the brand's signature aesthetic with a quintessential Liberty-hued palette. Here, we talk inspiration and design-making with the brand's Head of Design.
Christmas is such a wonderful time of the year to design for. How do you start with your designs, and what helps inspire you?
We kick off our creative process with a brief from Emma herself, which is all about the season ahead and what she believes will be important in our customers lives, drawing on the big influences in the world around us. We always incorporate themes that are central to the brand, such as celebrating our beautiful natural world and health and happiness. These help us to tap into real, heart-felt emotions and experiences and allow us to design meaningful products which we hope our customers will want to hold onto for generations to come – whether that's a piece of pottery, a well-loved tablecloth, or a favourite cake tin!
We

always

incorporate themes that are central

to

the brand, such

as

celebrating

our

beautiful natural world.
What's the story behind this year's exclusive Winter Poppies pattern?
This summer we visited several open gardens around the UK and one garden had an amazing collection of Patty's Plum poppies. Even though these poppies are at their best in summer, the colour palette is so rich and velvety it felt just as relevant for a winter collection, especially for Liberty because of the purple jewel tones.
How do your archives influence current designs?
Emma encourages us to take care of our perennial designs and to springboard off them for our new collections. This means we create products that our customers can add to over time to create their own unique and personal collections.
Each product

we

develop is

a

lovely thing that will give

our

customers many moments

of

happiness.
How does the creative change from the start to end of the design process?
The result is often not too far away from where we start. Every season we spend a lot of time drawing, researching, and understanding the characteristics or story behind a given subject matter. This gives us the collateral and creative space to make sure that each product we develop is a lovely thing that will give our customers many moments of happiness.