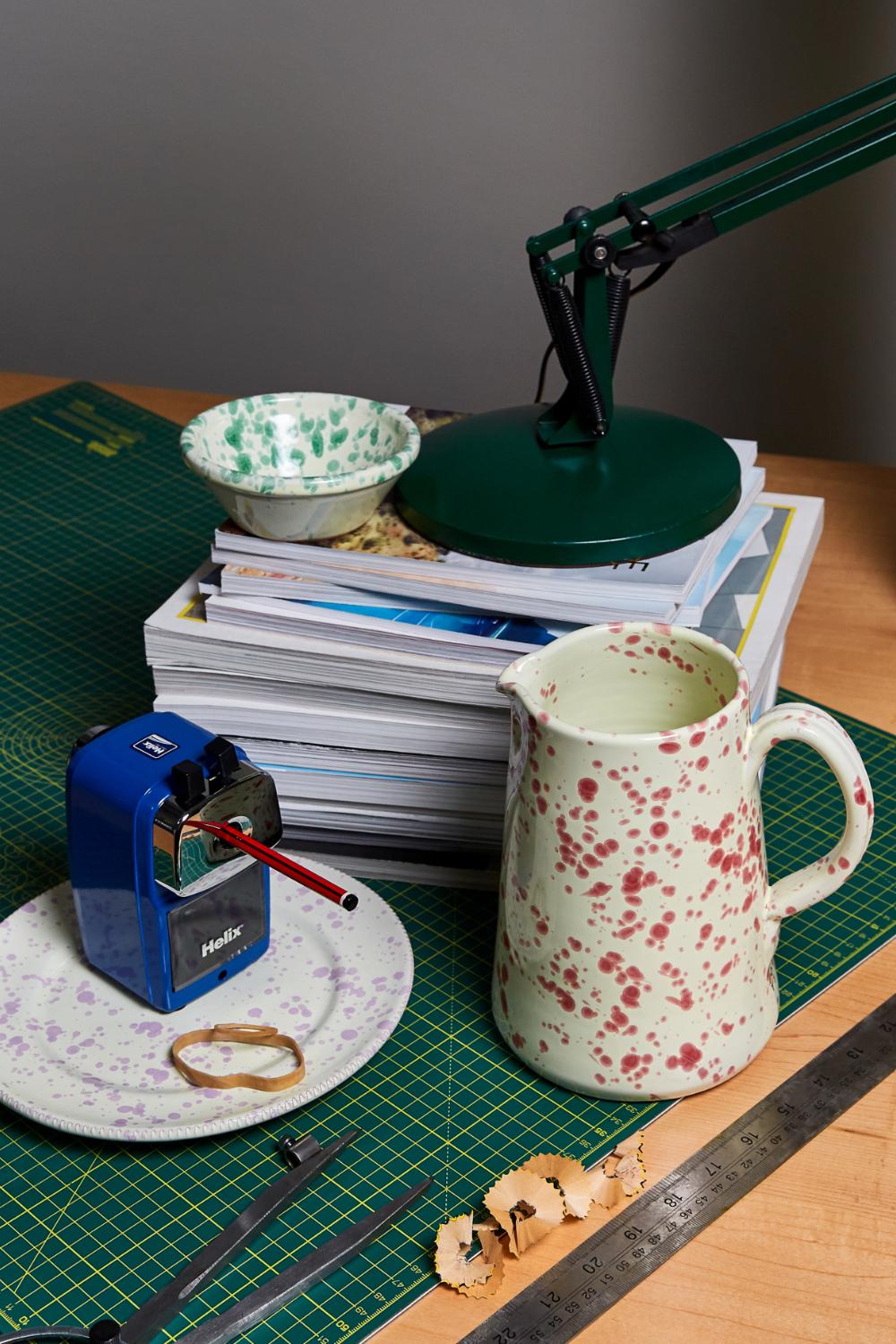 Beauty by Design
Hot Pottery
Giving us an exclusive insight into their traditional pottery in Puglia, the founders share the hand-moulded story behind their unique splatterware
Shop Hot Pottery
The brainchild of friends, Chris, Christian, Flossie and Nick, Hot Pottery is a London-based, independently owned ceramics brand that's home to a collection of traditional, handmade splatterware. Committed to supporting small artisan makers, each individual piece is expertly crafted by a local ceramicist in the picturesque town of Locorotondo, Puglia. Steeped in heritage and tradition, the founders give us a sneak peek into their Italian pottery, detailing the time-honoured techniques that go into making each vibrant design.
Our production process

is

special because

each piece is

handmade, resulting

in

small deviations in shape

and

colour which

give our

ceramics

their

unique character.
"Our clay is sourced from Montelupo and Sansepolcro, Italy. Our background glaze colour and most of our splatter colours are handmade and mixed in house at our pottery in Locorotondo. Some of the splatter colours are sourced from Florence, from a company producing glazes since 1921, which our pottery has a long-standing relationship with."



"We use two types of glazes, depending on the colour. We use coloured transparent glazes and opaque coloured glazes which are hand-mixed in house or sourced from Florence. The evenness of the colouration depends greatly on the thickness of the paint splattered onto the ceramics. Meaning the splatter colour will vary very slightly from item to item depending on how thickly it has landed."
We researched

lots of

different artisan suppliers

and

found

our

current team, who

are

amazing to work with

and

create the most beautiful pieces that

we are

so proud of.
"Some of our items are punched out of lumps of clay, which are then shaped by hand for an organic quality, while others are hand-spun on the pottery wheel. The finished shapes are then usually taken outside to dry in the sun. The warmth of the sun draws moisture from the raw material which prevents cracks in the ceramic from forming in the oven. The shapes are then fired in the oven at around 1,200 degrees for eight hours."



"Once the goods have cooled down, they are hand-dipped in the background glaze colour and left to dry. When the drying process is complete, each piece is hand-splattered before going back into the kiln. After another eight hours in the hot oven, the ceramics are ready. They are then shelved to cool, quality checked and packed to send to us here in London."
Each product

is

handmade

and

painted

by a

ceramics artisan

who has

produced pieces

in the

same town

for

18 generations.
"We want to stay true to the authentic shapes and splatter styles from Puglia, as well as exploring new shapes and new colours, like our special Liberty Parma Violet colour for Spring Summer. We hope to continue to look at new limited-edition colourways every season. We also can't wait to travel to Puglia again and head to the renowned vintage markets to research new shapes and styles."



"The pasta bowl is our favourite piece from the collection, we love the edging, the weight, and the size is perfect for so much more than pasta. It is probably the piece we all use the most, for granola, soup, risottos, curries and salads."
We

are

inspired

by the

stunning colours

of the

Puglian region,

from the

sprawling landscapes

to the

colourful seasonal produce.
A Summer Tablescaping Tip…
Have fun, introduce blooms, you don't need to have everything matching, in fact we implore you to clash our splatterware with other prints and colours. More is more in our eyes.