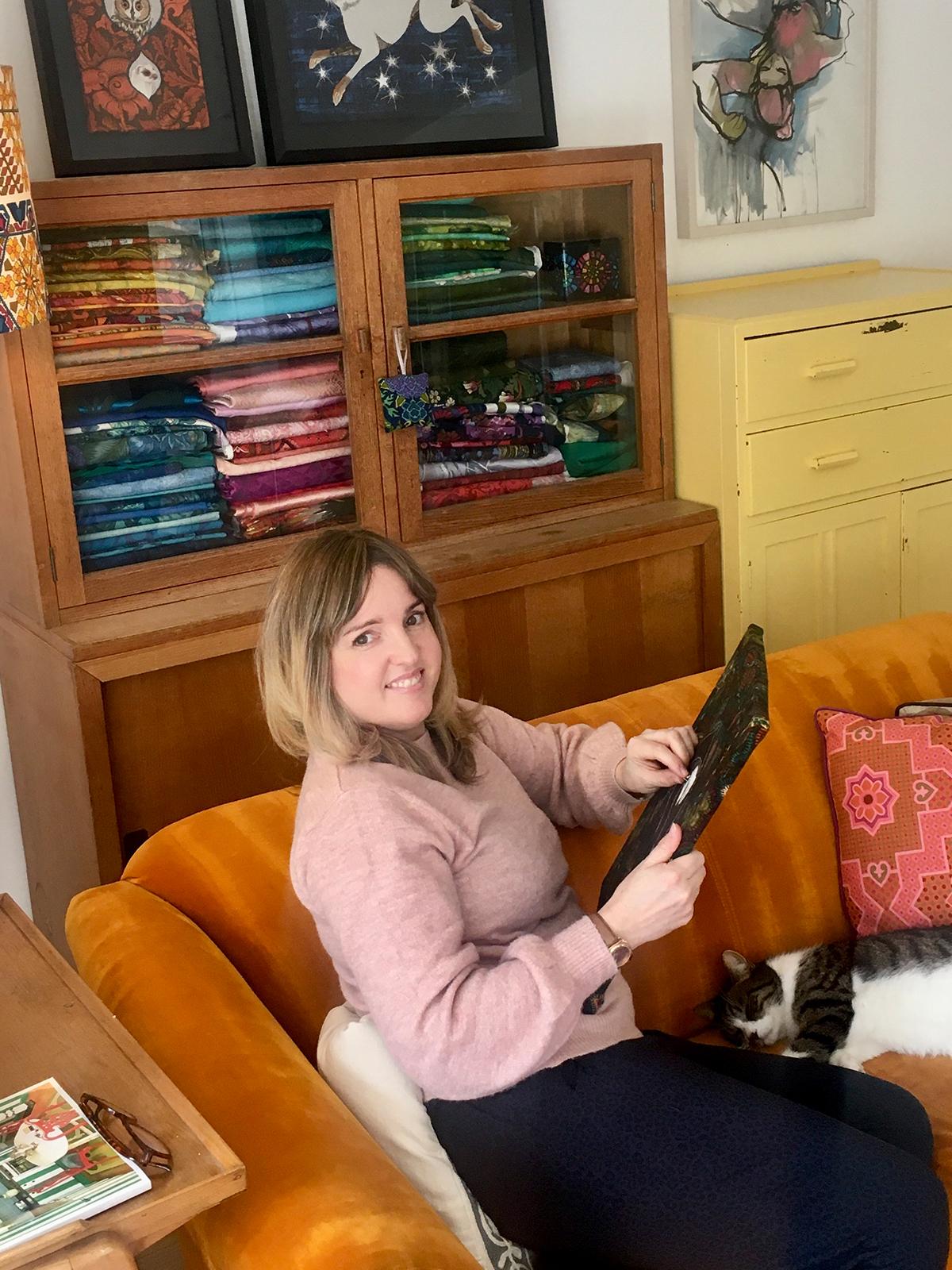 Our Liberty Fabrics Makers
A Chat With…
Yvette Phillips
Celebrating our global network of Liberty Fabrics creatives
Shop Liberty Fabrics
The #LibertyCraftClub is truly one of a kind – a global community of Liberty print lovers, combining their talent and skill with a unique sense of imagination and humour. Here at Liberty HQ, we always love to see what you've been making. In this instalment of the Liberty Fabrics Makers series, we chat to Yvette Phillips, an artist who incorporates vintage textiles into her delicately intricate embroidered pieces.
How did you become a textile artist?
I've sewn since early childhood, taught mainly by my grandmother, and it's been a constant through my life. I specialised in printmaking for my art degree, and often used a sewing machine to stitch into my work. After university I moved to London and fell into a wonderful job working for the band Oasis, firstly as PA to their manager, then as product manager – I also studied for an interior design diploma, which reinforced my love for textiles.

Those years were brilliant, but after having my first child, I felt the pull to move back to the beautiful village in Oxfordshire where I grew up. I started collecting vintage textiles, and made and sold soft furnishings, but it was while my daughter was very young that I made an embroidered textile collage of her. I had that lightbulb moment of realising that this is what I wanted to do. Inspired by my mother, who has had an incredibly successful design career, finding a way to become a full-time artist didn't feel like a crazy idea.
Your designs draw upon British flora and fauna – how is this translated into your work?
Having grown up in a village, some of my earliest memories are of wandering happily through fields and meadows exploring nature. I treasured old copies of Brer Rabbit, Beatrix Potter and the Flower Fairies, but particularly loved the vibrant illustrations of Brian Wildsmith. Here in Blewbury a stream runs past the front of our house, and I can see herons, little egrets, muntjac deer, squirrels, ducks, kingfishers, and a whole host of other birds. Inspiration is literally on my doorstep.
Rather than portray my subjects realistically, I celebrate the magical beauty

of

nature in the form

of

large textile collages

and

smaller hand embroideries – vintage textiles are a crucial part of this.
How do you prepare to create one of your embroidered artworks?
I have a running list in my head of the birds and small mammals that I want to create. Every now and then one keeps bobbing up persistently and appearing in my dreams at night. At the moment I'm embroidering a Little Egret – I started with drawings in my sketchbook, scaling up the final design and transferring it onto fabric. In this case, the Little Egret is hand embroidered onto vintage Liberty silk, and the surrounding foliage (appliqué leaves and hand embroidered stems) will be stitched onto 1970s Liberty 'Barnabus' linen. The bird and foliage are mainly white and silver, so I wanted a contrasting dark and moody background fabric.

If I'm making a large collage I will machine stitch most of it, but I do absolutely love hand embroidery. It's time consuming but I'm putting more of myself into it and allowing the creature's personality to slowly evolve. I use the hand embroidery technique of "thread painting", which, as the name suggests, is using a needle and thread to "paint".
How do you choose the textiles you work with?
My collection of maybe several thousand pieces of vintage fabric provides endless colour, pattern and texture to inspire and use in my work – I grew up with Liberty, William Morris and Sanderson prints at home, so it's not surprising that these are amongst my favourites to use. A perfect marriage is created when I combine them with hand embroidery and collage. I also have a fondness for mid-century painterly prints, which work well for collage.
I love using fabric salvaged

from

an old garment or curtain

and

breathing new life into something that might otherwise be thrown away – they have a resonance

and

history which lends my finished artwork a sense of a past life.
What's your favourite Liberty print?
It's impossible to name just one! I love Patricia, Tresco, Fresco and Ray from the Nesfield collection, and William Morris classics such as Strawberry Thief and Lodden.

I also adore a vintage Liberty print called 'Lizzie' which I recently embroidered a Bewick's Swan on. The client gave me a precious scrap of fabric from her father's old Liberty shirt which I stitched into the picture. It really made me think about how fabric connects with our lives and evokes memories and feelings of warmth and happiness – which encapsulates why Liberty fabrics hold a special place in my heart.
Liberty Fabrics lovers – we always want to see your creations. Upload and tag us with #LibertyCraftClub so we can see what you've been making, and maybe we'll feature your work in our next series instalment.