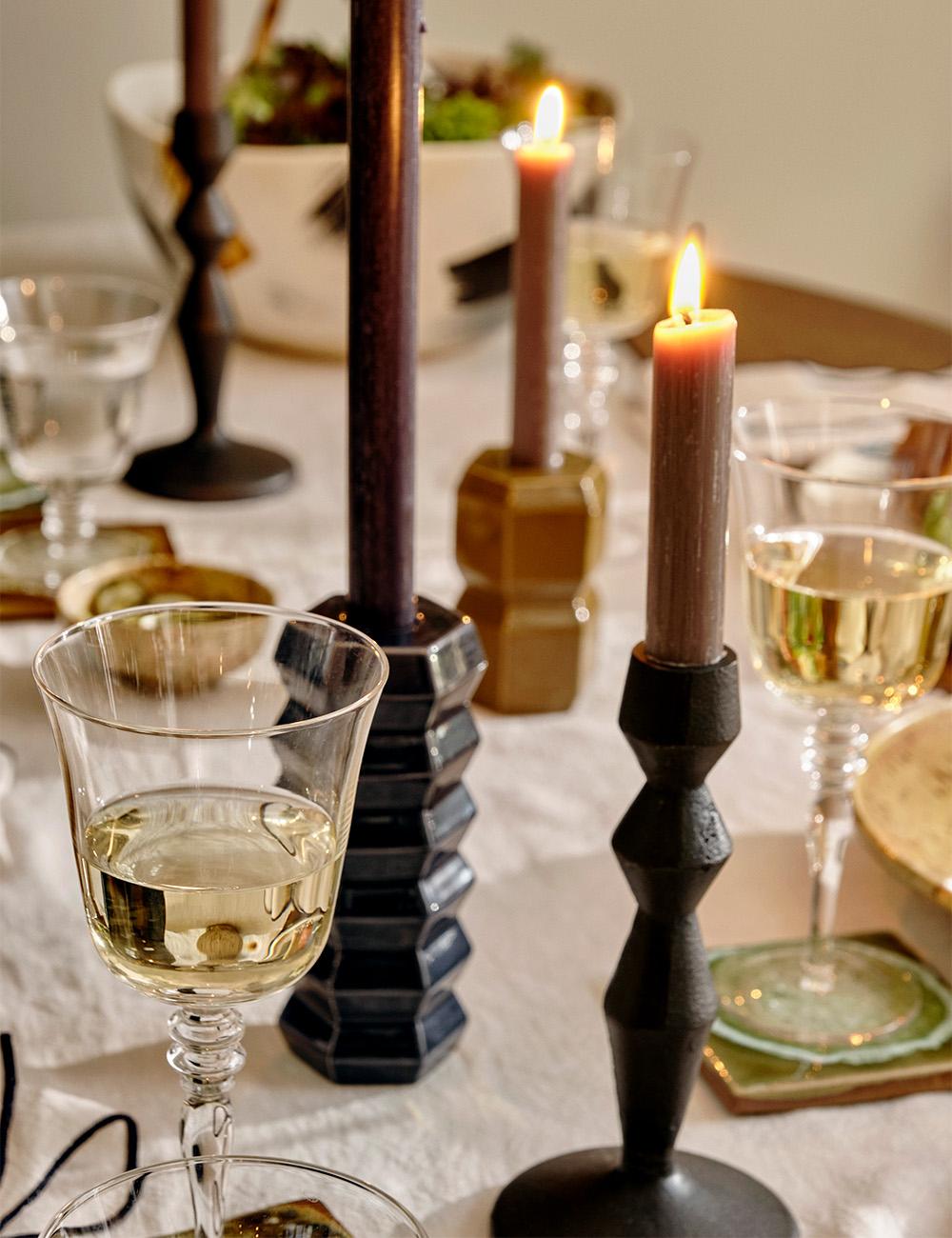 Pop and Pour: How to Host a Wine Flight Night
From tasting tips to menu must-haves, discover the expert-led guide that will make your wine tasting one for the books
By: Maddi John
It's 9pm on a Friday Night. A lively discussion fills the warm air of your candle-lit dining room. The decadent scape of exquisite stemmed glassware and hand-crafted ceramics stretches across the table. And perched before you, a flight of anonymous wine is spread. As the night goes on, your tastebuds are put to the test by the spectrum of rich, red and yellow-tinged wines in question. Between sips, you can't resist plucking a golden-crusted slice of baguette from the porcelain platter harbouring the delectable canapés.

Read More: Discover the Best Summer Garden Party Ideas
'What's going on?' you ask. Well, it's called a wine tasting, the new dinner soiree if you will, where you and your friends get to tickle your tastebuds by delving into the distinguished world of wine. And if getting tipsy with your friends isn't reason enough, home wine tastings offer a unique and sophisticated way to elevate your hosting repertoirewhile infusing the perfect balance of entertainment and education. But don't take my word for it, take Elliot Awin's – the London-based connoisseur with a gift for wine – as we've picked his brain for all the best expert-led tips n how to host a terrific tabletop tasting for yourself.

Read More: Home Bar Ideas for Eleveted Entertaining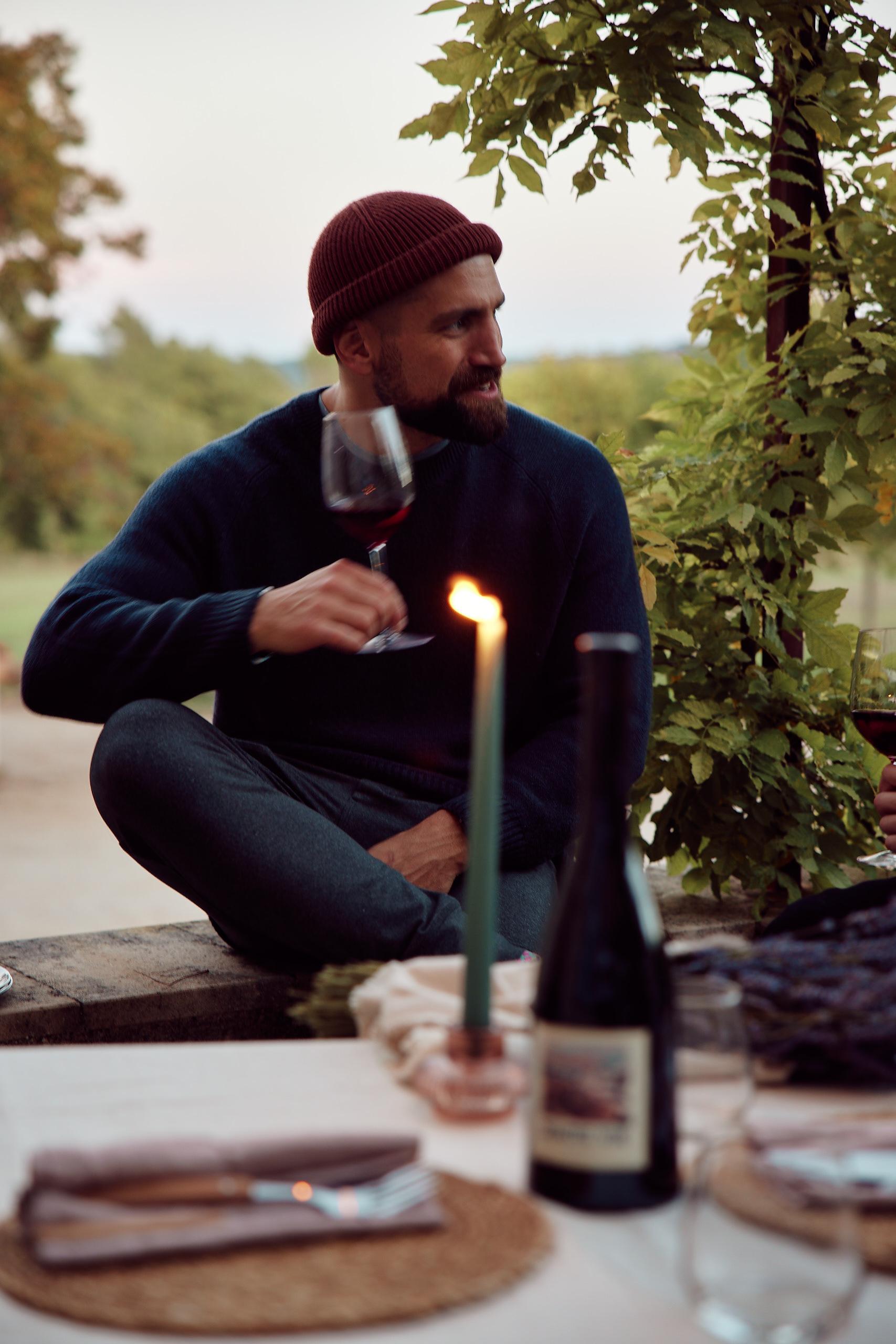 A good host knows the importance of setting a mood when inviting guests over, but what is the right mood when hosting a wine tasting? It's best to opt for an inviting comfortable space, ideally around a table so there's space for glassware and tableware. A well-lit room is a must, but avoid harsh ceiling lighting by sticking to slightly dimmed lights and lamps.

While creating a warming ambience is encouraged, avoid scented candles and home fragrances altogether. Scent is an integral part of tasting wine so it's best not to fill the air with competing aromas that alter your palate's perception.
Required:
Four to six bottles of wine
A corkscrew
Pitches of water
Quality glassware
Chiller bucket for white wines
Platters and bowls for palate cleaners and finger food
Unscented candles and candle holders
Table cloth
Playlist
Optional:
Spit buckets
Tasting/score sheets and pencils
Aroma wheel
Wine tastings can vary greatly, so picking a theme can make it a little more enjoyable and focused. "A fun way to compare wines is in pairs or by having a flight [selection of wine] of a single country or grape variety," suggests Awin. "I would say that picking a minimum of four wines is probably the right way to go and do it in two pairs. So whether that be two white wines of the same or a different grape variety, and then two red wines at the same or different grape varieties."
Awin's top tip:
Choosing wines based on climate is a useful way to ensure you've got enough difference between your selects due to the contrasts in temperature and time. And if you're unsure, there's no harm in asking the wine merchants for their advice when buying your selection.
If the thought of assessing wine is a tad intimidating, there's no need to worry. Hosting a wine tasting is all about having fun so don't get drawn into taking things too seriously. "Awin recommends printing off an aroma wheel from the Internet when judging the wine's aroma because it works as an aid memoir to help jog your memory.

When it comes to picking your glassware, Awin suggests picking a glass with a wide enough bowl, which is where the wine sits, tapered ever so slightly down to the mouth. "When it comes to tasting don't put too much wine in the glass, you only want to bring it up to the widest part of the bowl," Awin adds.

Read More: Cocktail Class: What Glass for What Drink
Awin's top tip:
"So one thing to make a little bit of fun is when you taste wine, you swallow it, you open your mouth and lean forward. The more you salivate, the higher the acidity is in the wine which is an easy way to know whether it's a high or low acid wine."
While wine and cheese often go hand-in-hand, when it comes to a wine tasting, resist the urge. Instead, Awin suggests serving plain crackers, sliced baguette, wafer biscuits, and apple slices with distilled water on the side, to cleanse the palate in between wines. And while flavourful food should be avoided during the host, there's nothing stopping you from serving a feast or dessert once the tasting has concluded.

Read More: Dinner Party Menu Ideas for Your Next Soiree