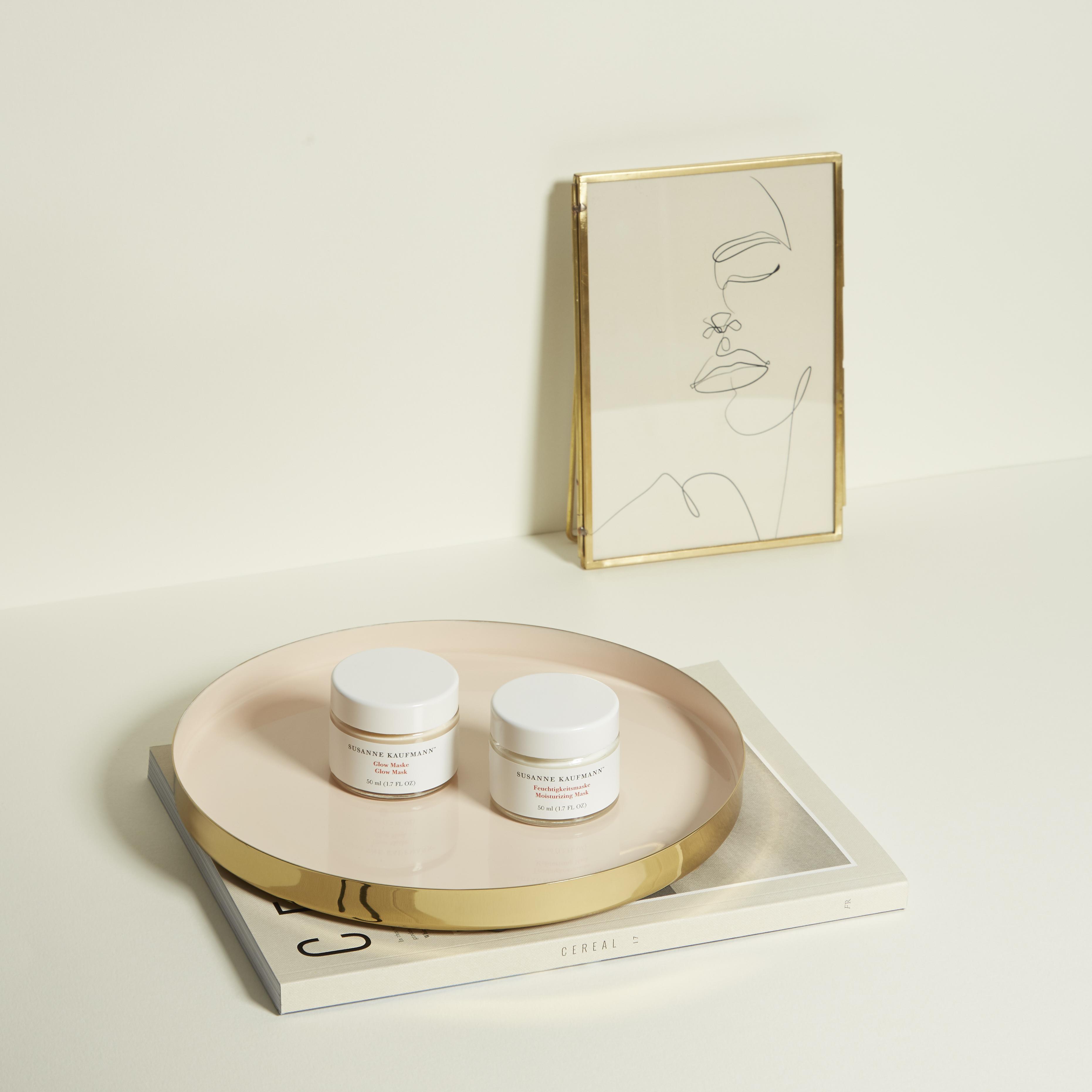 On Home Pampering
Susanne Kaufmann
The clean beauty brand founder guides us through her home spa ritual
Shop Susanne Kaufmann
The benefits of regular spa treatments extend far beyond the physical – and no one understands this better than Susanne Kaufmann. From her home in Austria – where mind, body and soul satisfaction lie in the sweeping landscape – she has built her brand on an innate belief in natural, organic ingredients and sustainable production. Here, she shares her personal wellness routine, showering us with inspiration for when a spa day is out of reach.
"I usually prefer

to use a

mask

in the

morning"
For an instant radiance boost, I apply Glow Mask after cleansing and leave it on for 10 minutes, then remove with cold water for an extra kick of freshness.

Next, I spray two cotton pads with Rose Water Mist and apply to the eyes and enjoy a moment of rest. I leave a bottle near my bed and use it whenever I want to experience a mini facial at home. I then apply Tonic Soothing followed by serum and or day cream.

I use the Obsidian Facial Roller to work serum or Day Cream Line T into the skin, starting at the centre of the face and rolling horizontally outwards to help de-puff. To treat the area around the eyes, I place the roller under the eye next to the bridge of the nose and roll it horizontally towards the temple. For a rapid reduction of swelling around the eye area, I'll keep the roller in the refrigerator for a few hours before use.
"Before I start

my

beauty ritual, I make

myself

tea, light

my

favorite candle

and

play some music (I really

like

jazz)

to

help create a sense

of

calm."
For a perfect home spa experience, rituals are important. The right atmosphere is key, but I also swear by a digital detox – no checking emails, scrolling through Instagram, phone calls or TV. I leave my phone in another room.

Hardly anything is as beneficial as taking a relaxing bath. It is a well-deserved moment of rest and offers welcome relief for the back, joints and muscles. A bath also nourishes the skin and can have a balancing effect.

In the absence of a bathtub, a foot bath – using any large bowl – is perfect for de-stressing. I add Alkali Salt to bring the energy from my head down to my feet. Sometimes I'll apply Enzyme Peel to my face whilst I soak, and rinse it off after ten minutes.
"B

y

alternating

a

warm bath

and a

cold shower,

the

blood supply

to the

skin

is

enhanced

and the

skin

is

optimally able

to

absorb

the

moisture

and

nutrients

of

body care."
After a warm bath, I dry off, dry brush my body and apply Body Scrub, then step into the shower for a cold shot – holding the shower in my hand, I turn the temperature right down. I start with the legs, showering them in a circular motion from bottom to top, then continue to the arms, upper body, back, and finally the head.

After drying off I apply a thick layer of a very rich cream, like Body Butter. Sometimes I'll mix in an oil, like Firming Oil, then wrap myself in my most comfortable robe. I apply Hyaluron Serum and lie down for 15 minutes while the products soak in. Last thing before bed, I apply a thick layer of hand cream and pull on a pair of cotton gloves for a deep-hydrating overnight treatment.