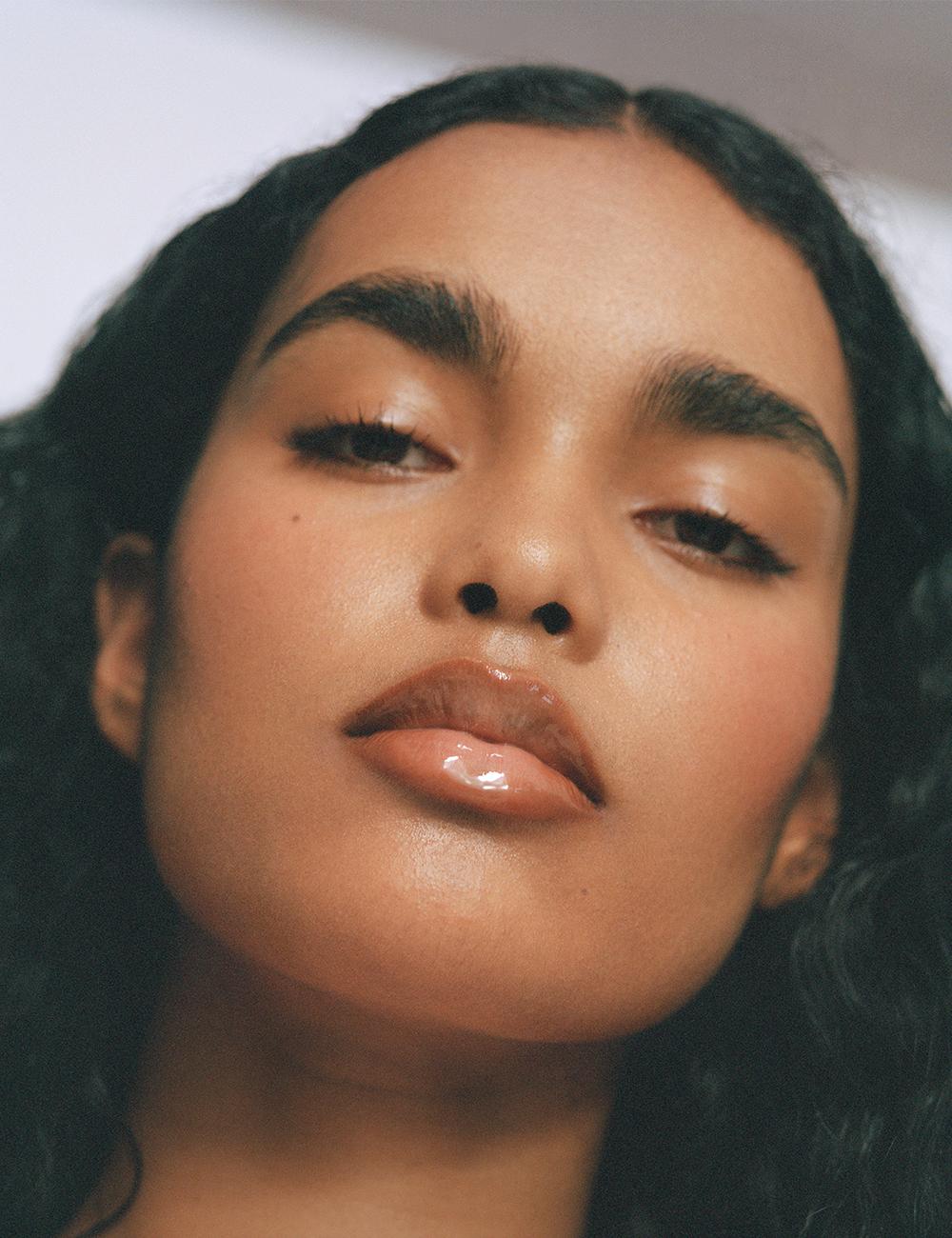 The Key to Makeup That Goes the Distance
If you want to ensure your look lasts well beyond midnight, you'll first need to learn how to prep your skin for makeup. Let Liberty show you the ropes
By: Laura Kennedy
Photography: Benjamin Madgwick
Makeup: Celia Burton
Hair: David Wadlow
Every beauty enthusiast knows that the real work of perfect makeup happens long before you apply your foundation in a towel while panic texting your friends that you're 'absolutely' already dressed and ready to go. Your skincare routine creates the canvas you need to do your best work. After all, Raphael painted his frescos on freshly prepared plaster. We make extra effort with special occasion makeup precisely because we're aiming for a Raphael rather than a hurried stick figure drawing on a post-it note. This isn't the makeup on your commute or a quick slick of your favourite lipstick on the go. The key to the best possible party makeup? Preparation.
Out With the Old
Make sure to exfoliate a couple of times in the week before an event. This will ensure that any dull surface skin is dispatched and skin will be dolphin-smooth by the time you apply your pre-party foundation. These peel pads provide a gentle at-home chemical peel, so you can skip any potential irritation or redness from grittier physical exfoliants.
Shop Exfoliators
Moisturiser Is King
It may sound obvious but keeping skin moisturised and balanced will ensure that the chances of a facial melt-down (we've all been there) on the day of the party are minimal. This formula is a velvety, radiant and plumping day cream that behaves beautifully under makeup, leaving a dewy, professional-looking finish and cocooning the skin from the elements.
Shop Moisturisers
DIY Massage
Most of the work is already done. Going too hard on skincare is a mistake on the day of an event – we're aiming to sculpt and spruce only, while minimising any chance of irritation. A good morning massage will help reduce puffiness, promote blood flow and prep skin for the day, plus you'll always see the pros doing this for clients before red carpet events. Wild Source's gua sha tool stimulates the lymphatic system to tone and sculpt the face. Chill it in the fridge for an even more soothing experience.
Shop Skincare Tools
Lipcare Is Key
Now, and not right before applying lipstick, is the time to ensure your lips are comfortable and moisturised. Apply a generous layer of lip balm and keep it topped up through the day to prevent any pinched texture or chapping later on once you've applied lipstick or liner.
Shop Lip Balm
BEFORE APPLYING YOUR MAKEUP
The Pre-Game Sheet Mask
All the real prep work is done. We strongly suggest making a nice cup of tea before you maximise hydration to ensure your smoothest, plumpest possible skin. This will prevent makeup from sitting in dry patches or sliding from oily ones. Whip a sheet mask from the fridge about thirty minutes before you want to apply your makeup. It gives a quick and efficient skin refurb, depuffing and plumping as well as priming skin for moisturiser.
Shop Sheet Masks
Prime Your Real Estate
Once you moisturise, leave it to sink in for ten minutes or so, then go in with a primer like this one from Hourglass to ensure that the makeup you're about to apply will stay exactly where you want. Until, that is, you get home exhausted and have the post-party debate about whether or not to sleep in your (hopefully still perfect) makeup. We can't help with that bit, unfortunately. Except to advise washing off your makeup before bed.
Shop Primer