From the Hall
Master the Art of Bathscaping
Trust Sarah Coonan, Liberty's buying director and resident bathscaper, to have all the tips and tricks for elevating bathtime
Shop Bath and Shower
By: Shannon Peter
You may think you've already learnt how to run a bath. But if your current process involves little more than turning on the tap and throwing in a capful of bubble bath, then you're missing a trick. You see, in this day and age, when opportunities for hour-long soaks are so few and far between, why wouldn't you choose to make the experience all the more indulgent? That's the life motto of buying director and long-time bathscaping aficionado, Sarah Coonan, at least.

"I'm a typical Libra and very aesthetically driven," Coonan reveals. "I'm inspired by beautiful things and partial to an artfully arranged collection of objects. I have a busy job, a long commute and two energetic children so a bath is my thinking time and I want it to feel as indulgent as possible." In the same way you might create a tablescape with beautiful plates, cutlery and napkins, or you might arrange your favourite skincare and perfume in a insta-worthy #shelfie, bathscaping is all about elevating the bathing experience in a way that ignites all your senses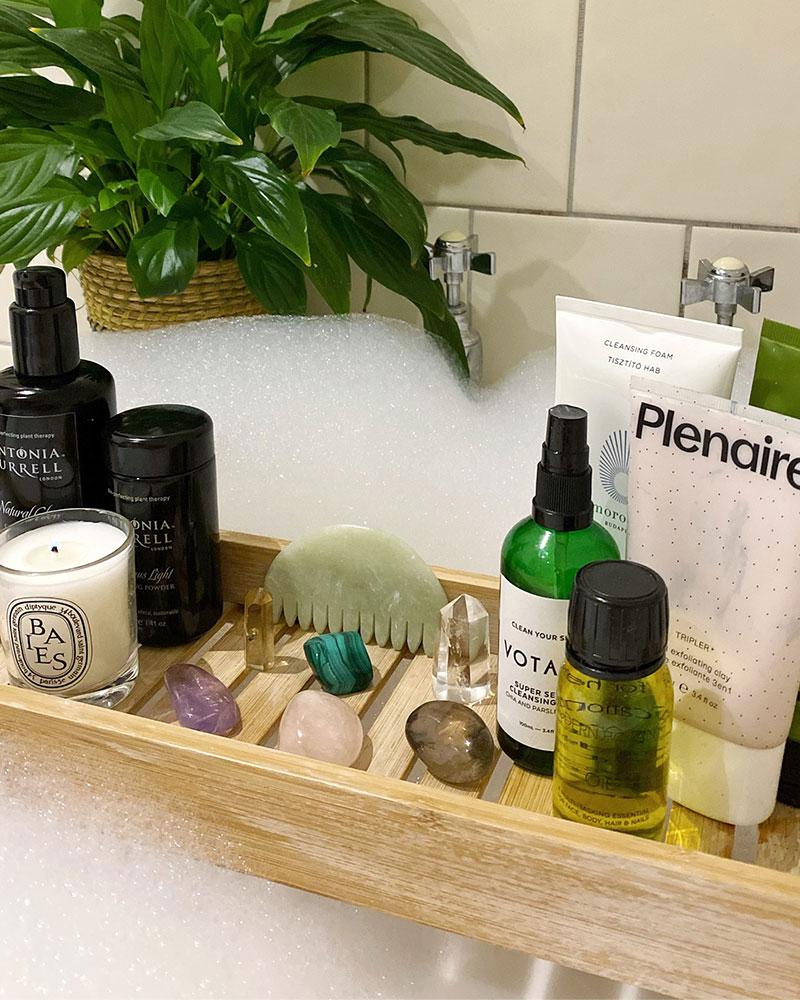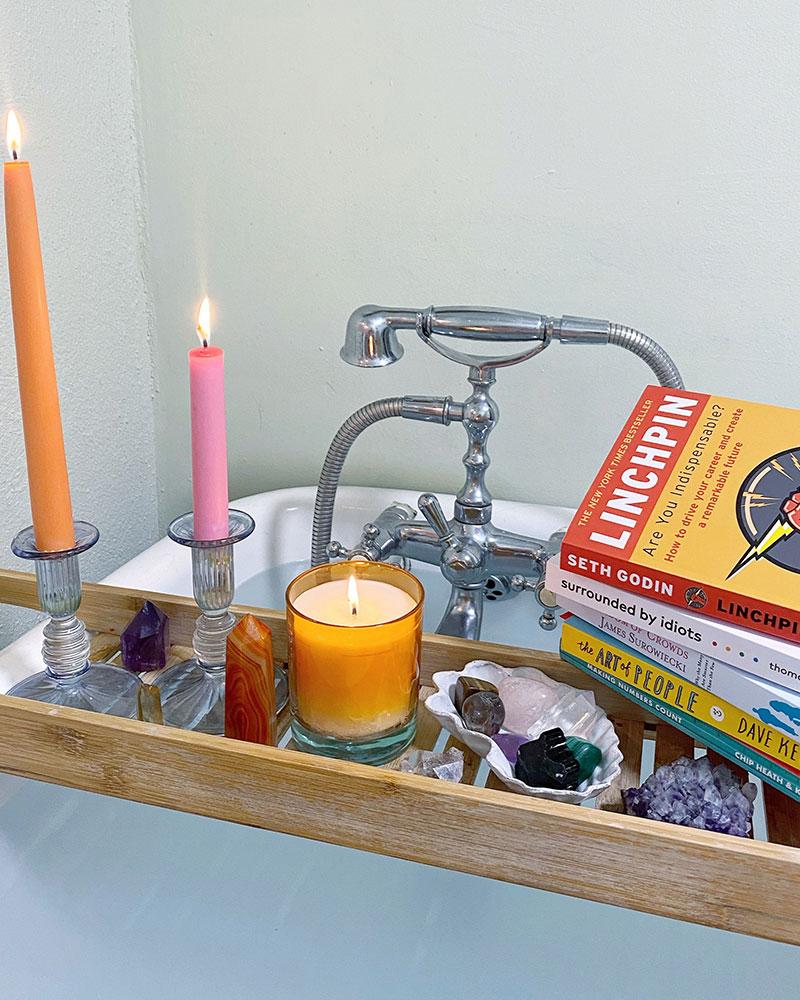 Test the Waters
So, how is it done? The first job is nailing the temperature, a factor that's as personal as how you take your tea. "Super-hot for me," admits Coonan. "I find being immersed in hot water really relaxing. I have a cast iron roll top bath so it keeps the heat for ages." As lovely as that sounds, don't push yourself if your limbs can't handle the heat; the goal is to find the optimum temperature so you'll want to stay submerged for as long as possible.
Pick Your Ingredients
The next element of bathscape curation is its contents. Whether you opt for gargantuan clouds of bubbles, the kaleidoscopic colours of a bath bomb or a subtle swill of soothing bath milk, the choice is yours, and Coonan has her own go-to concoction. "I like it all: oils, salts, bubbles, and often I'll run my bath using a combination. I'm a fan of Epsom salts and magnesium flakes which I'll usually combine with an oil like the ones from Verden or Olverum." The key? Pour, glug or sprinkle generously; both your skin and mind will thank you for it.
Set the Scene
The basics covered, now's the time to turn your attention to the tub side. The best bathscapes consider what surrounds the bath as much as what goes in it. "Candles are non-negotiable. I'm a candle addict and have them in every room in my house," Coonan explains, citing that the most decadent bathscapes are lit by multiple forms of candlelight. "More is more in my opinion, so I use tapered dinner candles in fun holders combined with a scented candle to reflect the mood I'm in. My default is something deep and woody like Diptyque Feu de Bois or Liberty's Ianthe candle." Top tip: place candles at the end of the bath furthest from your head to avoid burnt strands.

Crystals also make for excellent bathfellows."I'm a bit of a hippy so crystals are a must. I even have a picture of my favourites as the screensaver on my phone," Coonan adds. "I'll usually place a few of my favourites around the bath depending on my mood; usually lots of amethyst and smoky quartz." That, and a delicious drink. Coonan tends to opt for an ice cold glass of wine in a suitably beautiful glass. Look to brands like The Glass Studio, Estelle Colored Glass and Casa Celva for satisfyingly colourful vessels that can make a glass of delicious wine taste even better.
Choose Your In-Bath Entertainment
The dream is to spend an hour decompressing with little more than your own mind for company, but if you struggle with the silence, take your current read with you. "I'm a real bookworm so an uninterrupted hour in the bath with a great book is my idea of heaven," says Sarah. "I rarely listen to music in the bath as it is usually the only time I have peace. I'm a true introvert so time on my own with my thoughts is really restorative. I spend all day in meetings so silence is a rare treat!"

And don't forget your skin, either. Coonan spends her bath time masking, making full use of the downtime to improve her glow. "I'll use either Seed to Skin's Black Magic or something super hydrating like Sisley Black Rose Mask. I have very long hair so I will often do an intensive hair treatment too. My favourite is Centred En-Root – it's incredible! Like a facial for your scalp." What more could you want?