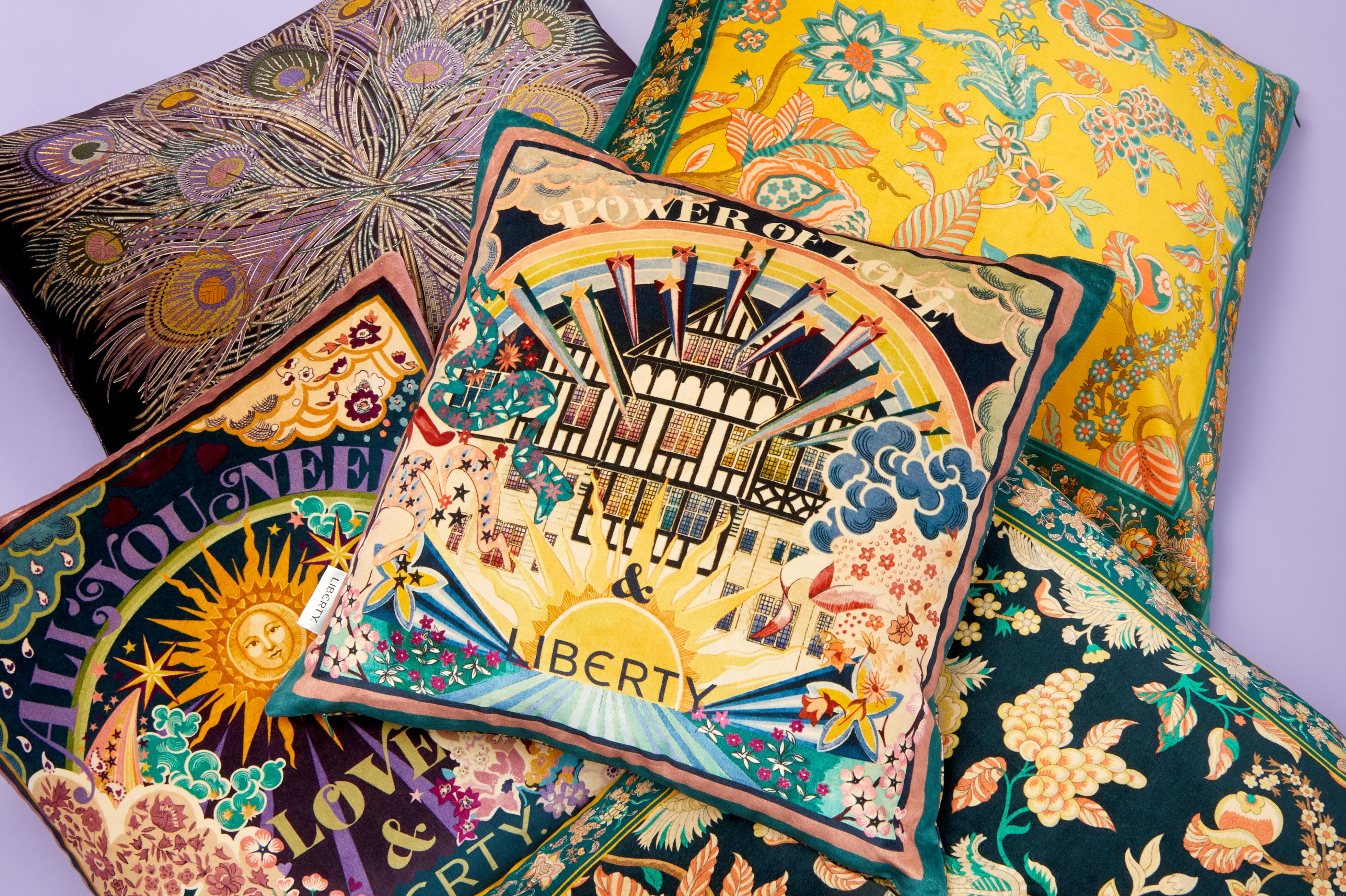 The 'Scape Artist
Just Add Cushions: The Art of Dressing a Sofa
A sofa isn't merely a sofa. It's the centrepiece of your living space. Here's how to make it all the more inviting.
As one of the home's biggest investment purchases, a sofa needs to stand the test of time, and thankfully, that's easily achieved when you learn how to dress a sofa with throws and cushions. "You can completely transform the way that your sofa looks just with the accessories you use," says Eleanor Cording-Booth, interiors editor and founder of the achingly stylish Instagram account, @aconsideredspace. "You don't need a new sofa to look like you've got a new piece of furniture in the room; a few carefully chosen items can make it look more cohesive and polished." Ready to resurrect a tired sofa? Liberty shows you how.
The first step to building your sofa-scape is understanding what your personal interior design aesthetic is. "For inspiration, look to specific colour palettes that you know you like," says Cording-Booth. "These can come from anywhere – images you've seen or even a piece of art where you love the colour combinations." Select a palette of a few considered shades, and then start to curate a collection of accessories that will bring it to life on your sofa. "Another approach is to look to favourite interior designers on Instagram and see how they are using colours and proportions as well as placement," she adds.
"The first thing to remember is you don't really have to match. Ultimately, it's only important that you like what you see," says Marina Malinverni, Head of Liberty Home. "I personally love stripes paired with floral prints, combined with fun textures." If you don't feel confident in that, Malinverni recommends following the Rule of Three, the perfect formula to guide your choices and simplify the process. First choose three colours, then choose three patterns and then choose three pattern or motif sizes. "Remember, odd numbers look less uniform and more modern," she adds.

Cording-Booth agrees. "Contrasting the size of prints is a good trick. You might have one cushion in a large print and the next in a tiny print. It's all about balancing the scale. "Your prints don't have to match either, they can be completely contrasting. Consider a checkerboard print next to a stripe or a geometric print next to a floral. You might mix a piped edge with a frilled edge or go for tassels on the corners or some embroidery."
Too few cushions and a sofa can look lacklustre but too many, and it can be hard to find somewhere to sit. "An average three-seater does well with four to six cushions on, depending on size," says Angelica Squire, the interior design expert behind Studio Squire. However many cushions you choose, ensure variety amongst your selection. "Look at differing textures like boucle, velvet, linen and sizes. It can be fun to add in rectangular or circular cushions for variety, too."
Alongside cushions, dressing a sofa with a throw will add an extra textural element that makes nestling into the seat all the more tempting. "A deliciously woolly throw or a cotton kantha (a traditional Indian type of embroidered quilt) slung over one arm of the sofa works a treat," says Squire. Alternatively, "place a throw semi-draped out of a basket next to the sofa for a nice casual look," adds Cording-Booth. "If you have a quilt that's more decorative, embroidered or patterned, you can fold it over the back of a sofa to hide a tired, older sofa. It works as a decoration in itself."