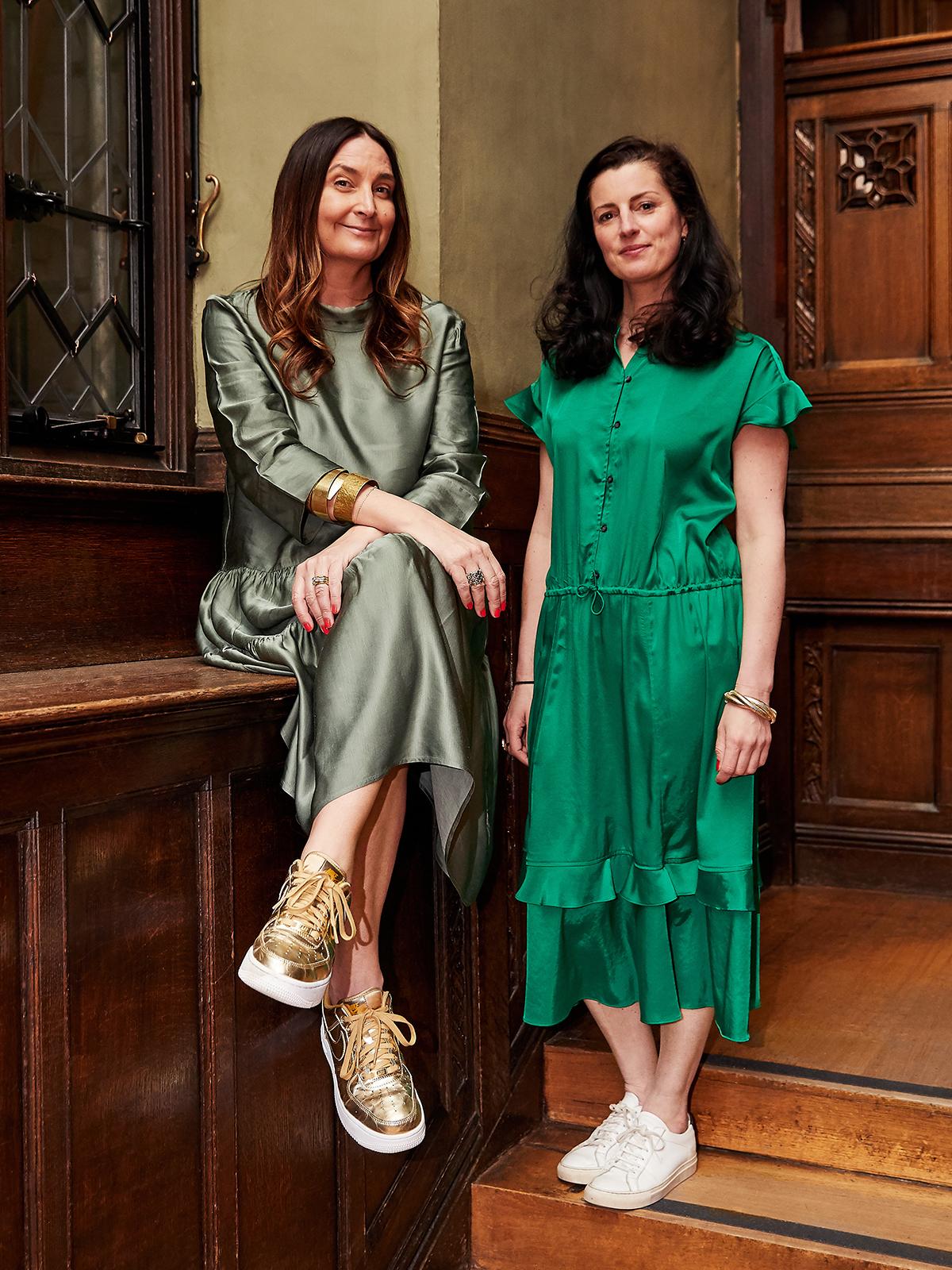 Home of The Artistic Shopper
Interiors Experts
In conversation with Head of Design Genevieve Bennett and furniture designer Bethan Gray about their latest collaboration – a fusion of opulent print and sculptural form for Liberty Interiors
Shop Liberty Furnishing Fabrics
Textile designer Genevieve Bennett, Head of Design for Liberty Interiors, and furniture designer Bethan Gray are long-term friends and collaborators. Here they discuss their most recent undertaking – teaming furnishing fabrics from Liberty's The Modern Collector series with Gray's sculptural, sophisticated Shell chair and sofa, made to order in the UK.
How did you meet?
Bennett: The first time I saw Bethan was on Brick Lane fifteen years ago. I had a studio in the Truman Brewery at the time and I was struck by the fact she was wearing white Pierre Cardin knee-length boots and a Welsh blanket jacket – I remember it so clearly. And I was wearing a little pair of silver Prada shoes, which I'd pooled all my money to buy. So we were comparing our sci-fi sixties-style shoes, and bonded immediately.

We first worked together when we were both consulting on a project; later, I helped Bethan to create colour palettes for her own furniture collections after she launched her design studio in 2008.
How did you end up collaborating for The Modern Collector?
Bennett: I was keen to work with a furniture designer from the outset of developing the collection, rather than finding a piece of furniture to fit the fabric onto as an afterthought. In re-establishing the Liberty fabrics and wallpaper brand back into the marketplace, I thought it would be interesting to work with a well-known contemporary furniture designer to make the fabrics feel more surprising. Bethan's furniture has bold, strong directional shapes, and we wanted to use fabrics that could stand up to that boldness – whether it be through colour, line or scale.

Gray: Liberty has always been close to my heart – it's where I launched my first collection of tables in 2013. I felt my Shell chair – inspired by the inviting and cocooning shapes of shells I like to collect on my travels – shared a strong synergy between the flowing design of the Palampore fabric and the rounded, sculptural shape of the chair. It's such a standout piece.
Can you tell us more about Liberty furnishing fabrics you worked with?
Bennett: Palampore Trail, a Tree of Life design, is quite special because it's from the archive but we've reworked the layout to make the pattern more open and bold. I thought it would be interesting to see how this really big scale repeat flowed over the bumps of the Shell chair's curved form – as a textile designer, I'm always working in flat fabrics rather than 3D so it has been wonderful to see Palampore Trail come alive on this chair.

For the launch of The Modern Collector, we also photographed Quill Weave on one of Bethan's long kidney-shaped sofas. It looks particularly beautiful because it has a featherlike flow to it, glimmering with a wonderful contrast of matte and shine. On another Shell chair we used a golden-hued Hera Plume jacquard, inspired by the pattern of a pair of silk pyjamas I found in the Liberty fashion collection. Often contemporary furniture is upholstered in either plain fabric or something textured like a bouclé – I wanted us to be brave, to show our customers how to use these vibrant patterned fabrics in modern, unexpected ways.
I wanted us

to

be brave,

to

show

our

customers how

to

use these vibrant patterned fabrics

in

modern, unexpected ways.
How and where are the Shell pieces made?
Gray: We are working with the Norfolk-based furniture makers Coakley & Cox to create both the Shell chair and sofa – it was important to me to support the British furniture industry which uses traditional techniques and incredible craftsmanship. The solid wood frame alone will last a lifetime. We've used materials such as felted wool, coconut fibre, hessian, springs and webbing to create pieces which are sophisticated but comfortable.

Bennett: With a selection of The Modern Collector fabrics to choose from, each chair or sofa is custom made to order for our customers. I like to think of these pieces as heirlooms of the future.
Finally – what does 'home' mean to you?
Gray: It is really important to me that my home reflects my personality – it is filled with art, plants and soft, inviting textures like sheepskin. It's also where I've spent the last year being more creative, painting and dreaming, finding ways to better apply my actual handwriting to the pieces I design.

Bennett: I love maximalism, but I don't know if everyone can live with it in a normal home. What I'm trying to create for Liberty is the idea of balancing an inspirational piece, such as Bethan's chair, with a simple but beautiful backdrop, like a pale pink or dark green wall. It's livable and beautiful and intense and decorative – but not in a way you'll be bored of in five years.
I like

to

think

of

these pieces

as

heirlooms of the future.