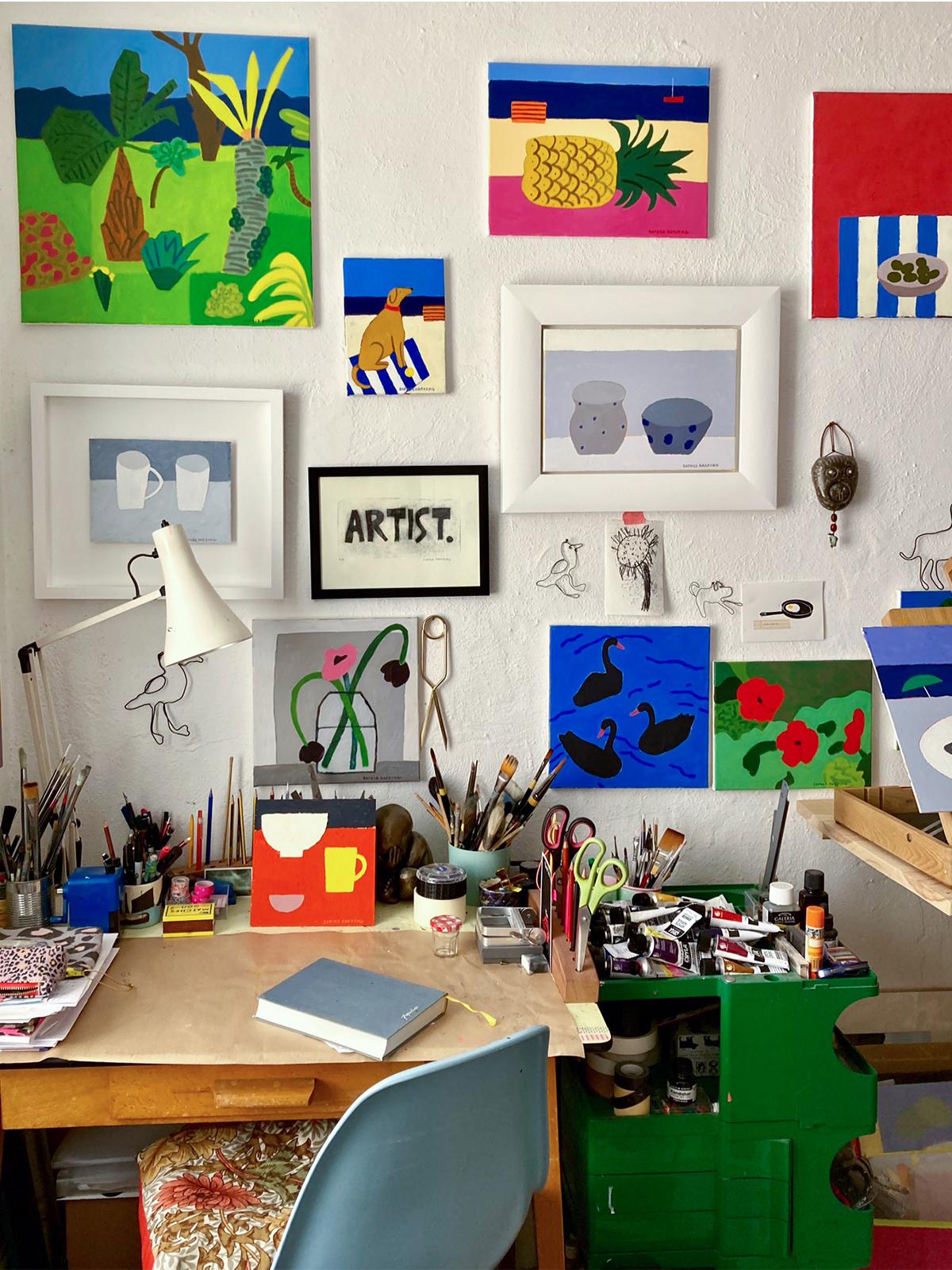 Artist in Residence
Sophie Harding
The Cornwall-based artist on the influences that shape her colour-soaked world
Shop Sophie Harding
Based in Penzance, artist Sophie Harding injects bold colour into artworks drawing on her coastal surroundings. Simplicity lies at the heart of her pieces, with inspirations both natural and domestic driving her new wave still lifes. Here, she invites us inside her creative realm, sharing the stimuli and personal practices that bring her energetic, colour-saturated paintings to life.
How did you get into art?
I come from a creative family and was encouraged from a very young age to draw and paint. It was a focus and passion for me growing up and I always knew I wanted to be an artist.
How would you describe your style in your own words?
My style is vibrant and joyful with a simple, sophistication.
What do you hope to convey through your work?
A sense of joy, calm and balance.
What are your main sources of inspiration?
Living in Cornwall is very inspiring and focusing on recreating the simple joys in life within a painting. This could be a domestic still life, seasonal flowers or a trip to the beach. I'm also inspired by other artists - Matisse, William Scott, Milton Avery and Etel Adnan to name a few.
I think

my

biggest influence

has been the

colourists: Matisse, Ken Done, Milton Avery. I'

m

passionate about colour

and the

effects

it has on the

mind.
Can you tell us about your materials and how you use them?
I tend to use acrylic as it's more convenient for my bijou studio. I love oils though and occasionally use them as a treat, when I have more time on my hands. I use brushes, palette knives and paint on canvas or wood panels. I sometimes paint over old work which means the work has lots of layers and texture. Most of my work has several layers as it can be a challenge getting the colours to balance in a way I'm happy with.
Where do you begin when starting on a new piece?
I usually start with a simple sketch made from life in my sketchbook using a little pen. If I'm happy with a sketch, I'll prime a canvas with a warm colour and then paint a rough outline for the composition in a different colour.
Which artists or movements have been your biggest influence?
I think my biggest influence has been the colourists – especially Matisse, Ken Done and, more recently, Milton Avery. I'm passionate about colour and the effects it has on the mind.
What's your earliest memory of the art world?
My first memory of the art world was when I was 14 and my dad took me to see a Renoir exhibition at the Hayward.
Where do you go to feel inspired?
I go to art galleries or cafes for a bit of headspace, or venture to West Penwith for the standing stones and rugged, ancient landscape. Being out and about helps to clear my mind to free up space for inspiration to flow in. Or, if I'm in – because there's a pandemic – I'll look through my art books and see what captures my imagination.
I venture

to

West Penwith

for the

standing stones

and

rugged, ancient landscape. Being out

and

about helps

to

clear

my

mind

to

free up space

for

inspiration.
Do you have any other creative outlets outside of your art?
I love making clothes – I originally studied fashion design at Central Saint Martins. I like knitting too.
How do you manage the pressures of creating art on demand?
Creating art on demand can feel like a lot of pressure, so I try to get into a positive headspace of enjoying the process and seeing what evolves rather than panicking about the deadline, amount of work etc. And having a vague, flexible timetable in order to get the work done on time helps.