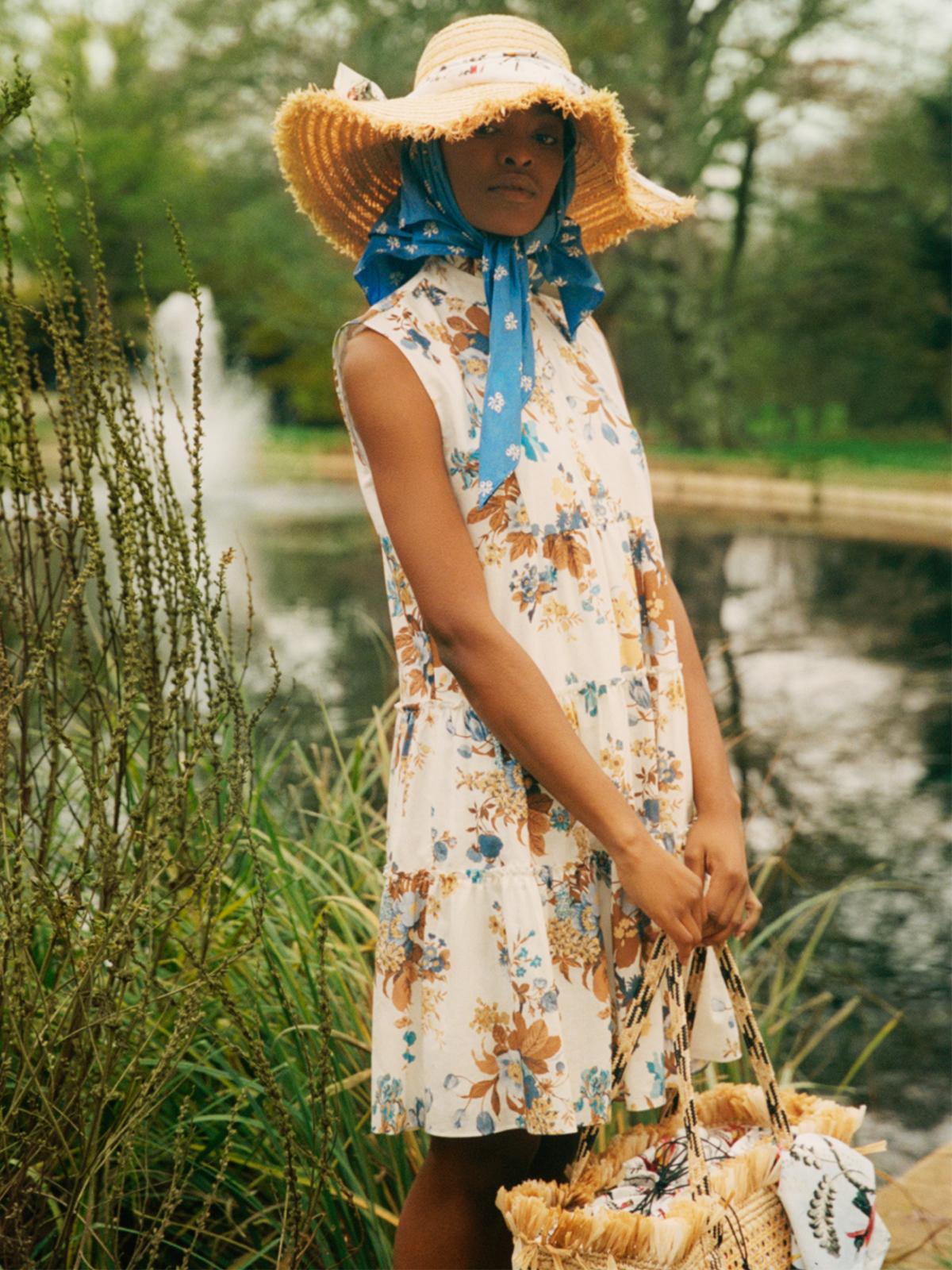 The SS21 Vacation Collection
Erdem Moralıoğlu
The fashion designer escapes into the world of Liberty Fabrics for a transportive new collection
Shop Erdem
Erdem Moralıoğlu's staying power lies in his unique brand of romanticism, in which silhouette and print create a sense of the otherworldly. And for Spring/Summer '21, the London-based designer is escaping into our archives, with a new Vacation Collection, made using Liberty Fabrics, and envisaged in easy-going designs, created with painstaking precision. As the ready-to-wear lands – with a transportive in-store pop-up, playfully designed to whisk you to distant shores – he talks us through the narrative thread that tells his escapist story in print.
Tell us how the SS21 Vacation Collection came about.
It felt right to create collection that felt bright and optimistic. I think it came about from a desire to escape to somewhere faraway... or at least dream of escaping.
Can you share the narrative behind the collection?
I wanted to design something that was optimistic and easy. I think, however we spend our summers, I wanted to create pieces that you can wear in lots of different ways.
What is it about Liberty Fabrics that you are most drawn to?
Liberty has such an incredible history. It was so exciting to work with the archive and mix it with my own artworks.
I

t

felt right

to

create collection

that

felt bright

and

optimistic...I think

it

came about

from a

desire

to

escape

to

somewhere faraway...

or

at least dream

of

escaping.
I was imagining taking that Englishness

and

that interiors element

of the

early artworks found

in the

archive

and

printing them

onto

beautiful linens

and

cottons.
How did you choose the prints?
I was imagining taking that Englishness and that interiors element of the early artworks found in the archive and printing them onto beautiful linens and cotton. Looking at odd Victorian paisleys for example but re-creating them in bright and beautiful colours.
Do you find yourself driven towards different silhouettes for vacation styles?
I think for this collection, I really wanted to create simple, unstructured and paired back pieces that have that relaxed feel.
I wanted

to do

something playful

for

summer – I created these giant beachballs printed

with the

parrots

from

one

of the

prints.
Where did you draw your inspiration?
It was ultimately about a feeling – a kind of a uniform of easy pieces that feel modern and can be mixed with other pieces from your wardrobe.
How does the pop-up space reflect the mood of the collection?
I wanted to do something playful for summer, so I created these giant beachballs printed with the parrots from one of the prints in the collection.
Where's top of the list for your next vacation?
A few years ago, we went to Cornwall and I would love to go back, and spend a little more time there. Maybe go to the Hepworth Museum this time!