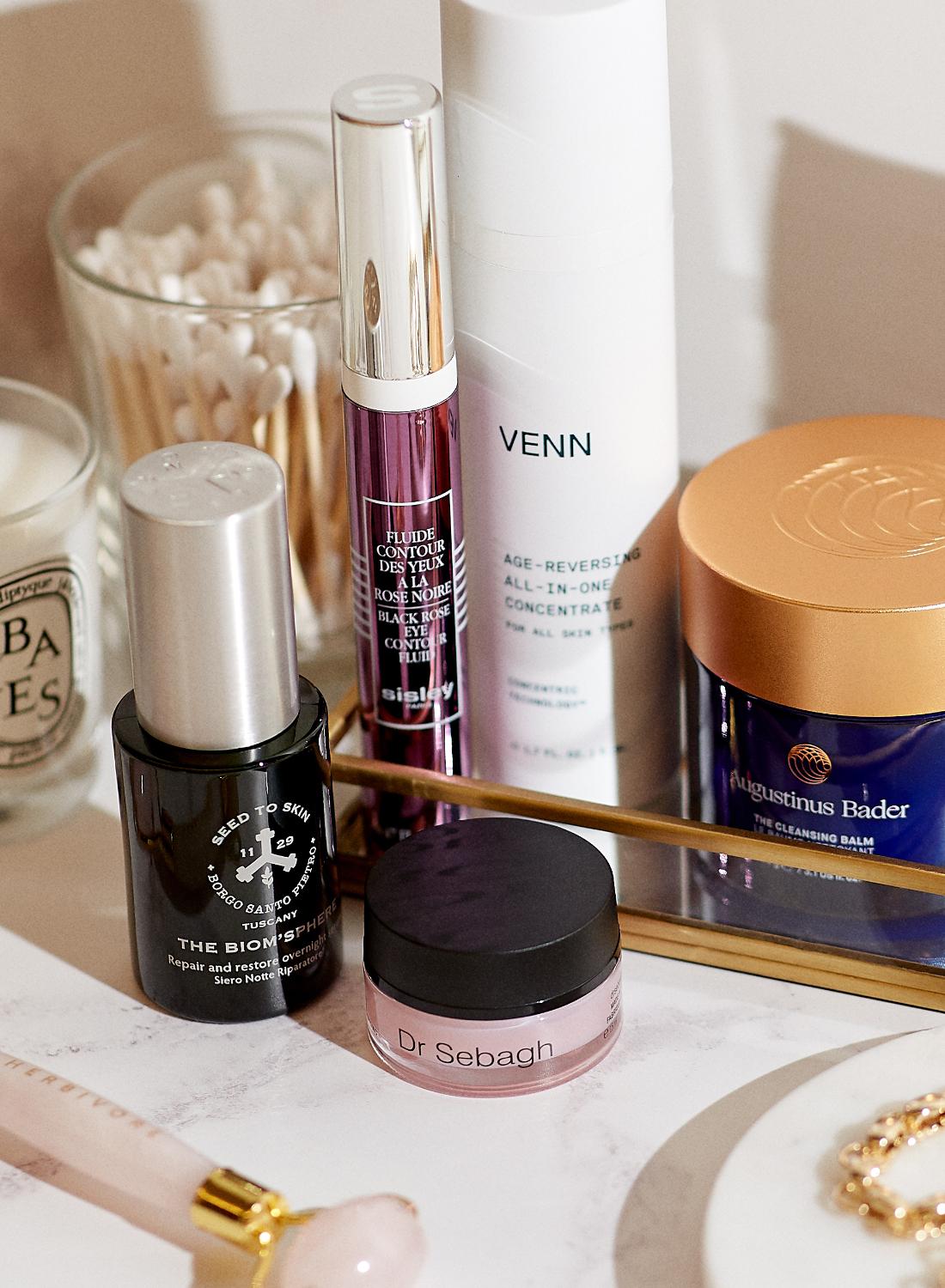 Anti-Ageing Focus
50+
Tackle time face on with targeted scientific products and tech transforming established signs of ageing into a healthy glow of wisdom
Shop Anti-Ageing
The topic of anti-ageing raises a cascade of questions: When do I start? Which steps are the most crucial? And what about when signs of ageing have already taken hold? While stopping the clock isn't an option, here, we address the art of growing old gracefully with age-specific areas of focus, so you can walk hand and hand with time – and even get ahead.
The most common and most crucial concern to beat in mature skin, dryness is also the most easily-addressed cause of fine lines. VENN Age-Reversing All-in-One Concentrate makes hydration its principal purpose, yet – inspired by the infamous 12-step Korean beauty routine – goes above and beyond any standard moisturiser or serum, improving firmness, elasticity and surface texture. By far the most efficient way to tackle all of your concerns in one, if an entire anti-ageing routine were condensed into a single product, this would be it.
If beauty tech is a concept that's yet to enter your regimen, modernise it now. Upstaging the countless anti-ageing products that try and fail to lift the complexion, ZIIP GX has changed the face of skin care as we know it – recruiting the power of electrical currents to kick cells into youth-boosting action. Programmable with a selection of treatments that target specific concerns alongside wrinkles and loss of elasticity, it presents no better reason to get tech savvy.
If there's any cleanser up to the task of anti-ageing, it's the work of Augustinus Bader. Arguably the most scientifically advanced cleanser around, The Cleansing Balm is a solid, balm-like salve that's not only immensely rich and hydrating, it's also powered by the professor's signature TFC8® technology – a tried-and-tested solution for the slowing of cell turnover and decline in collagen synthesis, which occurs as skin ages, causing lacklustre skin tone.
It's all in the eyes – but it need not be. Max out on the expertise of localised face products for the most effective results. From the revered Black Rose range, Sisley Paris Black Rose Eye Contour Fluid prizes the humble rose's intensely hydrating properties, addressing the delicate and often time-worn eye area with smoothing and plumping botanicals in unprecedented concentrations.
A rarity in beauty, Dermalogica Neck Fit Contour makes the neck its focus, transforming this often-telling area with its high-performance tightening formula. Powered by ingenious plant-based science, this smoothing, toning and contouring product rolls on to form an invisible mesh on top of the skin, yielding instant results that last all day.
Defy the thinning, deflating effect that ageing can have on lips with a heavy duty lip balm that's a powerhouse for hydration. Encompassing the unrivalled anti-ageing know-how of the cosmetic surgeon behind the brand, Dr Sebagh's intensive formula is a daily essential, amplified – packed out with scientifically configured botanicals to maintain a plump and pillowy pout, whilst ironing out fine lines around the mouth.