Craft Club
In the Heart of Soho: The Liberty Design Studio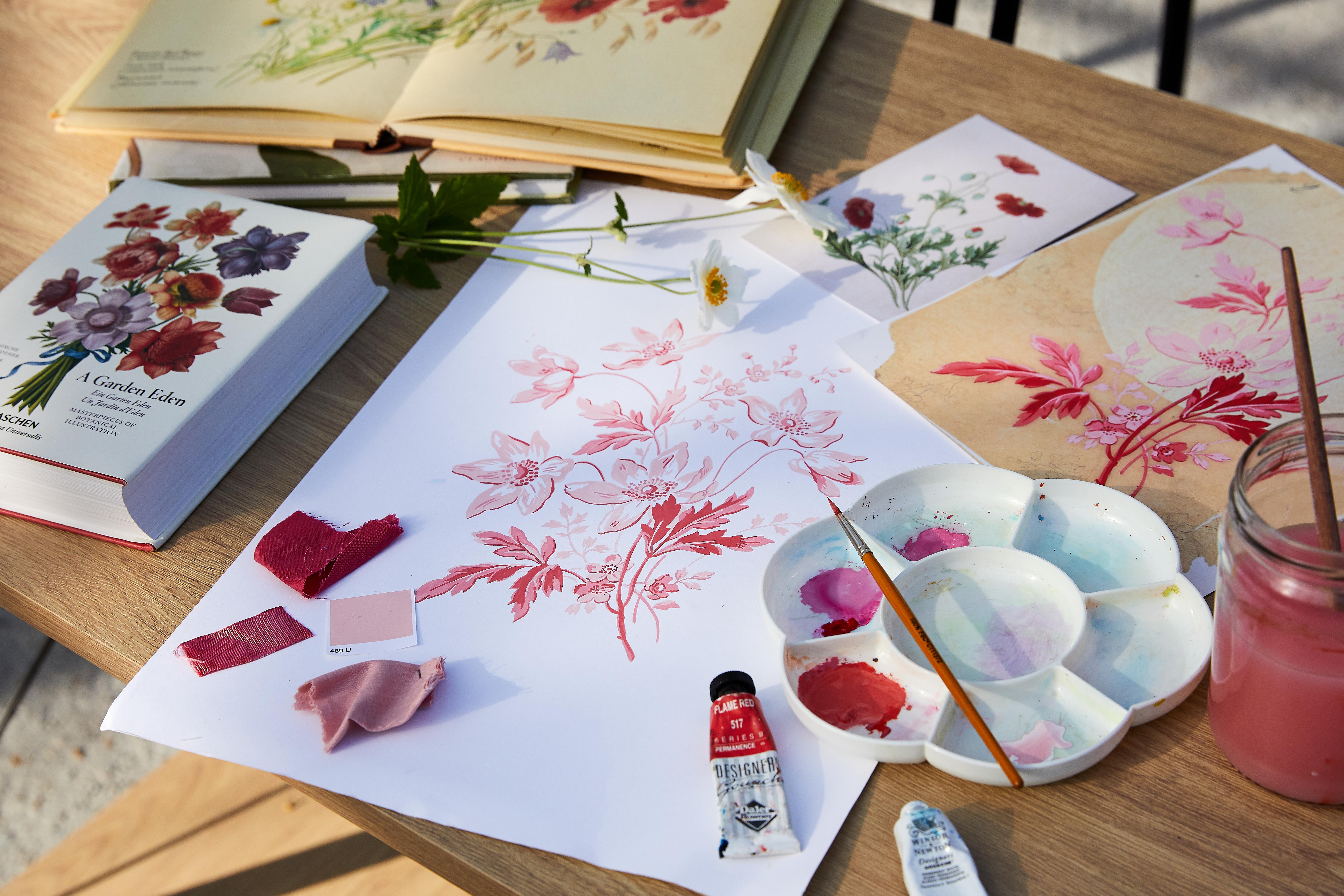 High in the rafters, above our iconic London Tudor store, we take a peek into the design studio process behind our latest fabric collection: Beauty & Chaos
By: Team Liberty
Liberty Fabrics has always been at the cutting-edge of design and decorative arts, with our founding ethos of discovery and adventure remaining at the heart of our design house's legacy today. Liberty's flagship London store acts as the iconic brand home – and its core sits the Liberty Design Studio. Connected to Liberty's Tudor building by a wooden bridge, the unique in-house studio is occupied by over a dozen highly skilled artists who conceptualise, rework and hand-draw artworks to create hundreds of new designs every year.
World-renowned for our historic 50,000-strong print archive, the Liberty Fabric designers work collaboratively with our two in-house archivists, who work tirelessly to collate the latest artworks whilst cataloguing Liberty's vast wealth of 19th and 20th century designs. "They are constantly updating the archive with our new artwork whilst working on a library system so we can access everything for new collections," explains Design Director Mary-Ann Dunkley. "We can find things that were done in the 1800s and then take elements of them, redraw, rescale and give them a new energy. In terms of drawing style, everyone in the studio has different handwriting, we have some incredibly talented artists in the team. Actively recruiting people who can bring something different to the archive – that has always been the case. That's why we have so many different styles of work to revisit and take inspiration from."
Traditionally, the design team embark on seasonal research trips around the country to gather inspiration for new seasonal collections, with past influences including Eltham Palace, Brighton Pavilion and Kew Gardens. Designers will draw out each individual artwork by hand in the studio, working with a wide variety of materials ranging from pencils and water colours to gouache, crayons and collaged paper to create a diverse yet cohesive collection of prints that tells a powerful story. The hand-drawn artworks are translated into digital repeats using advanced software, allowing the studio to create multiple colourways and differently-sized scale interpretations of their prints.
Designed by an in-house team in the heart of London, printing takes place at our mill in northern Italy, which uses both innovative digital technology and age-old techniques. From signature, obsessively fine-tuned Tana Lawn cotton and luxurious silk to lightweight linen, Liberty Fabrics are brilliant canvases for bespoke creations of all kinds.

"Digital printing facilities are getting better and better every season," says Dunkley. "Because we have our own factory in Italy, we work closely with them to make sure that when we are printing digitally, we're doing it better than anyone else. We're working hard to achieve similar qualities that you get with screen printing, one of them being the penetration of the ink on the fabric."
What always remains the same is an unparalleled sense of investment in every Liberty print design. Meetings are held at every stage of the process, examining the artwork to ensure it has the best sense of balance, flow and rhythm – so that whether unfurled on the factory roll or fitted to the body in a garment, Liberty prints are always engineered to create a powerful impact. This resolution is embedded in our legacy today: distinctive prints, unmatchable fabrics and exciting collaborations.