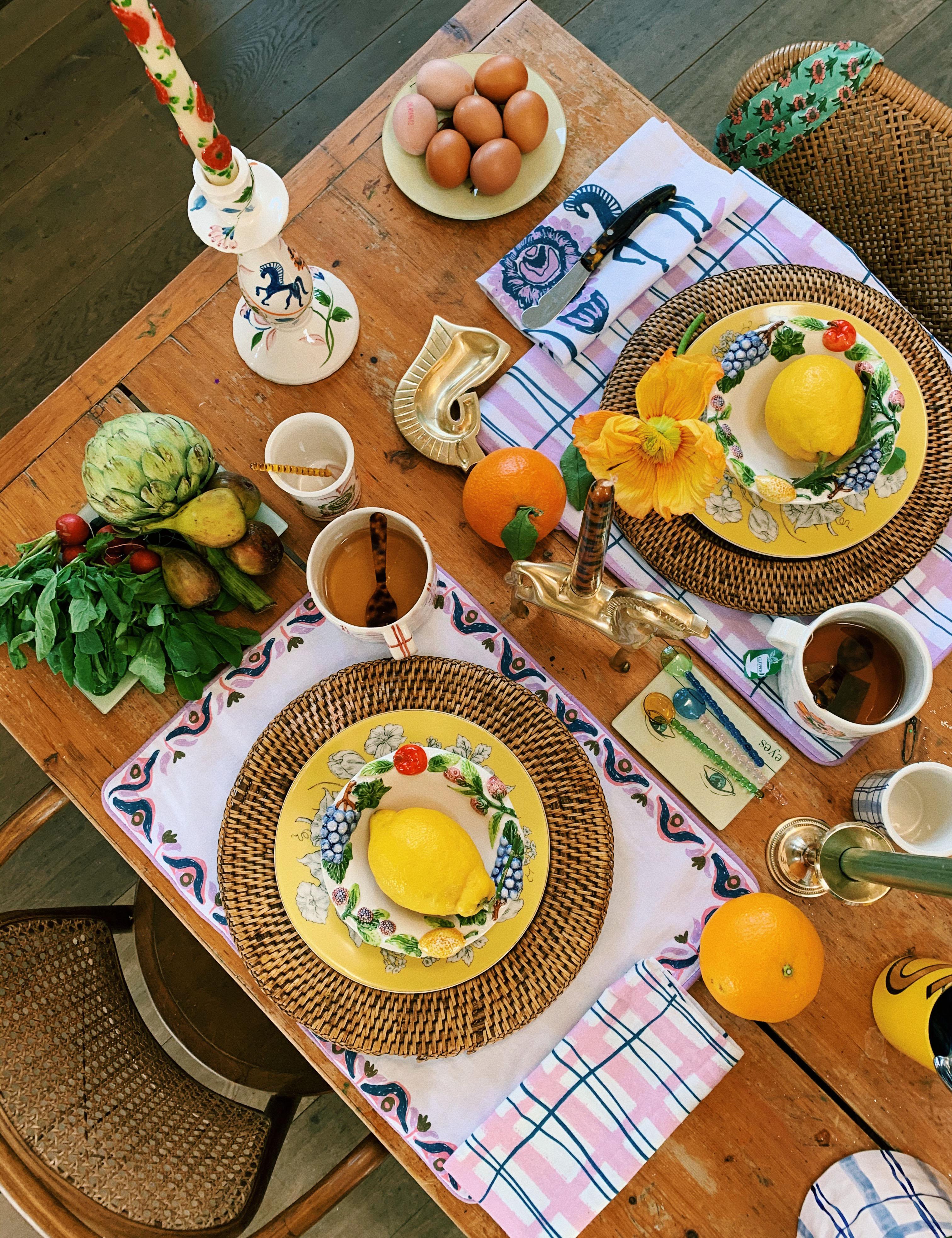 See You at Seven
The Good Dinner Party Guide
From what to take for the host to do's and don'ts of at-home hosting, this is Liberty's guide to nailing dinner party etiquette.
By: Charlotte Pavitt
There are two important elements to every great gathering; the excellent host and the gracious guest. Whichever role you play there are rules. Nailing good dinner party etiquette is easy and entirely worth the effort (you'll get more invitations!). We've consulted our black book of Liberty invitees to uncover their tips and demystify the ins and outs of hosting (or guesting) a dinner. See you at 7!
How to Be an Excellent Host
Playing the role of The Host requires a few key ingredients to truly bring the party indoors: delicious food, cocktails aplenty and a beautiful tablescape. But to really wow your guests, its the small details that make the evening all-the-more memorable. Our experts agree...
Anna de Lanoy Meijer and Nina Poot, founders of Anna + Nina, believe that "the most important thing when hosting is people feel really welcome in your home, that you impress them with the first drink of the night and that the table looks really great". Anna + Nina's Flower Parade Ceramic Candle Holder, £49.95 will bring charm to any setting.
Shop Now
Cher Webb, makeup artist and Liberty's contributing beauty editor, also likes to ensure a good first impression. "I love to get all the candles lit before the guests arrive to set the mood. Diptyque Baies Candle 190g, £54 is a classic that won't clash with any food smells. I also make sure there is one lit in the bathroom with some Aesop Post-Poo drops or a Loewe Beetroot Home Fragrance 150ml, £88 room spray in full view. We've all been there!"
Shop Now
A great dinner party shouldn't focus just on what's being served. Dija Ayodele, skincare expert and author of Black Skin notes "dinners are always about creating memories so always try to have a polaroid camera ready so that you can take as many instant photos as possible - and they make a nice gift for guests to go home with". To really capture the spirit of an evening, place a Betsy Tana Lawn™ Cotton Guest Book, £45 on a table in the entrance to your home for your guests to leave a message, photo or perhaps a review.
Shop Now
The proof of a good host really is in the pudding when it comes to dinner parties. Chef Ravinder Bhogal, founder of Jikoni, prefers large platters of delicious things to share over fiddly plated food. "My advice is to be generous yet simple, they are in your home - not a restaurant". New to Liberty, our In The Roundhouse Fish Platter, £45 is a playful dish for serving up a host of your favourite sharing dishes. She encourages you to keep the drinks flowing at all times: "set up a little drinks corner with ice, lemons, a selection of spirits & an ice bucket of champagne & wine so guests can help themselves".
Shop Now
How to Be a Gracious Guest
If you've been invited to a dinner party but are unsure what to bring along for your host, a nice gift is always a good place to start - just don't forget a great attitude and sense of punctuality, too. When it comes to selecting just the right thing, we turned to our experts to suss out their favourite tokens of appreciation.
Lifestyle brand Vyrao's founder Yasmin Sewell stresses the importance of arriving with a gift "big or small, I'll always make sure it's thoughtful and personal". As the guest its your prerogative to bring your A Game when it comes to dinner chatter - a gift of Liberty Playing Cards, £14.99 will ensure there are no awkward silences at the table. "It's all about sharing good energy and gifting is such a joyful energetic exchange".
Shop Now
Phoebe McDowell, beauty director at Grazia and founder of The Pinterior makes a case for food over flowers. "Flowers are an effort for hosts. Pans are boiling over, surface space is limited and time finding scissors, a vase and enough superlatives to show gratitude, could be better spent making you, the guest, a stiff drink." She advises to instead "opt for posh crackers and a honking wedge of cheese. And if you insist, a jar of something lovely to accompany the two". Our Ale Chutney 300g, £6.95 goes down well every time.
Shop Now
Bre Graham, lifestyle editor at Courier and founder of the Dishes to Delight newsletter encourages you to never show up empty-handed. "Always have a bottle of wine/flowers/something fancy or fun to drink and ask the host in advance if there's something specific you can bring or pick up on the way". Our Liberty Red Wine Gift Box, £59.95 takes the stress out of finding a bottle in the supermarket 30 mins prior to arrival time. "When hosting, making people feel at home is key so remembering any allergies or foods they love makes people feel seen and like you've made an effort no matter what you put on the table".
Shop Now
Of course, there's always your traditional route of wine or flowers, but if you're looking to be more considered with your choice, makeup artist and founder of Tinker Taylor Beauty Zoe Taylor often brings along "beauty products I am obsessed with at that moment which I think might suit the host, which always goes down a treat". Be thoughtful in your choice and make it personal like the Aesop Resurrection Purifying Hand Duet 2 x 500ml, £57 they complimented last time they were a guest at yours.
Shop Now
Bobbi Brown, makeup artist and founder of Jones Road Beauty always tries to gift something with personal meaning that speaks to the relationship - this could be as simple as a box of their favourite truffles, or a Hay Large Glass Jug, £75 to house their legendary spicy margaritas. "I also love to gift hosts a great bottle of olive oil because it's a gift that always gets used. If you're lucky enough to be an overnight guest at someone's home, always strip the bed and dump your garbage before you leave the room you stayed in. It's just the right thing to do".
Shop Now