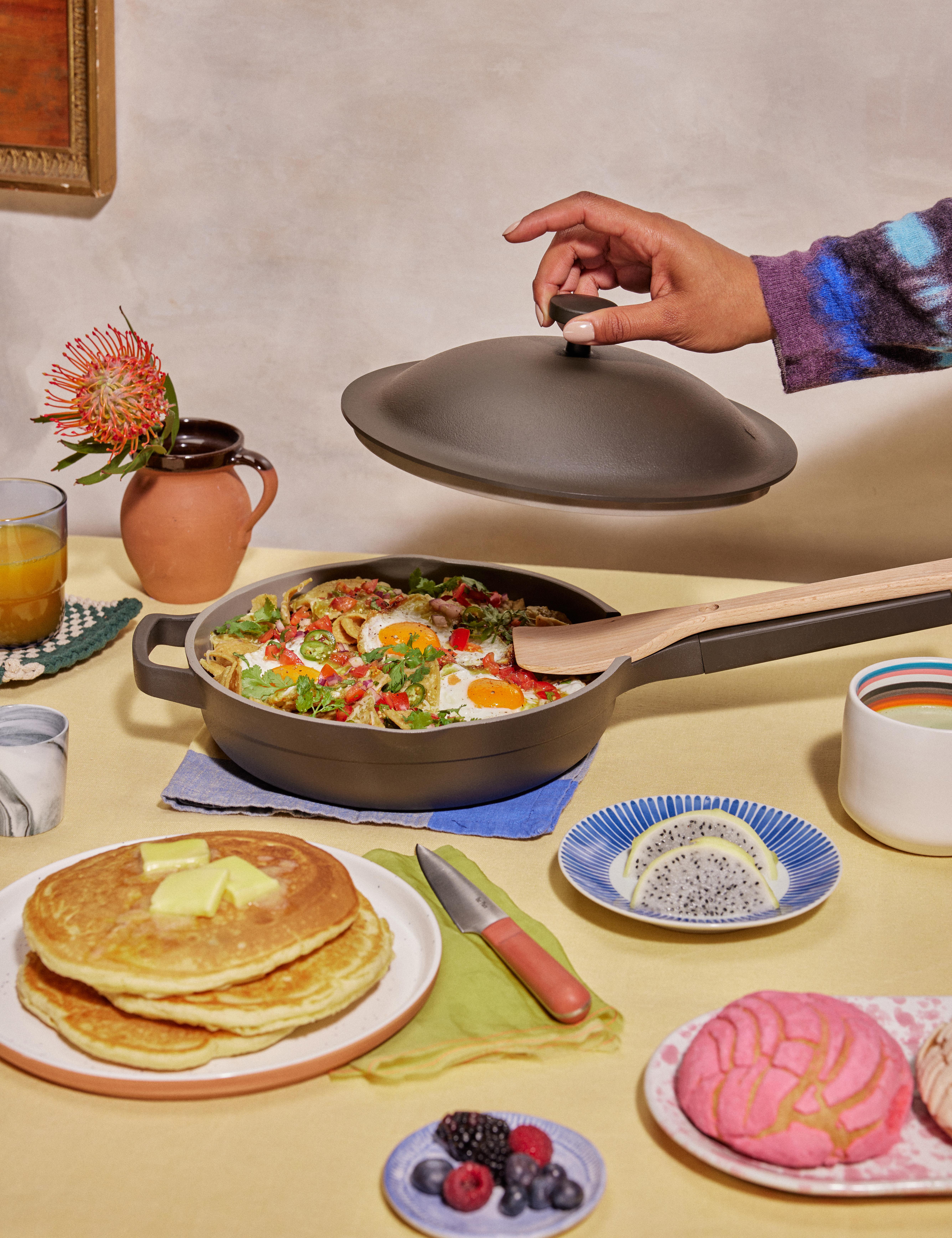 A One Pot Wonder with Our Place
Liberty's Contributing Interiors Editor Phoebe McDowell pens an ode to effortless eating, to heart and soul food, and to love. Come on over to Our Place
By: Phoebe McDowell
There comes a time in life when you can think of nothing you'd rather do than stand over a cast iron dish and tend lovingly to its contents. It will first happen on an indistinguishable Sunday in late autumn, early winter, and as the bubbling becomes audible and constant and the week's worries begin to dissipate, something will switch in your mind and you wonder why on earth you've never partaken in this godly practice. But there are other times when you've reached peak capacity, when your heart is consumed with the love of something other than food. So much so that there is no room for the requisite thinking or planning of an entire meal for goodness sake. No time for meeting deadlines, or for meeting anyone for that matter. Other than the one person taking up the space and mental load of course, who makes it impossible to concentrate on anything else. And it's in these times, when I need to eat effortlessly, when I am wholly reliant on a One Pot Wonder.
I'm something of a one pot loyalist, my dish of choice being the sausage ragu by Tart. It comprises 12 ingredients, three of which include fennel, one in seed, one in sausage and one in vegetable form. Everything is as chucked in as you'd imagine, the flavours free to mingle and meld, no timer set. Instead I judge its readiness by the shiny, syrupy texture; when it's rich and tangy and makes my body crumple in on itself with happiness.
And of course I make a vat of the stuff, doubling or even tripling the quantities, as if cooking for a soup kitchen on Christmas Day. I tell myself that it'll do me for the week, that I'll decant it into tupawares, and that each portion will be better than the last, the flavours having intensified. Alas, it goes in one sitting because in the time since deciding to make it, I've inducted my new boyfriend into the ways of The One Pot. He's into it - more joy! Then we invited a friend round who's been ghosted, another who feels listless at work and a third who has missed her tax rebate deadline… for the fourth year in a row. Because this you see is easy food for the soul, with the ability to soothe more than a bath or glass of Barolo ever could. It's helping me keep pace with my social life. There is so much to love in this unity of ingredients.
Also, the nostalgia. As a child I'd come home from cross country races in sideways rain, lay a tea towel on the warming plate of the AGA, thaw my cold and mottled thighs and wait for the lamb stewing next to me, soon forgetting I came last. They were one of life's most reliable, hearty and honest pleasures then and they continue to be so now.
I love them too because they're practical, particularly in my current state of mind. No rifling in cupboards that clatter with wedged and jumbled pans. And with minimal ingredients lists, no traipsing between shops to find exotic sounding, impossible to find, bank breaking ingredients. Better still, no standing on chairs to find the right herbs and spices, the majority of which are years old and covered in unidentifiable gunk. And because they seldom require the kind of culinary technique that could render them inedible, you have no-one standing over you telling you that they'd braise or tenderise or poach it a little more if they were you. Instead you're free to improvise, and everyone's fine with that because one pots are not a chef's creation but a cook's. They belong to those who understand the homeliness of cooking and all the rituals that come with it. Maybe you can't julienne a cucumber or salt bake a fish but you can lovingly tend to and dish out dinner. Maybe to the one you love.