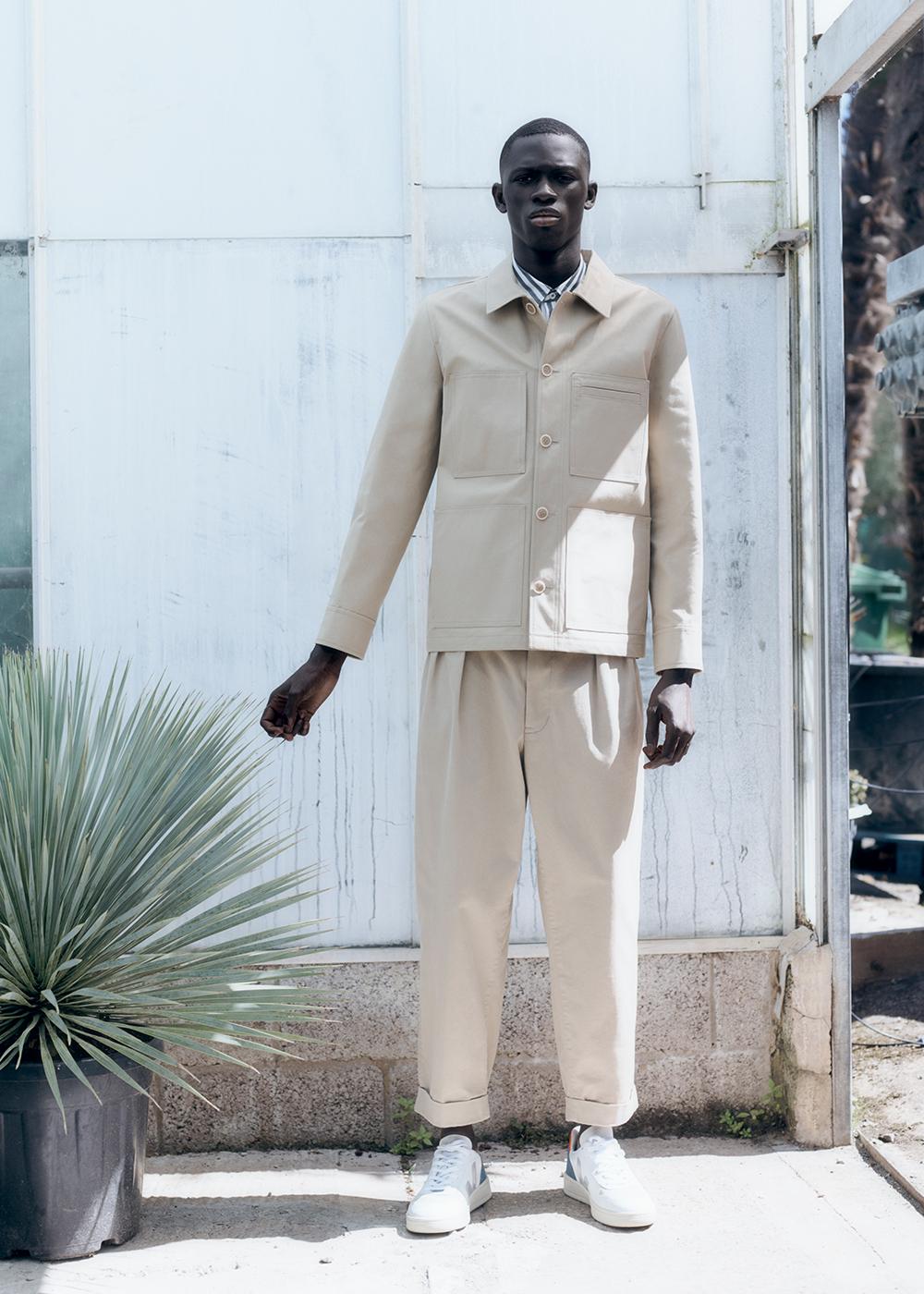 High Taste, Low Fad
A.P.C.
Over 30 years in the industry for fashion's most understated and outspoken brand
Shop A.P.C.
By: Team Liberty
Today's shoppers demand to know where their money is going. In the fashion industry, sustainability is on the rise as more and more brands are moving away from cheap production - but this ethical approach isn't an entirely new concept. One company has been quietly practicing such principles for the past three decades and, chances are, you'll have a piece of its logo-free ready-to-wear in your wardrobe. At Atelier de Production et de Création (A.P.C.), ahead of the game is an understatement.
Jean Touitou has always had rebellious tendencies. A.P.C.'s founder built the French brand in the late-'80s as an antithesis to the gaudy excess of the decade. Fad-free fashion is a mantra that served A.P.C. well from inception. Launching with denim, the label's fanatical attention-to-detail was apparent. Japan was home to the raw denim known to be the industry's finest and Touitou's company was an early adopter in the West of this soon-to-be-cult cloth. Working one-on-one with his weaver in Japan, Touitou created A.P.C.'s denim, said to contain a secret ingredient. Today the company relies on this same recipe to create its Standard jeans, long-considered by denim connoisseurs to be the standard to which selvedge denim is held. The brand's 1987 first collection of essential knitwear and streamlined tailoring had no labels, just the season written in script: HIVER 87.
A.P.C. is imbued with that undefinable Parisianess - part minimalism, part finesse, part insouciance, always with that hint of defiance. Whilst retailers today attempt to bottle this sought-after je ne sais quoi, A.P.C. own the bottling plant. Unconcerned with whims, a stubborn introversion pervades at the label's headquarters on the Rue Madame in Paris's 6th arrondissement. If there was ever a brand for the well-dressed introvert, it's A.P.C. Clothes hold a Nordic-esque simplicity and functionality, an obsession with fabric and cut so intense it defies monotony. As Helmut Lang argued of the austere clothes of the '90s: these clothes are not minimalist, they are the modern elaborate.
A.P.C.'s adverts are transparent; an image and logo, statements of fact rather than sales rhetoric. A view pervades at the company that commerce is brazen, whilst quality is discreet and respectable. A trend implies something fleeting and, to Touitou, to be 'on-trend' is to make your own bed. No fast fashion here, Touitou is flattered if customers return to a piece year after year. That Parisian nonchalance pervades, a confidence that when they rebuy, it'll be A.P.C. Things that matter at A.PC.: music, purity, detail, authenticity. Things that don't: celebrity, trends, influencers, fame.
The absence of affectations in a company doesn't mean the removal of personality and a distinct A.P.C. attitude is carried by both employees and devotees of the brand. A label for those in-the-know, a certain stitch on a jean pocket or the draping of a t-shirt are hallmarks of the brand. As foreshadowed by the brand name, production and creation hold equal, and vital, standing within the company. Artistic innovation is always greeted by the talent to realise it. One in three employees are musicians and the Parisian head office houses a recording studio. A.P.C.'s collections reference obscure musicians, live bands soundtrack its pared-down fashion week shows and the label has collaborated with Kanye West - never for a second wavering from the distinct plain perfectionism fans flock to worldwide.
As fashion startups bombard us with attention-seeking gimmicks, A.P.C. proves time and time again that the tortoise will always outrun the hare. Give your saturated brain a break and shop A.P.C.'s integrous, era-defying clothing – you'll be back.