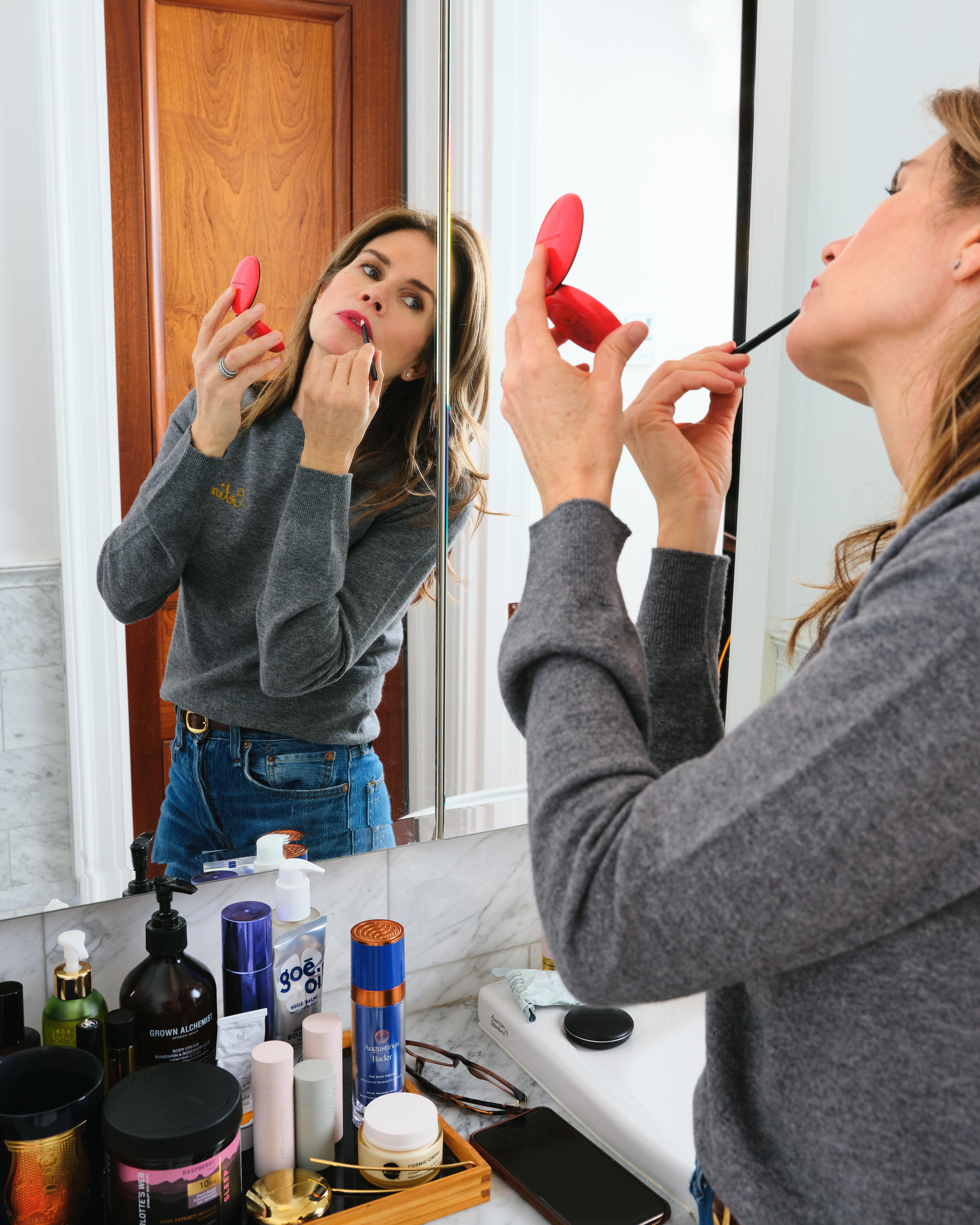 On Rituals
Gucci Westman
The Westman Atelier founder shares the beauty rituals that shape her morning
Shop the edit
The power of routine is more prominent than ever, and we've all experienced first-hand how even the smallest habitual acts have a transformative effect on wellbeing. And when it comes to rituals on a tight timeframe, Gucci Westman gets it right. Here, the world-renowned editorial makeup artist behind Westman Atelier and mother of three shares the daily customs that keep her balanced, from morning meditation to makeup.
I find it incredibly restorative to set intentions for the day. Every morning after I wake up, I practice Transcendental Meditation – even if I only have a few minutes before starting the morning routine with our three children.

I like to sip a homemade almond milk latte while reviewing my calendar and checking my emails – as a makeup artist and brand founder, there's always a lot going on. Unless I'm on set with a client, a typical day can jump from testing shade submissions and reviewing new R&D and packaging to filming content for our channels. It's always a bit of whirlwind but it's incredibly exciting.
If I don't have an early call or meeting, I like to exercise before getting ready. Lately, I've been streaming Taryn Toomey's The Class. It completely resets my energy and helps me tackle the day ahead.

Next, I'll shower and do my makeup. I'm obsessed with body moisturisers and will switch them up depending on the season. Right now I'm using Bjork & Berries Body Serum: I like how it sinks into my skin with long-lasting hydration.

I love a bit of light exfoliation in the morning – it really helps create a smooth base for makeup. I suffer from rosacea so I lean towards brands that are gentle but effective, and Aurelia Probiotic Skincare is one of my all-time favorites. Refine and Polish Miracle Balm has this wonderful texture that leaves my skin bright and refreshed.

I'll then pat Augustinus Bader's The Rich Cream into my skin before applying my foundation. I wear Vital Skin foundation every day – it was the first product I had in mind when I started Westman Atelier. It's rich in antioxidants and calming actives to leave skin naturally radiant.

Skin is at the core of everything I do as a makeup artist. I never want to transform myself or anyone else; I believe it's always about amplification of one's natural beauty.
I can't live without a bit of bronzer so I'll sweep Beauty Butter across my skin for warmth. My schedule really dictates my makeup look for the day, but typically I'll add a bit of Face Trace for a subtle contour, Lit Up along my cheekbones and then finish with a touch of Baby Cheeks blush stick. Lately I've been having a bit of a lip moment, so I'll glide on Squeaky Clean or Lip Suede, depending on my mood.

I work from home mostly now, so I'll either hop on a Zoom call with our team or head to our studio space for filming. Whenever there's a break in the action, I try to spend as much time as I can with our children.
Online only