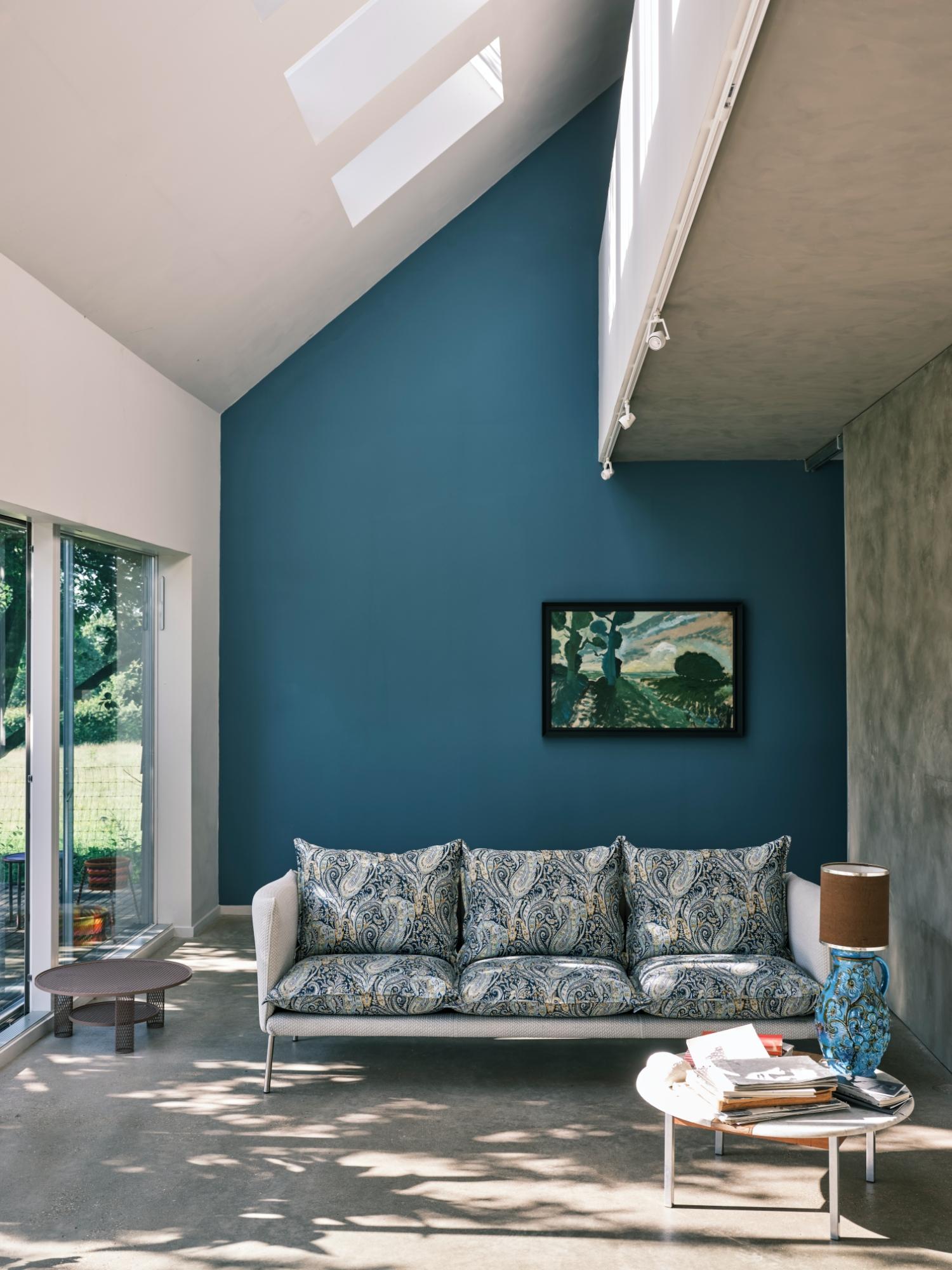 Home Styling
Expert Interiors Tips
Our Liberty Interiors expert shares her top colour tips for curating and designing your home living space
Shop Farrow & Ball
To celebrate the historic collaboration between British interiors icons Farrow & Ball and Liberty, our own Head of Design for Interiors Genevieve Bennett shares her expert insight into creating a strong home scheme to dazzle through décor – from considering the movement of sunlight throughout the day, to coordinating print sizes to complement your space.
Tip 1: Create A Focal Point
"Start with a pattern or fabric you love, and build a scheme around it. I love using the fabrics in our collection in combination with plain coloured fabrics and paint – it gives space to the pattern, allowing it to breathe and sing."

"One tip to create a truly individual room is to choose a small colour detail in your fabric and use this as the inspiration for solid fields of complementary paint colour. It helps provide a perfect background for the fabrics which is surprising, liveable and unique."
Shop Farrow & Ball
Tip 2: Check the Light
"Before deciding on a paint or fabric, check the swatch throughout the day in different light conditions. We forget that a room can change through the course of the day depending on the movement and shifting light quality (with many of us only seeing a room at the end and start of the day if working outside the home)."

"One of Liberty's most iconic patterns, Hera has been reinterpreted into a beautiful matte and shine jacquard inspired by silk pyjamas sold in the Liberty store. I love the subtlety and surface contrast here – imagining how the sunlight would hit the room throughout the day, showing the beautiful texture in the weave and bringing out the warm hues in Farrow & Ball's Chemise No.216."
Shop Farrow & Ball
Tip 3: Coordinate Pattern Scales
"I love to mix pattern scales with my choice of fabrics in a room. Selecting a bold large-scale design and offsetting against a much small-scale fabric can be a nice way to balance and create beautiful coherent schemes. Using the paint colour to bring together the fabrics and find a common colour which sits in both fabrics can help."
Shop Farrow & Ball
Tip 4: Offset Your Hero With Colour
"Select a hero pattern and offset it with solid fields of colour and even bold graphic paint effects in complementary colours. I love how the colour-blocked walls in this image makes the Regency Tulip velvet (which was originally created in the 1930s) look so contemporary and fresh."
Shop Farrow & Ball
The full paint collection is available to purchase in Farrow & Ball showrooms, selected stockists, and at farrow-ball.com. Liberty Interiors fabrics and Farrow & Ball sample pots are available to purchase from libertylondon.com.