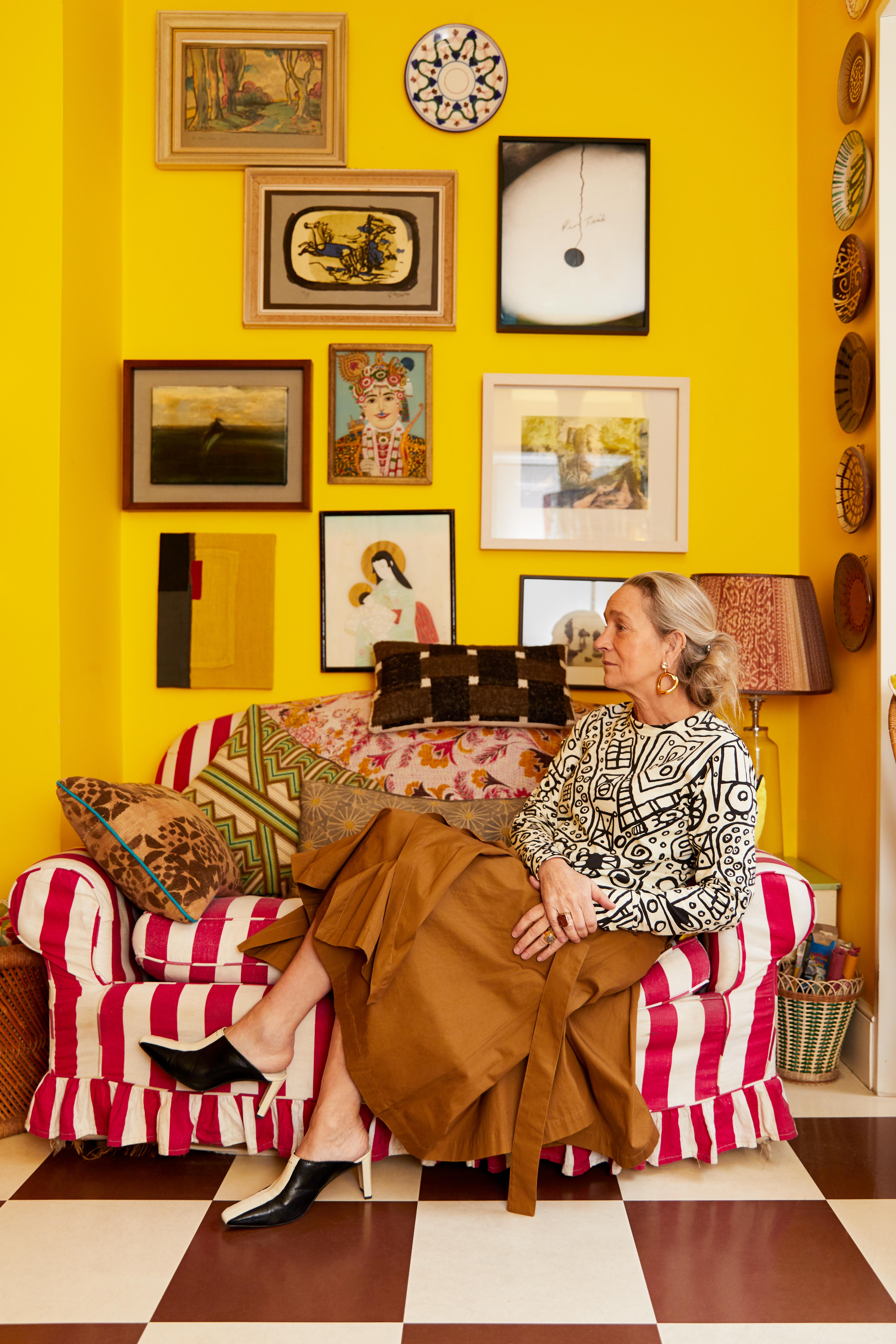 At Home With
Lucinda Chambers
Former Vogue Fashion Director and Colville co-founder Lucinda Chambers invites us into her Shepherd's Bush home
Shop Lucinda's Edit
By: Team Liberty
Situated in the London borough of Hammersmith and Fulham, Shepherd's Bush resolutely refuses to change. The same slightly-scruffy restaurants, corner shops and old boozers have lined its streets for decades - standing their ground as residents of all ages and ethnicities maintain the bustle around them. Lucinda Chambers has lived in the dynamic neighbourhood for over 30 years, finding herself rooted by its unconformity. "It's so diverse," notes the Colville co-founder. "There's no 'type' here so you're visually bombarded with young and old, a mix of race and colour."
Chambers' own home is as idiosyncratic as the area it lies within, boasting a charmingly chaotic interior, utterly befitting of its owner's personal style. "I guess it's what you call eclectic," she says, perched atop a striped red sofa piled high with embroidered cushions, canary yellow walls as her backdrop. "I'm a real magpie when it comes to 'things'. I love colour and pattern and texture from everywhere in the world, so it's not quite anything, nor clearly defined. It's a melting pot."
I love colour

and

pattern

and

texture from everywhere

in the

world, so it's not quite anything,

nor

clearly defined. It's a melting pot.
This unfaltering eye for harmonic clashes has underpinned Chambers' career, 25 years of which were spent working as Vogue's Fashion Director. As a stylist, she's well-known for bringing disparate elements together in a way that is both exquisite and undone, spontaneous and just-so – always taking cues from the city around her. "I love the freedom and the expressiveness of London style," she says. "It's not conservative, it's liberating and lively, experimental and expressive. Londoners aren't really shocked, you can be yourself and look however you want and people will accept you and not stare."
In this spirit, Chambers relishes the chance to challenge the fashion industry, and her city's open-mindedness and individuality has helped her to unlock and preserve her own. "Historically money has never really been a factor in the London fashion industry," she says. "We had a kind of bravery and independence, doing what we wanted to do in the way that we wanted to do it. London has always challenged fashion in a really good way."
Chambers used the same approach when launching Colville with former Marni designer Molly Molloy in 2018; a fresh, energetic label intent on reimagining runway for a sustainably-conscious world. The idea was to create a line that transcended country and place, clothing that "feels global, open and without borders".
On a creative level, Chambers describes London as "fabulous", and she soaks up inspiration from every inch of it: "Whether it's a glittering skyscraper in the city to a council owned mansion block, the wharfs of the East End or the cafes in Notting Hill, the markets, east to west – it's all so varied." She's been in the capital for the best part of her life, yet she has no plans to leave its embrace. "There is always something new to discover," she remarks. "Especially if you're on a bicycle!" Much like the borough she resides in, Chambers is defiant in her London position – resolved to remain, just as she is.