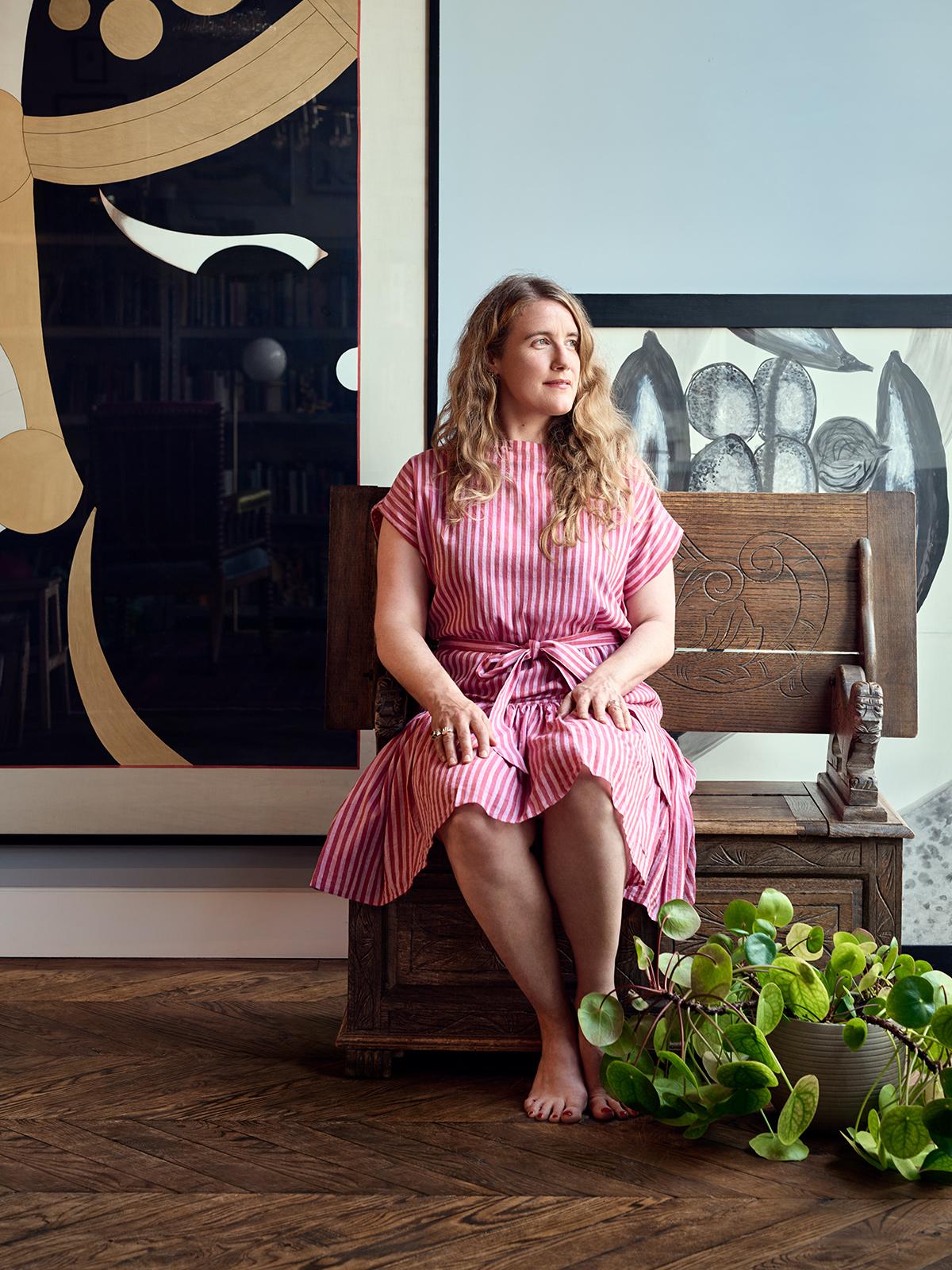 Home of the Artistic Shopper
Alice Cicolini
Jewellery designer Alice Cicolini invites us inside her eclectic East London home
Shop Alice Cicolini
Much like her colourful enamel jewellery designs, Alice Cicolini's interior aesthetic is fearlessly eclectic – a space where old meets new and classic artistry is brought to life with bursts of pattern and texture. Here she invites us inside the East London home that she shares with her family, her cat and a lifetime of furniture taken from her childhood, travels and everywhere in between.
How long have you lived in this house? Who do you share it with?
I moved to Hackney Wick around seven years ago with my family. We share the house with our cat but also with all the beautiful friends we have made in the building who flow through here daily, enriching my life beyond measure.
What does 'home' mean to you?
It functions on so many levels; there is the home I carry within myself, a sense of who I am and what I need to thrive. And then as a curatorial kind of soul, home is being surrounded by meaningful objects and relationships.
How would you describe your interior aesthetic?
Eclectic - a combination of old and new, bold colour, a focus on texture and materials. Lasenby's description of Liberty as a 'warehouse of the world' always struck a note with me growing up and that is most definitely there in my sensibility.
Does this sit back to the aesthetic of your brand?
Yes absolutely! I always look for narrative and meaning in my design work, and I'm best known for my use of colour and pattern. Enamel is also very much about the texture and quality of material and colour, and where I can I always seek to bring the energy of the new into the artistry of the ancient.
Lasenby's description

of

Liberty

as a

'warehouse

of the

world' always struck

a

note

with

me growing up

and

that

is

most definitely there

in

my sensibility.
In which room do you spend the most time?
The kitchen - cooking is a form of meditation and an expression of love.
What's your entertaining style?
My friends always joke about how frustrating and yet wonderful it is watching me pull evenings and dinners together at the last moment. I pour my love into the sensory abundance and togetherness that evenings with friends constitutes for me.
Are you influenced by your environment?
Much more than I have previously acknowledged! I have learned over the last few years that shifting my environment significantly shifts my perception - a visit to a museum to see three inspiring things is food for the soul on those grey days.
How did you go about decorating/furnishing each room?
It's been a lifelong project. As the family archivist, I'm the keeper of many objects of personal significance! Many pieces also come from my travels, and from exchanges with hugely talented friends. I recently redesigned the interiors at home and made a few key investments - a series of striking tiles from the amazing Simon at Tiles Etc in Islington, the incredible reclaimed French estate parquet floor from Eco Flooring, a stunning lamp by Michael Anastassiades and my cupboards from Scandinavian brand Superfront.
Do you have any go-to interior brands?
I have always admired the sensibility of Doshi Levien, and the curatorship of Clemence Krzentowski at Galerie Kreo. I am fortunate enough to be working with Carpenters Workshop Gallery currently. They are one of the world's most successful contemporary design galleries and they have an awe-inspiring roster of artists making extraordinary interiors pieces that fluidly cross the art/design boundary and are rooted in superlative craftsmanship. More recently I have fallen in love with Simone Brewster's stunning sculptures and Frances Priests ceramics. And one day I'd love to make a rug with Christopher Farr!
Do you have a favourite piece of furniture or objet?
Aside from my father's desk, I treasure the Monk Stool I grew up with as a child. I'm not sure what the connection to monks is at all, if any, but I do love that it is simultaneously a seat, a console and a storage unit.
Are there any interior trends you're particularly into right now?
I fell in love with a Turin-based architecture and interiors company called Marcante Testa and I admire the way they intervene in historic space in a way that is so respectful yet fearlessly contemporary, sharing the same spirit of material quality as the original structure. I'm not sure that's a trend, but it's not something you see often.
Are you drawn to specific colourways or design styles?
I always return to black and gold, highlights of red and neon, and bold patterns like the black and white chevron. I will always love Art Deco, and at one stage in my life I hope to know how it feels to live in Georgian space.
Where do you look for interior inspiration?
Mostly around me, travelling and in museums. But the World of Interiors has been a guilty pleasure for decades. I love the fact that trend is irrelevant - what matters in that universe is a fearless commitment to executing your aesthetic to the best possible quality. It's a metaphor to live by.