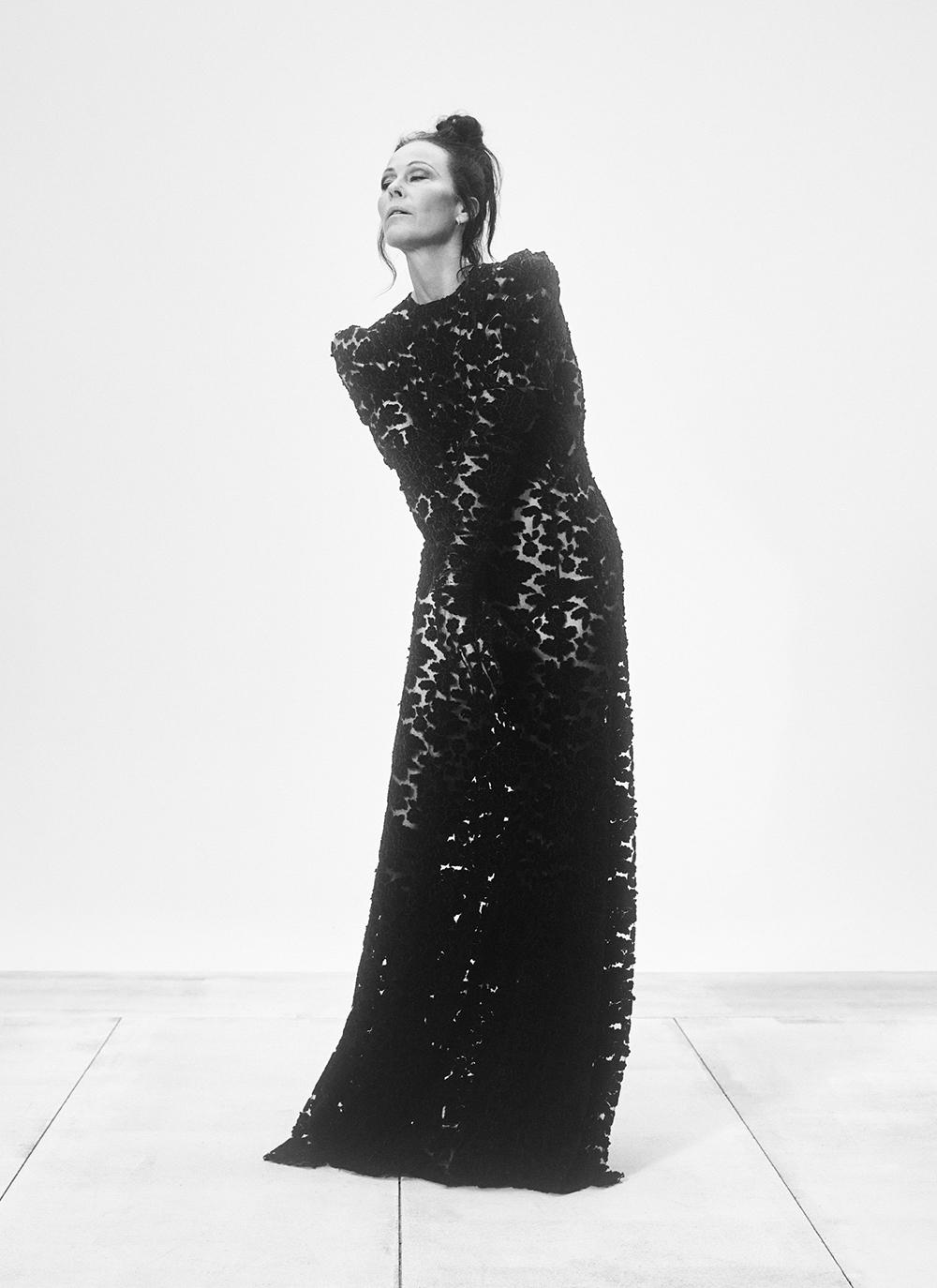 Liberty Meets
Susie Cave
Founder of The Vampire's Wife, Cave talks designing delicate dresses with bite
Shop The Vampire's Wife
Those in search of a twisted romance should consider nibbling The Vampire's Wife. Launched in 2016 by Susie Cave, the exciting new label combines delicate lace with darker overtones to create a compelling new harmony. Crafted with silks sourced from one of only two mills in the UK, silhouettes are flattering and feminine, tinged with vintage touches for a distinctly '50s feel. Here Cave gives us the lowdown on channeling a love of womanly figures, Russian ballet and her husband's music into practical, modern dresses.
After 27 years in the fashion industry, what inspired the move into design?
Actually, The Vampire's Wife came about through a frustration of having nothing to wear! I knew in my head the clothes that I wanted but couldn't find them anywhere. Most modern clothes felt they were more about the designers themselves and less about the women who want to wear them. I want people who see a woman wearing one of my dresses to say, "What a beautiful woman", not "What a beautiful dress."
How did The Vampire's Wife come into fruition?
It was an idea that my business partner, Alex Ruhmann and I had a couple of years ago. I have always had ideas for clothing and have been drawing pictures of dresses I have wanted to make for years. Alex and I felt a common urge to get out in the world and do something. To make something beautiful.
What inspired the name?
The name is a gift from my husband. It was actually the name of a book he was writing on the role of the muse in songwriting, but he abandoned the book and channeled his energies into a different idea, so the name was kind of lying around. I felt it was a great name for the clothing company, because it was strange and sort of sexy and playful too. We felt it was kind of unforgettable, which it is! Once you hear it you don't forget it!
Since launching the The Vampire's Wife, what has been your proudest moment?
There have been many proud moments, but I loved it the night Daisy Lowe wore the first dress I designed - The Red Velvet Night Garden Dress - to the GQ Awards a couple of years ago and she looked so bold and beautiful in it. I remember looking at the photos of her and thinking, "Okay, I can do this, this could be a thing - this could actually work". From then on it was head down and full steam ahead!
How would you describe the aesthetic of your brand?
I think that my clothes embrace the concept of womanliness and femininity without guilt or reservation. At the same time, there is an ethereal feel to them. They seem to float, to glide. My dresses are a form of levitation!
Where do you source inspiration for your designs?
My particular aesthetic comes from a great love of costume; Russian ballet, children's books, raw nature, art, movies, architecture, all manner of things, really. I guess The Vampire's Wife distills these influences into something that is practical, delicate, modern and simple.
Are you drawn to specific silhouettes? If so, why?
I love a full and womanly silhouette. Shamelessly and wondrously. It really is the most beautiful thing!
All of your materials are sourced from England, why is this important to you?
Well, really it is the Liberty Fabrics, the beautiful delicate designs and the gorgeous Tana Lawn that I love and of course the silk mills here in Britain are wonderful!
How do you want people to feel in your clothes?
This is an essential part of the creative process. I try to make clothes that will make the woman look good, not make the brand look good.
Can you share a Liberty London memory?
As a child I was given Liberty Fabrics covered notebooks by my grandmother. Coming from the North of England and Africa, they seemed so completely exotic to me. I absolutely treasured them and I remember coming down to London as a thirteen-year-old and walking into Liberty London and it really was like entering some timeless wonderland!