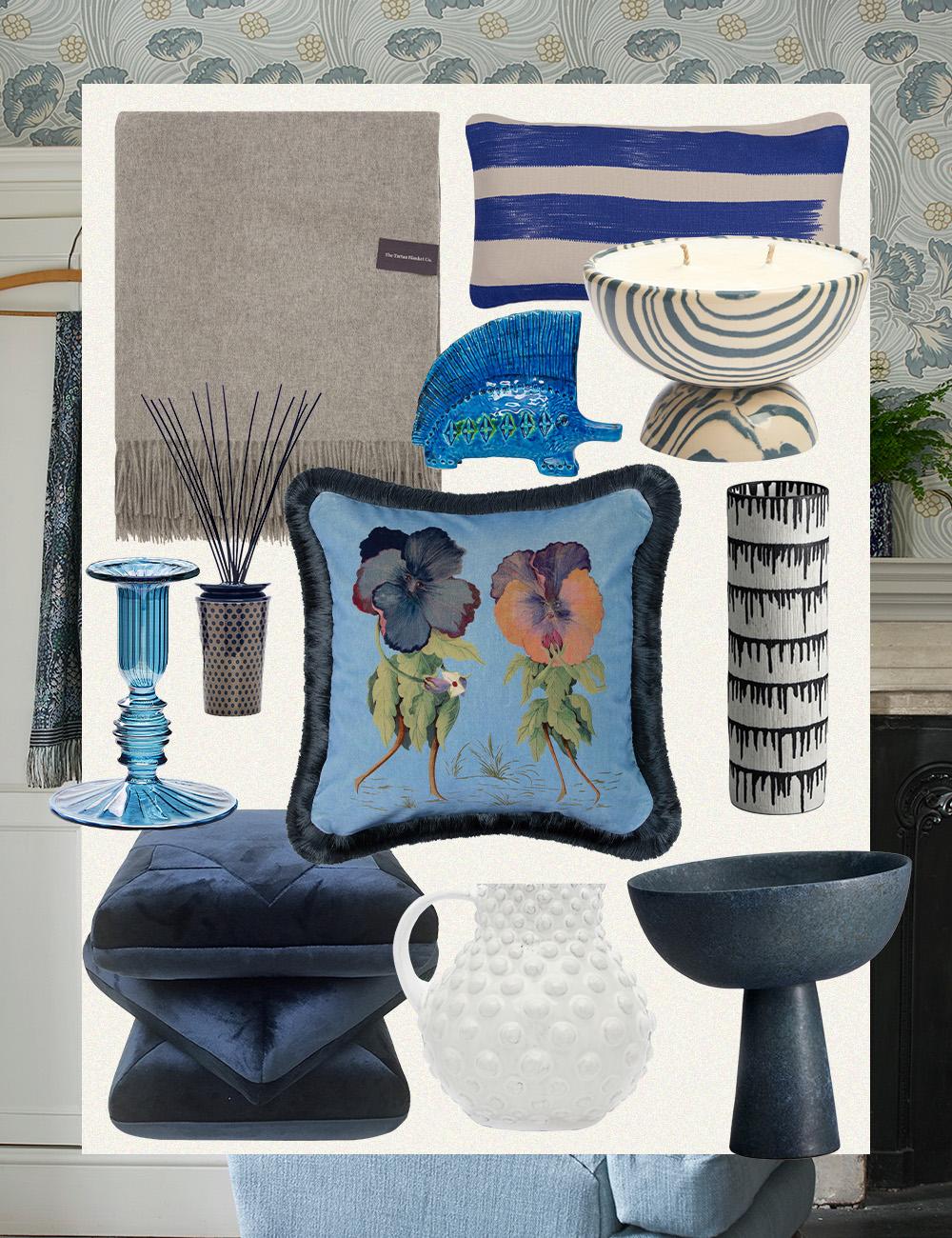 The Most Calming Colour Palette for Your Living Room
Simple ways to embrace a tried and trusted blue and grey combo in your own living room
By: Charlotte Olby
When it comes to blue and grey living room ideas, the opportunities are endless. A more calming alternative to monochrome, blue and grey (both timeless tones in their own right) work together to create a beautifully balanced palette that won't fail to help you unwind. According to colour theory, soft grey undertones will help you feel open and calm, encouraging self-reflection and clarity of thought. Blue, on the other hand, is an incredibly tranquil hue, synonymous with relaxation, serenity, and sleep - perfect for Netflix & Napping. Whether you're looking to DIY decor with wallpaper and upholstery, inject some new accessories or work with what you already have, there are plenty of ways to enjoy this failsafe palette that will leave you feeling soothed.
Embrace Texture and Pattern
Rugs, cushions, lampshades and accent furniture all bring individuality into homes without overhauling the entire scheme. Play with trial and error; experiment with different tones to find what works for you. Consider if you're looking for a contrasting or complementary mix of shades, and if you want to pair with additional tones already in your space. If you've ever walked into a room that's had a really jarring effect on you, then you'll understand how visceral the effects of colour can be on our emotions. Whisper soft blues and greys can be gently injected into your space by introducing colour with soft furnishings. It's a commitment-phobes answer to redecorating.

You never want a colour scheme to fall flat, and one way of preventing this is to include different textures. Velvet is the perfect companion for blue and grey, its dense pile helps to accentuate the depth of colour while giving a moment to the moodier tones. Desaturated blues, like those in House of Hackney's Amatoria Pansies Medium Cotton Velvet Fringed Cushion are a great choice for a quieter backdrop that allows brighter shades to be the star of the show. Opt for darker, more dramatic tones such as navy to make larger rooms appear more intimate or choose lighter hues to create the illusion of space, and don't forget to provide something to snuggle up with.
Accessories have a lot to answer for when it comes to the living room. Equal parts useful - like a vase for every type of bouquet - and equal parts purely decorative (try Bitossi's glazed Rimini Blu Hedgehog), they allow you to truly assert authority on a scheme.

If you're worried that decorating with grey will leave your living room feeling cool, consider adding pops of warmth and search for an accent colour by looking up. Amongst blue skies and grey clouds, you'll usually find a burst of optimism in sunshine yellow. Place lemon-y candles on your mantle and embrace the new season with spring blooms like mimosas and daffodils to avoid the palette looking a little too wintery. The key to making dark blue hues feel welcoming is to pair them with plenty of crisp light hues. So, always look to contrast any bold choices with sky blue glassware, plenty of candles to light up the space when hosting and a vase for flowers brought by aforementioned guests (one can hope).
Add Print with an Accent Wall
Why not tie together your blues and greys with a statement wall covering? Our beautifully elaborate Hana design, part of our new Botanical Atlas wallpaper collection, has been reinvented straight out of the Liberty archive, layered in mellow neutral hues that can be seamlessly paired with muted furnishing fabrics in Flax Flower and Pewter. If you're nervous to go all out with pattern, only use a wallpaper in a small section of your living to zone an area - like a home office set-up or perhaps a a reading nook.

Balance heavy print with subtle upholstery. When it comes to choosing grey fabrics, the more textured the better. Grey can be susceptible to feeling dull, so counteract this with boucles, linen and interesting weaves from our Art Colours fabric collection. Keen to introduce this year's buzzword Colour Drenching to your lounge? Go further than just a feature wall. Paint any and all architectural features such as fireplaces, coving and skirtings all in the same hue.