mute/unmute
Joy in Colour: How to Mix Prints
Dressmakers assemble. If there's one authority on how to mix prints, it's Liberty's legendary fabrics division, so consider this how-to guide a cut above the rest
By: George Elliot
Congratulations crafters: you've discovered Liberty's masterclass on how to mix prints, just in time for the start of your next craft project. Whether you're looking to get out of a monochrome rut or hope to unlock the pure joy that comes with wearing a harmonious set of hand-designed Liberty prints, this step-by-step guide (packed with expert advice from Liberty Fabrics' Senior Designer, Megan Clarke, no less) will have you mixing patterns and matching fabrics with confidence. See you at the sewing machine...
Step 1: Select Your Hero Print
Whether the pattern in question calls for multiple prints, or you're hoping to craft up an entire outfit as your next dressmaking venture, your first step is to identify a hero print, one that provides an anchor for the rest of the garment or outfit to centre around. "Let your personal taste guide you here," says Megan Clarke, Senior Designer at Liberty Fabrics. "Whether you're wandering around our famous fabric department or scrolling through our extensive collection online, look out for a print that speaks to you, one that catches your eye instantly - be that a vibrant paisley or painterly floral," Clarke adds.

Mixing fabrics needn't feel like a chore. "Embracing prints is all about fun, too, so perhaps go for one that tells us a little about your personality. Also, consider the importance of colour at this early stage; your main print (and its colour palette) will determine your next steps," Clarke explains. "If it's vibrant, the secondary prints you later go on to choose should be, too. So, if you're a little apprehensive or if you simply prefer softer shades, err on the side of minimalism."
So far, so easy, right? Well, this next stage - introducing secondary (yet still harmonious) prints into the mix - is what daunts the most. "Unfortunately there's no hard and fast rule," Clarke explains. "Unless you're already a pro print mixer, knowing which colours go well together and which print designs compliment one another can prove difficult."

Let's break down the art of mixing fabrics. "It's colour above all else that ties prints together," Clarke assert. "On paper, a leopard print paired with an Art Nouveau landscape pattern like Liberty's Prospect Road might sound odd, but if they both share a common colour - even if one of those prints includes just a small amount of it - it's likely that they'll make a perfect pairing," Clarke says. "Stick to this golden rule and the number and variety of prints you can add is technically limitless."

When it comes to mixing prints, it's also worth noting that opposites really do attract. "If your hero print features a largescale pattern, compliment it with something smaller and daintier; or if it's ornate, couple it with simpler, more minimal designs," Clarke advises. "And lastly, it's important to trust your eye; if you're able to visit Liberty in person, hold swatches close together and if they look right, they'll feel right when worn."

But how are these principles put into practice? To help kickstart your next dressmaking project and teach you how to mix prints, Clarke has shared size print pairings she recommends.
Shop Designer-Approved Print Pairings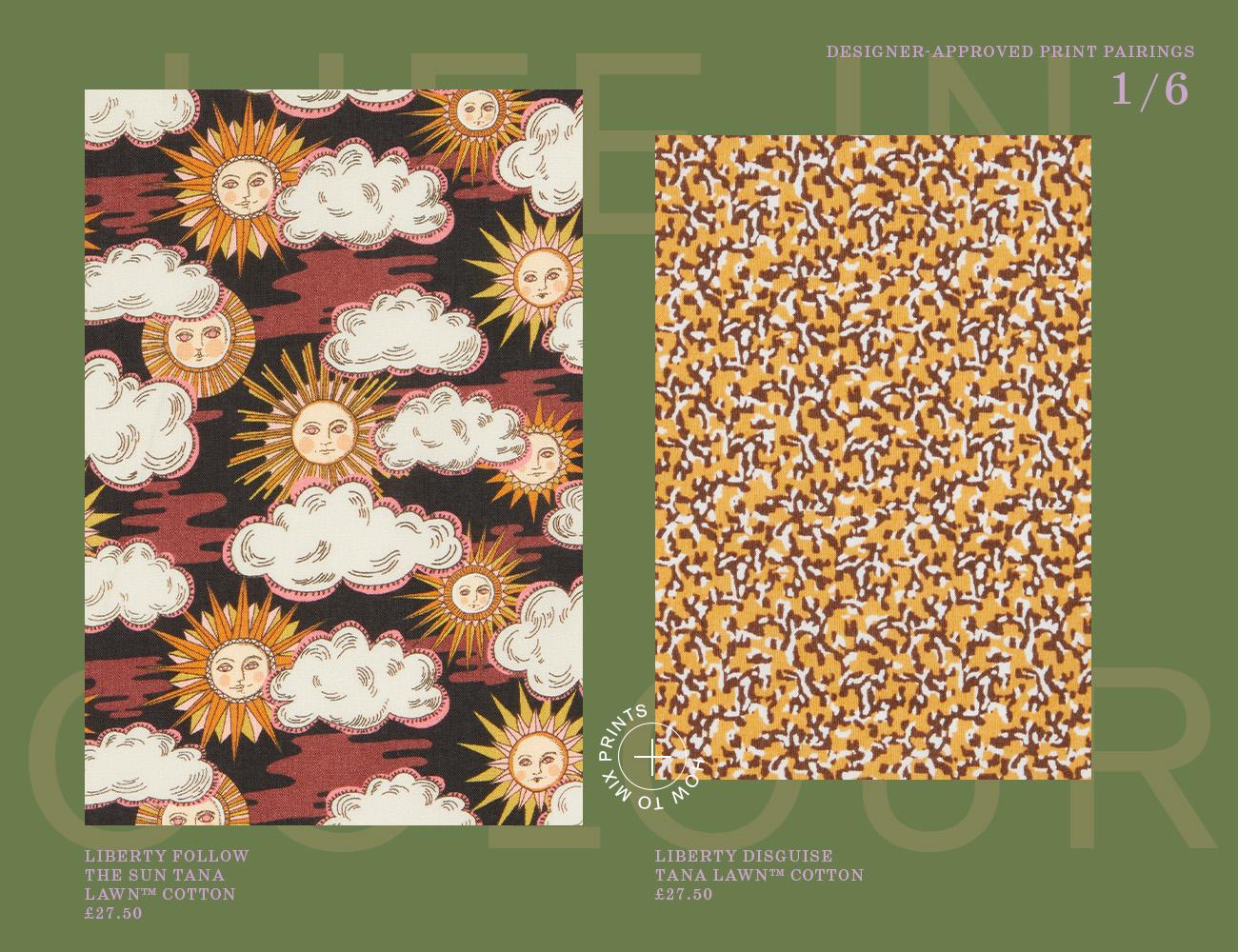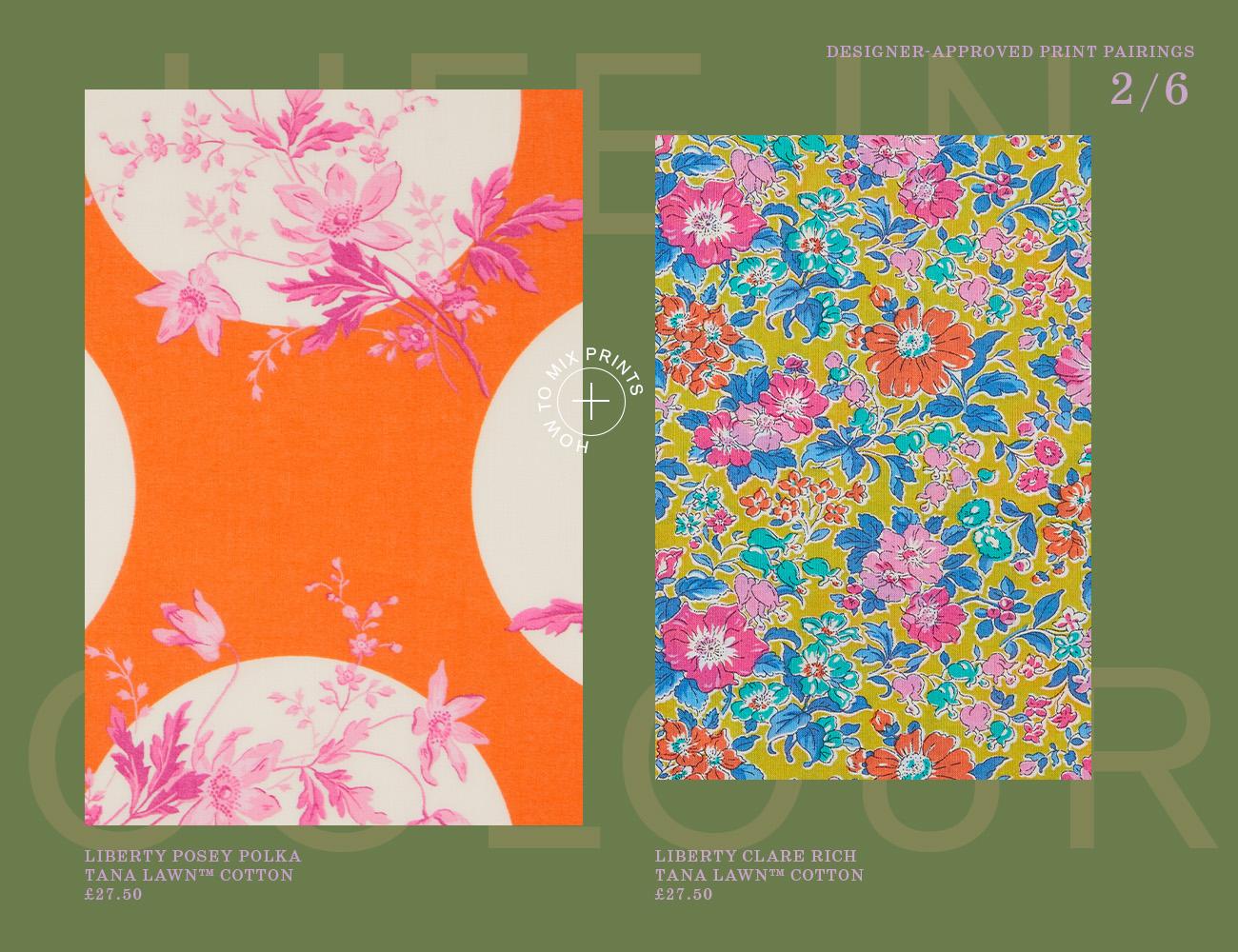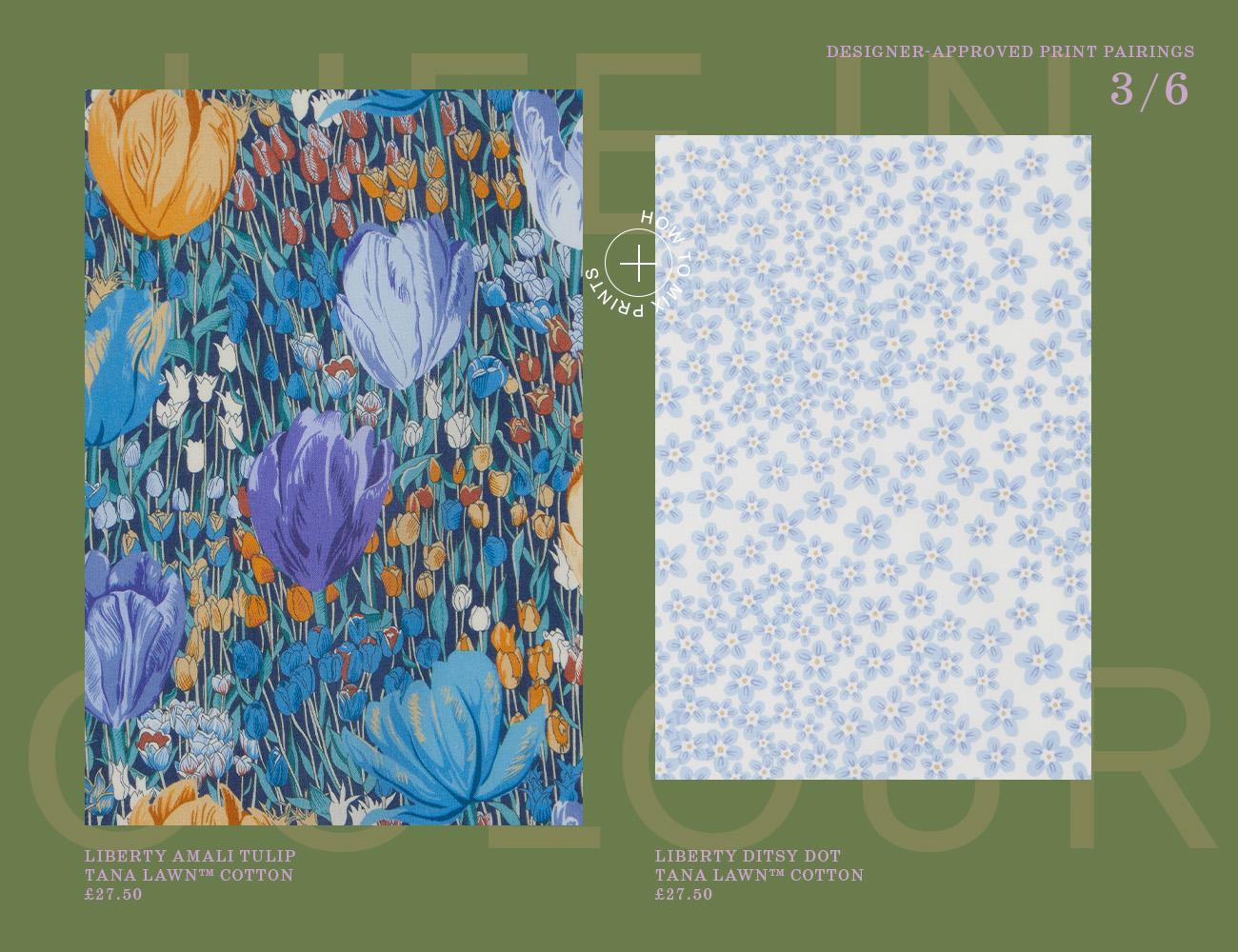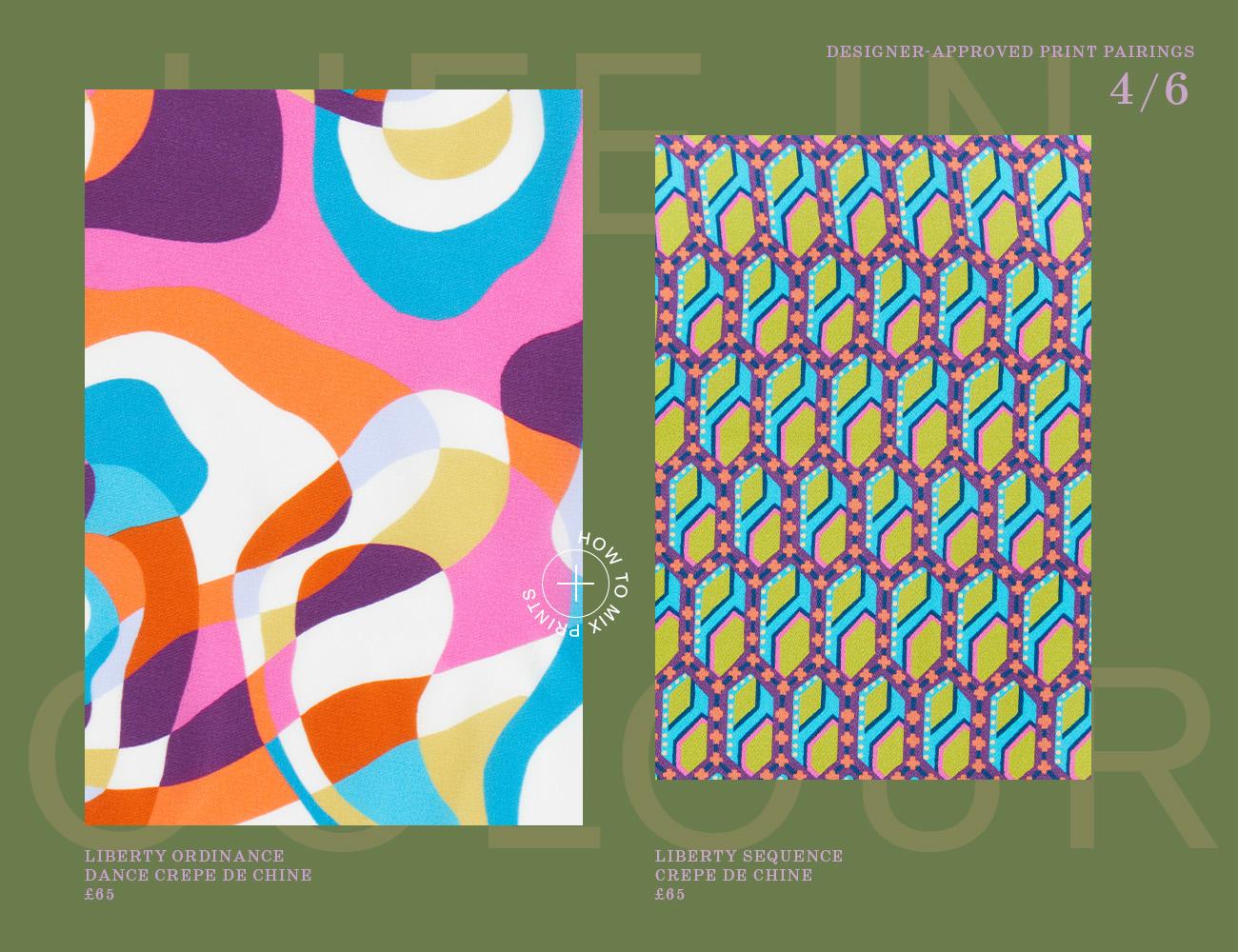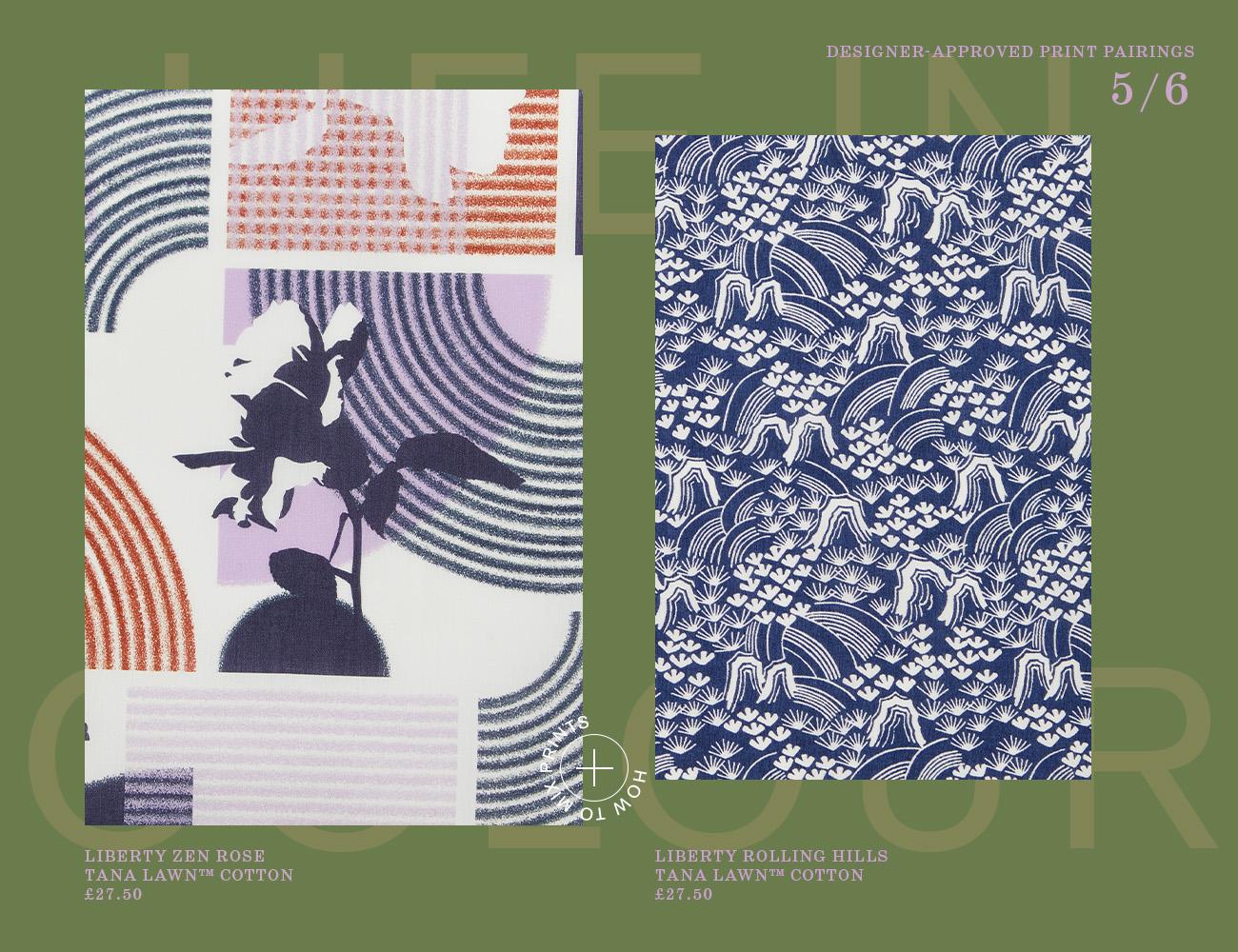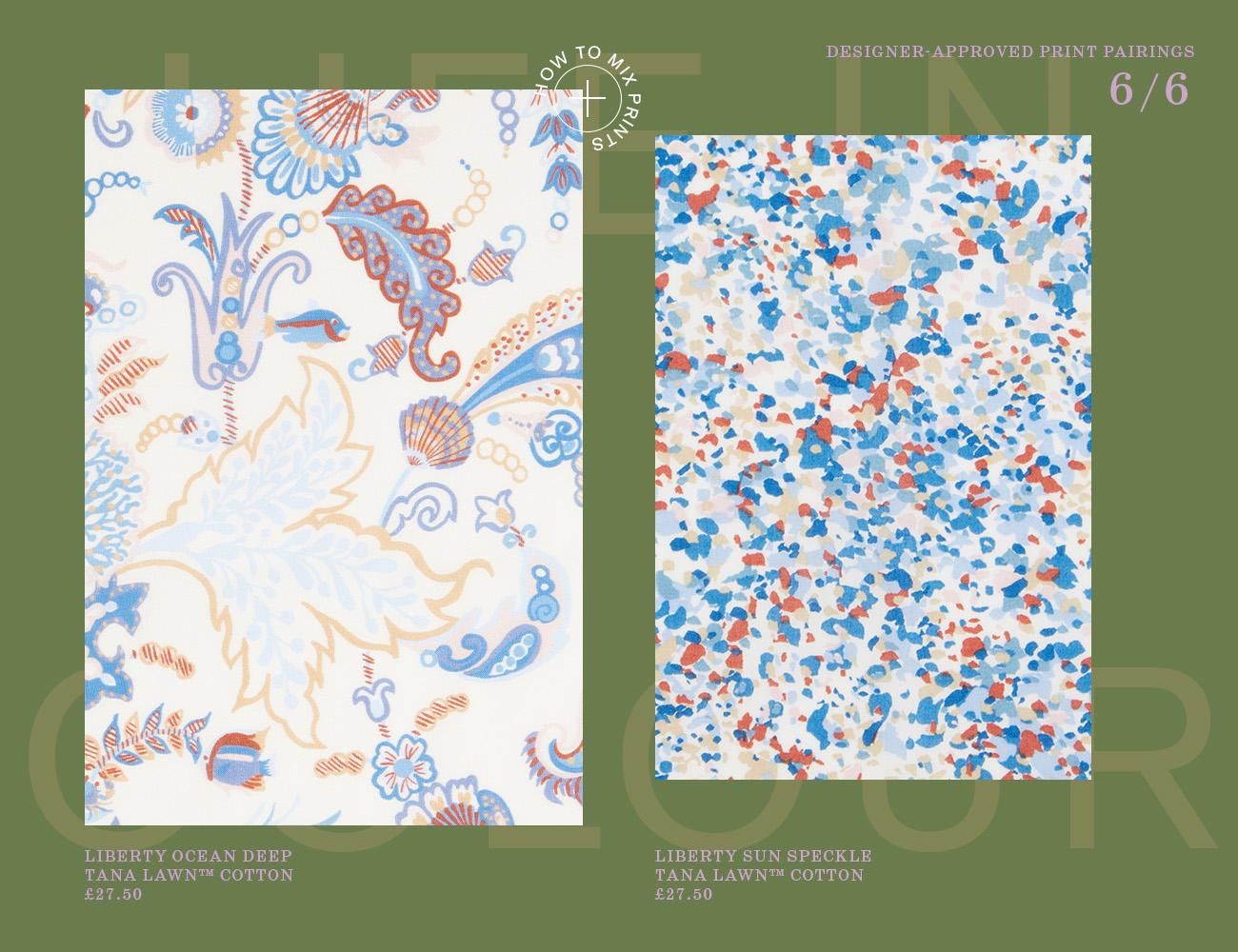 Step 3: Tie the Prints Together
Once you've settled upon a coordinating blend of fabrics, mixing the patterns together is your last task, meaning the time has come to call upon your sewing know-how. But before you put needle to fabric, take a step back to consider where in your project each print will be best used.
If you're making just one garment from your batch of prints, divide your project into two phases. First, cut your pattern and construct the garment's body or largest panels using the very first print you selected. Once complete, you can then add some finishing flourishes. If it's a shirt you're crafting, cuffs, collars, plackets and breast pockets work particularly well in alternative patterns. The same train of thought applies to dressmaking, so consider having sleeves, a belt, a pussy bow neck and frilly trims in your contrasting yet complimentary prints. The result: a stylish and proportional composition.
Looking to take on a bigger project? Perhaps you prefer the idea of going all-out with your prints? If that's a yes on both counts, use your mixed fabrics to construct an entire look. Ideal for those who are in their element when sat behind a sewing machine, start by again thinking about your sartorial focal point - be that a voluminous blouse or maxi-dress - and craft it using only your hero print. Then think in terms of layering as your finishing flourishes here will be extra garments and accessories as opposed to subtle accents - think: a pair of trousers, a skirt or a headscarf, each individually made entirely from one of your secondary prints.