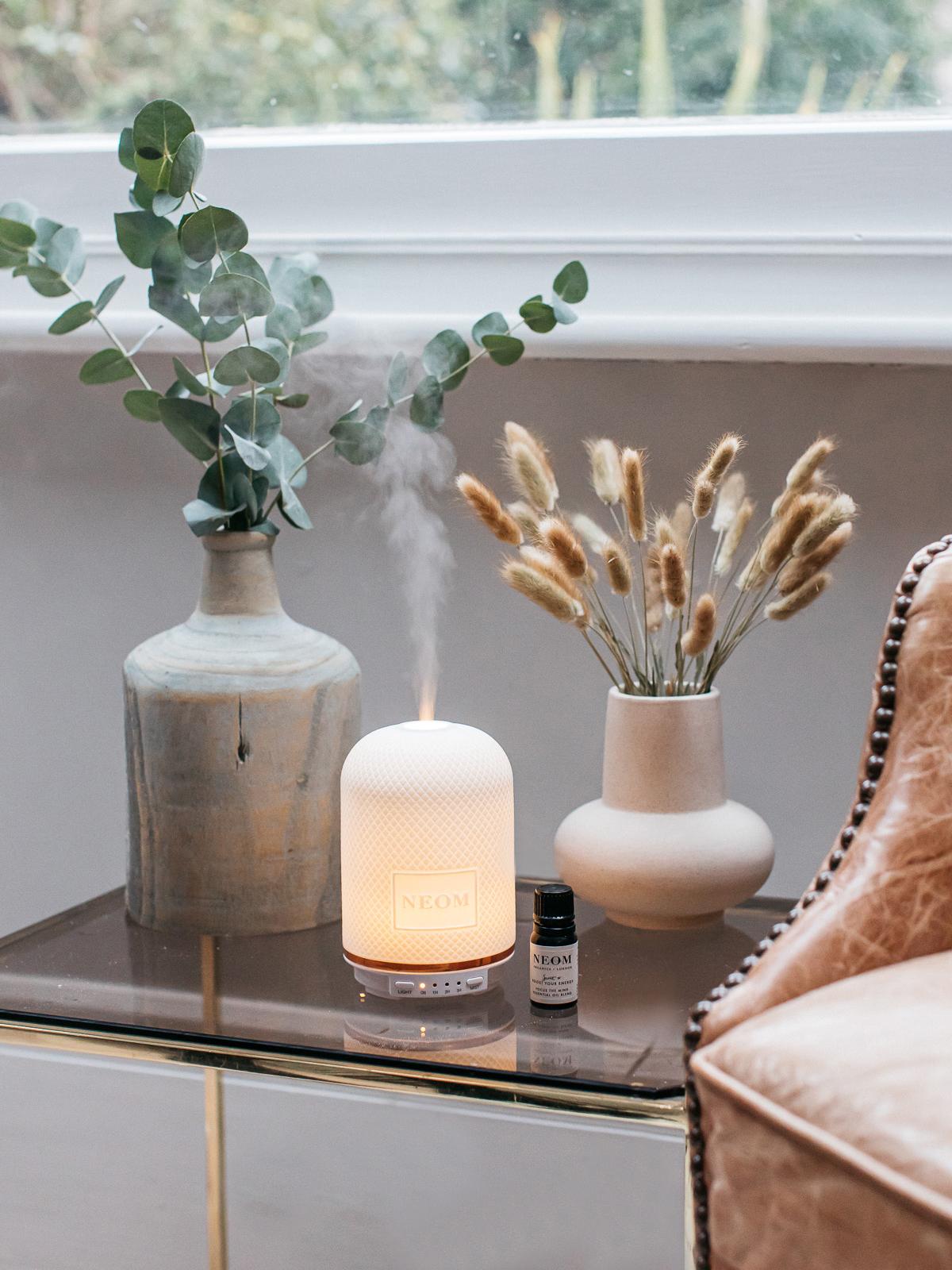 Top 5
Essential Oil Blends
Inhale wellness and exhale stress with aromatic botanical essences that boost, calm and heal
Shop Aromatherapy
By: Sarah Dancer
If harmony in the body and mind are proving hard to find, it's time to scent your self-care ritual with fragrances that function. Blended according to ancient Ayurvedic principles, these all-natural aromatherapeutic blends provide holistic support through life's everyday obstacles. And breathe…
For Balance
anatomē Balance + Stability Essential Oil Blend
In stressful moments when concentration and focus are off kilter, reach for this little apothecary bottle. 25 botanical essences combine for a grounding, earthy scent – including terpene-rich black spruce, Scots pine and sandalwood, known for toning down cortisol levels, in turn reducing anxiety for restored mental and physical equilibrium.
On skin: Massage 2 drops onto key sensory points and inhale
To diffuse: Add 1 pipette to Neom Organics Wellbeing Pod or your aroma diffuser
In the bath: Add 3-5 pipettes to warm bath water
Shop now
For Energy
NEOM Organics Scent to Boost Your Energy Essential Oil Blend
The wellbeing luminary's signature Feel Refreshed™ fragrance sends depleted energy levels skywards. Sicilian lemon and fresh basil put a spring in your step and kick the mind into gear on inhalation – just a few deep breaths will lift you out of lethargy.
On skin: Add 1-2 drops to your chosen base oil for massage
To diffuse: Add up to 10 drops to Neom Organics Wellbeing Pod or your aroma diffuser
In the bath: Add 5 drops to warm bath water
Shop now
For Sleep
Aromatherapy Associates Relax Sleep Mist
Effective sleep remedies need not knock you sideways – with calming camomile, sandalwood and natural sedative vetiver, this bed linen and body spray will see you slip softly into a deep and peaceful slumber. Spritz a scent cloud around your bed after a warm evening bath for the ultimate calmative effect.
On skin: Mist over towel-dried skin after bathing
On fabric: Hold at a distance from bedding or clothing and mist generously
Shop now
For Muscles
Susanne Kaufmann Oil Bath for the Senses
For a soak that penetrates below skin level, this unique oil distillate reigns supreme. Organic ylang ylang, lavender and patchouli plant breathe life into tired limbs, whilst softening skin and nurturing the spirit – lie back and relax as daily stresses and strains slowly melt away.
In the bath: Add 30ml to warm bath water
Shop now
For Creativity & Self Expression
Aveda Chakra 5 Balancing Mist
Blended to balance the throat chakra – the centre of creativity, self-expression and communication – this body mist encourages clarity of thought and helps you find your voice with a herbal blend of organic grapefruit, rosemary and ylang ylang. Spritz to shift a mental block or get artistic juices flowing.
On skin: Mist over bare skin, wait a moment, then inhale
Shop now
Still need advice on aromatherapy? Our beauty experts Roy, Deborah and Katerina are on hand to offer bespoke tips and guidance. Book in for a complimentary appointment, virtually or in-store.