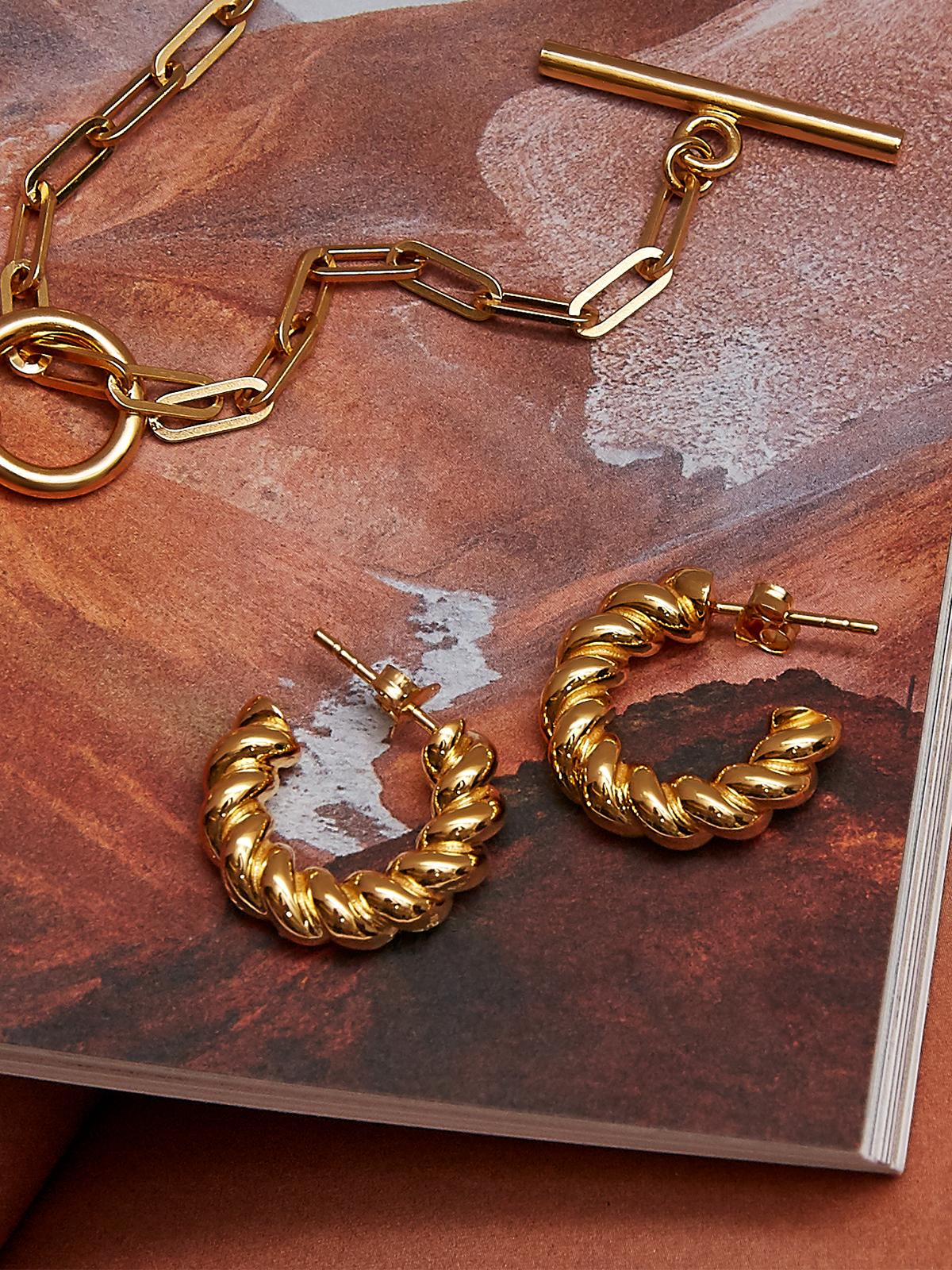 Circular Design
Otiumberg
Sister duo Rosanna and Christie Wollenberg on the conscious consumerism that underpins their London-based jewellery brand
Shop Otiumberg
After struggling to find pieces that bridged the gap between fashion and fine jewellery, Rosanna and Christie Wollenberg began creating their own demi-fine designs – a side project that eventually grew into Otiumberg in 2016. Based in London, the brand's elevated jewellery staples are crafted using recycled raw materials and designed to be worn every day, without going out of style after a single season. We spoke to the designers about the beginnings of the brand and the steps they are taking towards a better future.
What inspired you to start Otiumberg together?
Christie: Rosanna and I were living together at the time, we must have been about 25 and 29. It was a time when we first experimented with multiple ear piercings and were at a stage in our careers when we had a little bit of disposable income. We wanted to invest in well-made jewellery that we could wear every day - something that wasn't costume jewellery but wasn't in the fine jewellery bracket either. We really struggled to find those cool, everyday pieces that were refined and subtle. It became clear that there was a sweet spot between fashion and fine jewellery that wasn't being addressed.

I had lived in Dubai and had had a few huggie hoops made while I was out there. I used to take orders from friends and that's really where it all started - we made a few pieces for ourselves. Without realising it we had embarked on the start of what would become this demi-fine category.
Is there a story behind the brand name?
Rosanna: OTIUM is a Latin word that redefines the notion of leisure as an activity of self-enlightenment or of artistic value. We loved this sentiment. Taking time out to do the things that give you meaning, offer reflection and help you grow as a person. BERG comes from our family name Wollenberg. As sisters, family lies at the heart of Otiumberg and we wanted to honour that in its name.
Can you tell us a bit about your backgrounds in design?
Rosanna: Christie, my sister and co-founder, comes from a background in luxury fashion, having worked at Louis Vuitton and Burberry before we joined forces to create Otiumberg. We've always loved fashion and, with my background in branding, the two of us had always played with the idea of starting our own brand together. We started out small just selling our first pieces to friends and family, and the business grew organically from there.
Do you ever find it challenging working together as sisters?
Rosanna: We've definitely been through the ups and downs of starting a business together but I honestly could not have imagined doing it with anyone else. As sisters, we have a deep understanding of each other that allows us to drive the brand forward intuitively together.
In what ways does sustainability drive your brand?
Rosanna: There are so many ways that our industry impacts the planet, including waste, materials, plastics, pollution and carbon footprint. Trying to understand all the elements of this impact and to act truly sustainably is incredibly challenging in an industry that is so driven by seasonal consumption and newness. For us, sustainable fashion means embracing a slower, non-seasonal approach and creating meaningful pieces that can last a lifetime. The great thing about jewellery is that we can work towards a more circular economy by using recycled raw materials and offering repair services.
Keep-forever pieces

with a

contemporary edge

is how

we define our aesthetic. For us

that

means

those

non-seasonal, elevated jewellery staples

that

you wear

with

love.
Why is a sustainable approach so important to you?
Rosanna: Otiumberg is a very personal brand and we've always felt that in order to stand proud about our pieces, we need to ensure we are doing things right. We have a desire to create, but at the same time wanted to ensure we did so responsibly. It's about conscious consumerism, being responsible for how we choose to create the luxury goods we crave. For both of us it was important to create something that had longevity and timelessness and wasn't dictated by seasons and trends.
How do you source your materials?
Rosanna: We work closely with our workshops in Thailand and India to source our materials as responsibly as we can. Last year saw us introduce the use of recycled silver alongside recycled gold in our collection. This now means that our precious raw metals are from 100% recycled sources, certified for their quality by the Responsible Jewellery Council and London Bullion Market Association. By opting for recycled metals not only do we gain greater transparency over our source, but we also lighten our CO2 footprint by around 60%. We've also recently carried out a Life Cycle Assessment on our collection to understand the full impact each and every material and process has on the environment. We'll be sharing the full journey with our customers along the way.
Can you talk us through your creative process?
Christie: I find my best ideas come to me when I'm most relaxed, whether that's walking in the morning or in the evening once the kids are asleep. I'll often begin with a sketch and then take it to the team to discuss and develop. Once we are feeling happy with its direction, we create the pieces as a 3D CAD, which allows us to envisage the look and feel of the piece in greater detail. We'll often spend weeks refining sizing and texture to ensure it feels right before moving to mould and sampling stage.
How has London shaped the brand?
Christie: That's a hard question to answer as I'm sure we have been influenced in so many different ways by this city. In terms of fashion, London has always exposed us to so many different styles and ways of expression. We have on one hand the beautiful craftsmanship of heritage brands, and on the other the vibrant subcultures that fill our streets.
You've both lived and worked all over the world – how have your travels influenced your designs?
Rosanna: From a young age, we've both been lucky enough to have lived internationally, from New York and Buenos Aires to Barcelona and the Middle East. This exposed us both to a variety of different cultures and people from all over the word pursuing their own paths across business and the arts. I think this played a big role in not only giving us the confidence to do the same ourselves, but also huge inspiration for the direction of the collection.
Where else do you look for inspiration?
Christie: Inspiration comes from everywhere. It can come from one of my dives into archives of antique jewellery, or simply from a personal experience. Our name bracelets came about after the birth of my first child when I wanted to commemorate the occasion and cast the name I loved the most in gold. Conversely, our engraved rings came from some research I did into the history of signets and in particular an Egyptian signet held at the MET in New York.
The great thing

about

jewellery

is that

we can work towards

a more

circular economy

by

using recycled raw materials

and

offering repair services.
How would you describe your aesthetic?
Christie: Keep-forever pieces with a contemporary edge is how we define our aesthetic. For us that means those non-seasonal, elevated jewellery staples that you wear with love, that you put on and don't take off. The pieces that never go out of fashion just because summer has shifted to autumn.
What are your favourite ways to wear and layer your jewellery?
Christie: We love the versatility of our collection and how it allows us to express ourselves in multiple ways depending on how we're feeling one day to the next. We share a stack on social every Thursday which shows our community our current favourite way to layer and stack our pieces. We don't produce seasonal collections but design stand-alone pieces or capsule collections that drop into the collection alongside our existing pieces. This means that when you look at our full offering, you find that you can always create your own personal aesthetic, while any new pieces will always complement what you already have.

We actually match the colour of our gold vermeil specifically to the colour of our recycled solid gold, which means that even these will sit seamlessly together - something that is quite unique to Otiumberg.
What's next for the brand?
Christie: We are further consolidating our product offering, looking to see what core items we don't already create or how we might refine existing pieces. We will also be bringing some more statement items into the fold, playing with size and texture whilst still remaining true to our Otiumberg aesthetic. Sustainability wise, we are rolling out our first responsibility report later this year.