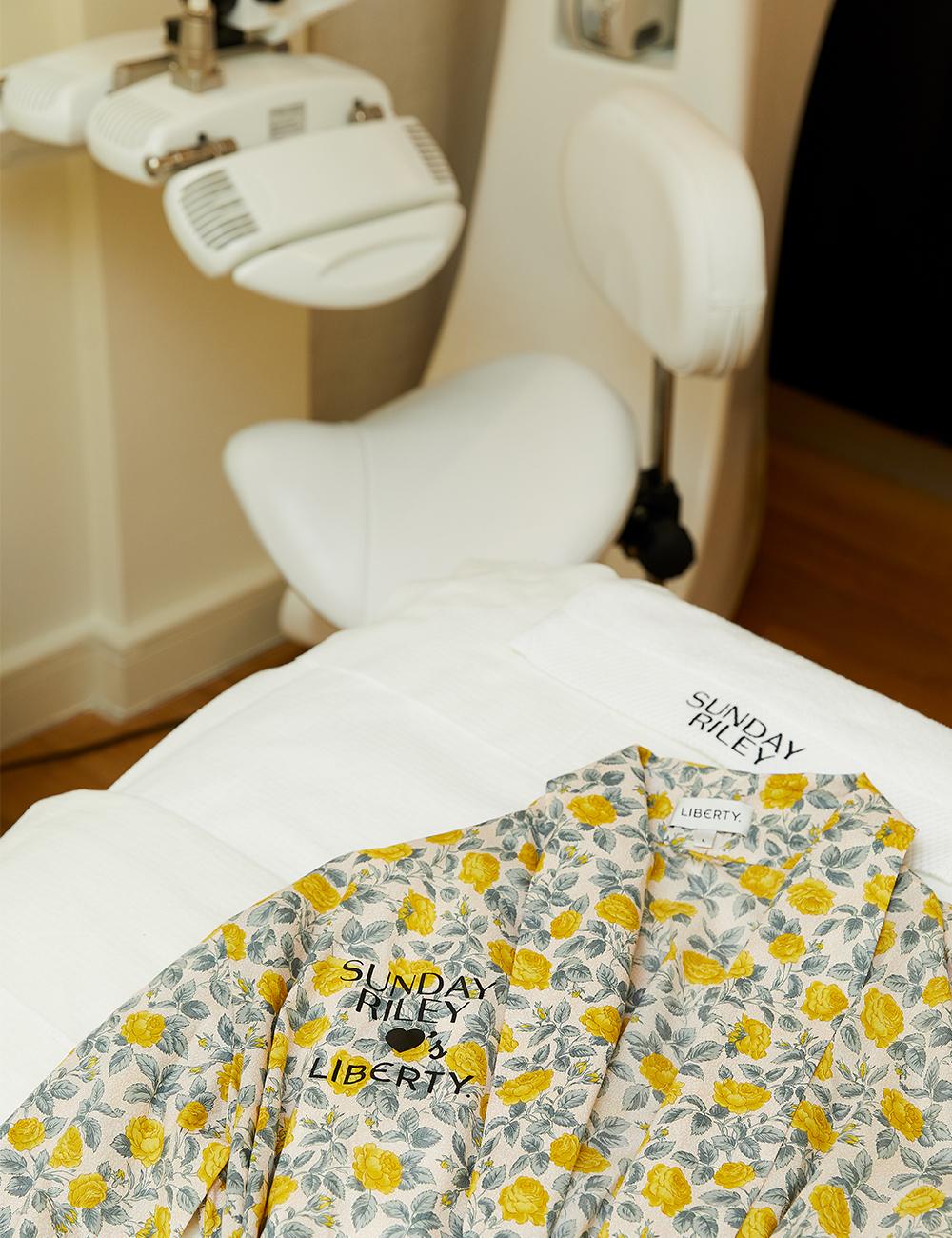 The Glow-Giving Facial that Does It All
From cutting-edge tech to hands-on massage, the Sunday Riley Ice Lift offers everything you could possibly want from a facial
By: Shannon Peter
I'll admit: I'm pretty hard to please when it comes to facials. But don't we all have high expectations? If we're going to invest the time and (of course) the money in indulging in a treatment, we (or at least, I) want it all. A facial that offers instant results that only get better in the long term. Something that includes the very best of skin tech, but without forfeiting the therapeutic powers of human touch. We want potent skincare and deep relaxation. So good news, then, that I've found the facial that delivers it all: Sunday Riley's Ice Lift Facial.

Available here at Liberty in the very special Sunday Riley treatment room nestled into a corner of our first floor, the facial is anchored around cryotherapy, the lifting and firming treatment that has recently taken the skincare world by storm. With the promise of brighter, bouncier skin, it's just the thing for perking a dull, winter-tainted complexion. Let me tell you why...
What Happens During an Ice Lift Facial
As with all good facials, this one starts with a consultation to unpack your key complaints, backed up by a thorough skin analysis carried out by your pro therapist. Aisha and myself concluded that the key things to work on were my congested T-zone, dehydrated cheeks and general winter-induced grey tinge to my skin.

Once the proper course of action was decided, the first step is a double cleanse using the brand's Blue Moon Cleansing Balm followed by Ceramic Slip Cleanser – a godsend for congestion that purges pores without drying out the skin. Next, came a little exfoliation courtesy of Good Genes Glycolic Acid Treatment, a hero formula that has more than earned its position in our Beauty Hall of Fame. While that's working its magic to dissolve away dead skin cells, Aisha got to work on brightening and firming up my skin by way of a lymphatic drainage massage.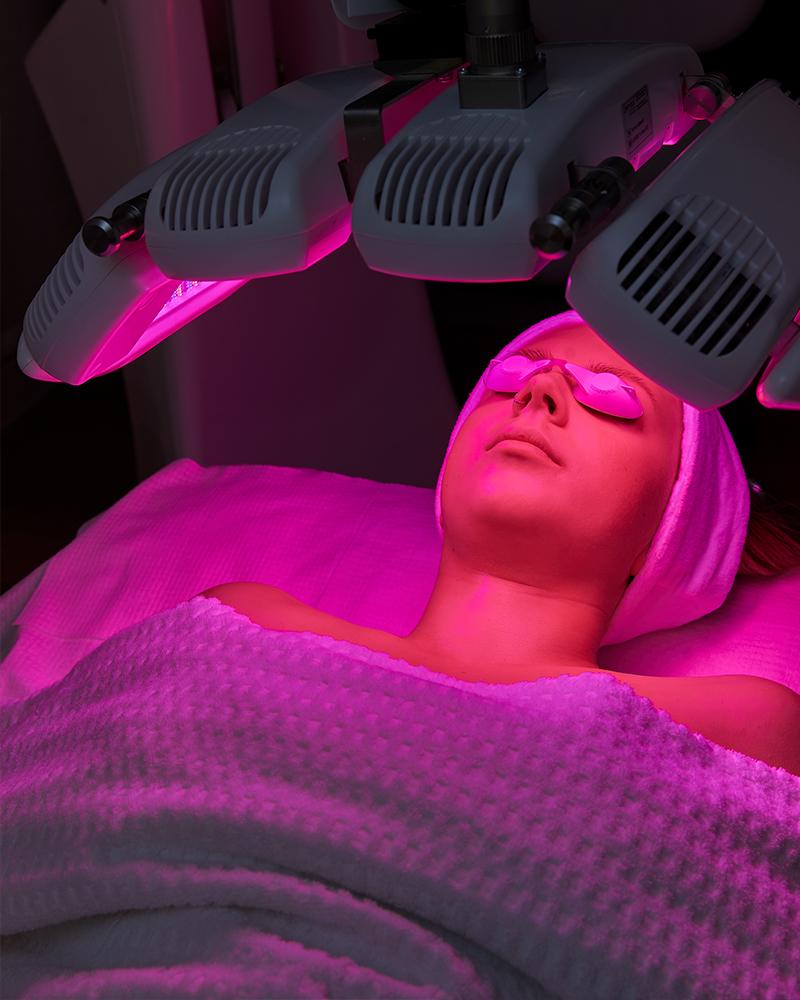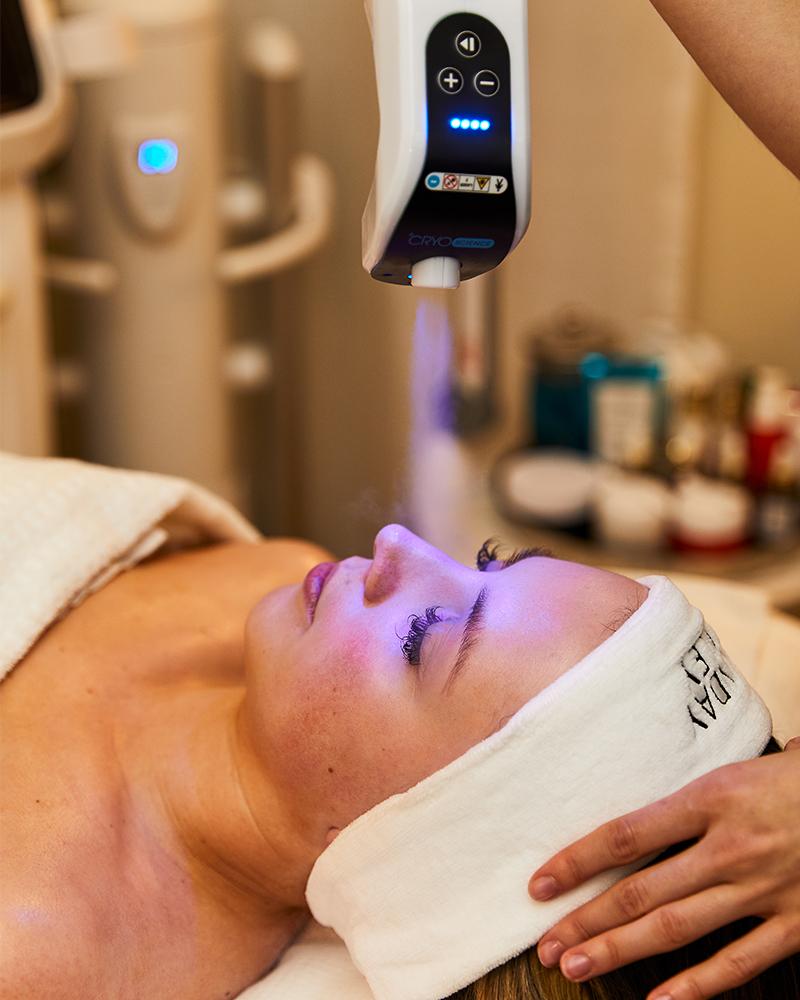 Then, the good bit: extractions. You can opt in or out, but as a proud Dr Pimple Popper devotee, I, of course, instructed Aisha to squeeze away. Once my pores were properly purged, then came the first round of tech: LED light therapy. This does take a little getting used to – you wear goggles, but the light feels incredibly bright for the first 30 seconds or so. Aisha chose red and yellow light for me, the perfect combination to boost collagen production, improve the appearance of redness and the overall tone of my skin. And while I lay under the special light device? She very kindly treated me to a relaxing arm massage. Bliss.

After that came the ultimate tech: a blast of cryotherapy. A handheld device is waved over the face, treating skin to -162 degrees. Yes, it's cold. But it doesn't sting in the slightest, and is a brilliant shortcut to more radiant, lifted, tighter-looking skin.

To finish, Aisha glazed my skin with the C.E.O 15% Vitamin C Brightening Serum and C.E.O Afterglow Brightening Vitamin C Gel Cream and I left the treatment room gleaming.
Straight after: my skin looked glossy and bright, albeit a tiny bit pink, as though I'd just ventured back from a brisk walk in the cold.

A few hours later: all residual redness has subsided, and while my skin had long soaked up the final products, it still looked drenched in moisture.

A few days later: my skin looked noticeably clearer and my cheeks appeared a little plumper.

A fortnight later: I'm still revelling in the glow.
Sunday Riley Ice Lift Facial costs £145 for 60 minutes. Please call +44 (0)20 8159 6525 or email SRiley@libertylondon.com to make an appointment, or book online here.