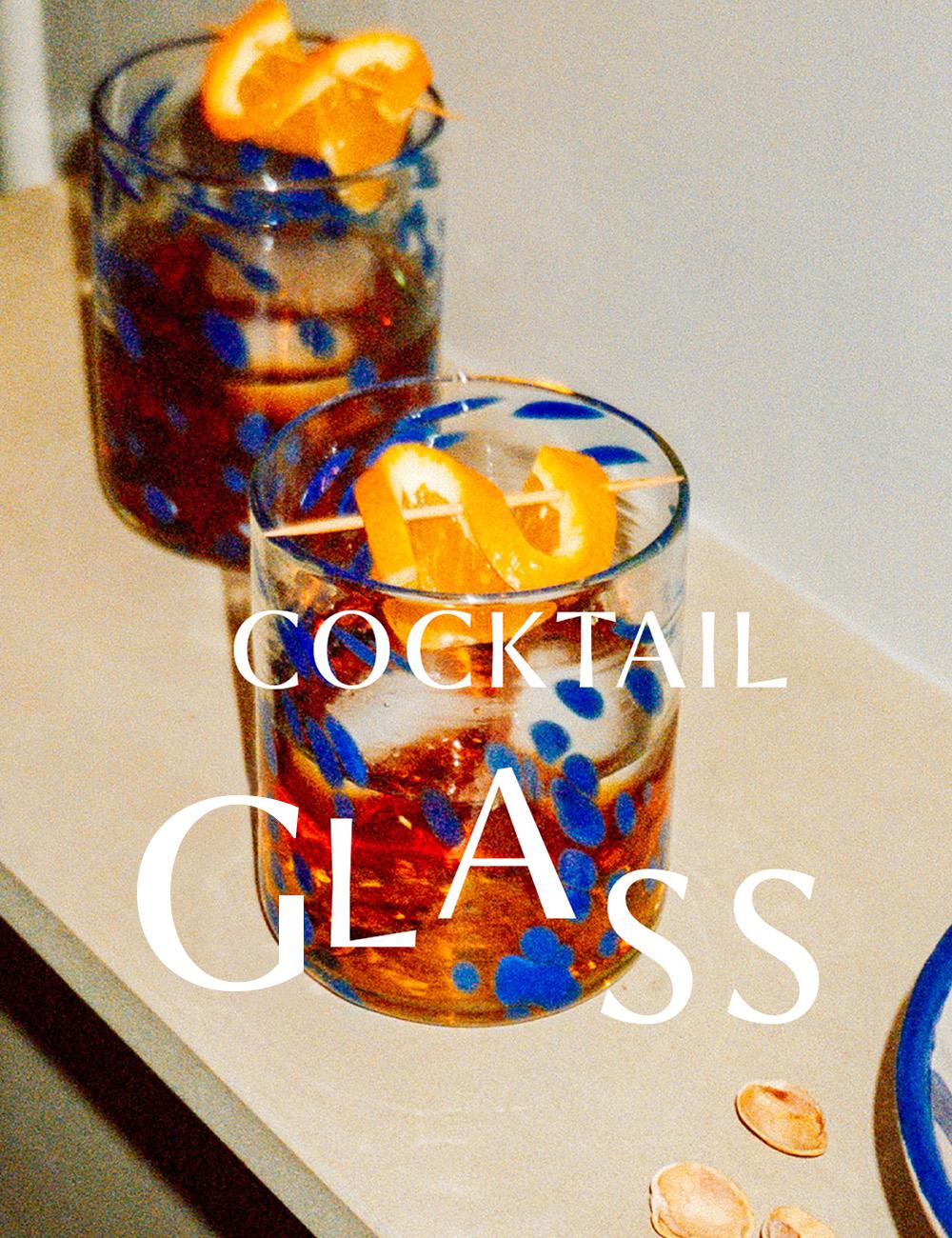 Cocktail Glass: How to Elevate your Happy Hour
Level up your hosting with Liberty's guide to the best glassware pairings for every cocktail - as told by the experts.
Shop Glassware
By: Charlotte Pavitt
There is a theory within the world of mixology that every cocktail has its own optimum glass pairing in order to achieve the desired and fullest experience. For the budding cocktail maker, or perhaps even the enthusiastic consumer, it is as simple an equation as this: What glass makes what drink sing? So, if you're getting ready to host a dinner party, games night or simply staying in (but with bells on) - we've spoken to a few of our expert friends to help you find your own perfect match. Slainte!
The Negroni
By Rose Robertson, co-founder of Late Afternoon.
Recipe:
25ml Gin
25ml Martini Rosso
25ml Campari
1 large cocktail ice cube (the secret is to use the giant ones so they chill without diluting)

Garnish with a slice of blood orange.
Because...
"It's the original. Strong, not too sweet and has a punch of colour that is almost as refreshing as the first sip. Reminiscent of sitting outdoors in a hot street at night, in Italy."
Serve with...
"A scrape of 'nduja on a little bread."
Best served in...
"The Late Afternoon Oro Tumbler, because it's the perfect accompaniment to those deep amber Campari tones. The tumbler has huge versatility and will always remain a classic option for drinks served 'on the rocks' - best reserved for drinks made in the glass, like a Negroni! "
The Margarita
By Claire Haddon-Grant, co-founder of Late Afternoon.
Recipe:
Ice
50ml Tequila
25ml lime juice
20ml Triple Sec

Garnish with salt and lime.
Because...
"It always feels like a special occasion with a Marg in your hand."
Best served in...
"A Late Afternoon Amarillo Glass Jug, because what better way is there to celebrate the weekend than with an entire jug of Margs! Jugs or punch bowls are best for cocktails containing lots of ice as they can hold the volume and provide a wider brim for adding salt or sugar. Pour into tumblers or lowball glasses to serve (or simply grab a straw) and throw in a wedge of lime."
The Blackberry No-Jito Spritz
Recipe:
3 sprigs of mint
¼ cup of blackberries
¼ oz of blackberry syrup
½ lime juice
Muddle together, shake with ice and strain into your glass
Top with soda

Garnish with blackberries on a skewer.
Because...
"An alcohol-free 'No-jito' mocktail will keep you refresh all summer long - perfect when served with cheese and crackers on the porch."
Serve with...
"Artisan cheeses and crackers."
Best served in…
"A Estelle Colored Glass Rainbow Pastel Martini Glass will accent the deep blackberry tones, while the bowl-like shape won't trap the soda bubbles and makes it easier for you to smell the aroma of your cocktail."
Shop Estelle Colored Glass:
The La Mezcalina
By Catherine Maguire, founder of Casa Celva.
Recipe:
60ml Mezcal
60ml Agua de Jamaica (Hibiscus tea)
Juice of half a lime
Combine with ice in a shaker until chilled

Garnish with a slice of orange.
Because...
"I love the taste of Mezcal but it's not easy to blend it's distinct smokiness in a cocktail. A friend made this for me in Mexico City, and I've been making it for years. It's earthy yet refreshingly unexpected which makes it the perfect welcome drink for dinner party guests!"
Serve with...
"big briny green olives, and popcorn with lots of salsa valentina!"
Best served in...
"I'd pair the La Mezcalina with the Casa Celva Murano Goto Glass Tumbler as not only does the colour of the cocktail pair lovely with the blue glass, but works best in a stemless glass with a good ledge for a garnish of orange."