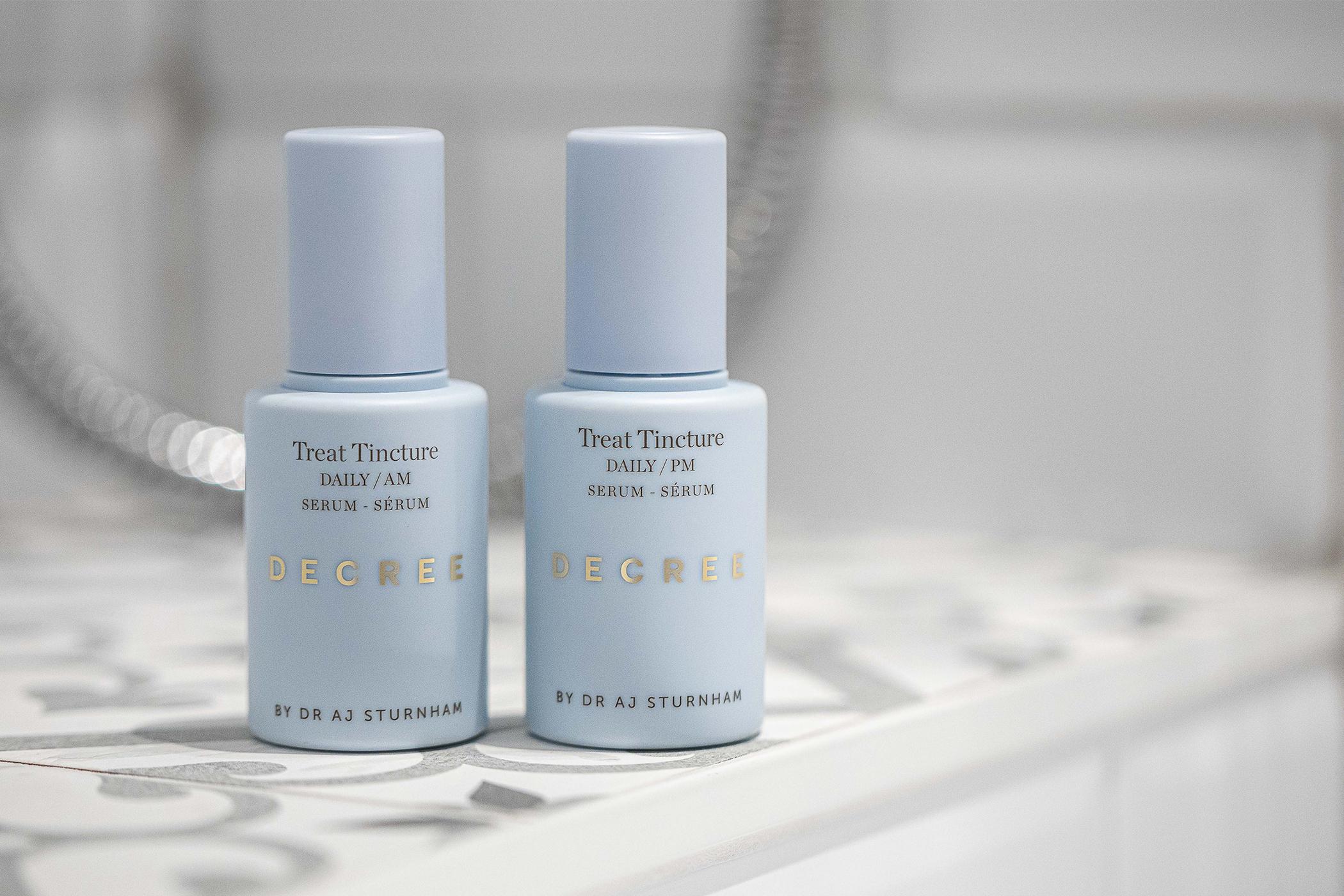 Tried and Tested
Decree Treat Tincture
Liberty staff put Dr AJ Sturnham's bestselling anti-ageing night serum under the spotlight
Shop now
Envisaging anti-ageing skin care as an effortless affair, Dr Anita Sturnham channelled 15 years of clinical experience into Decree: a range of measured, clear and fuss-free products that fulfil skin's needs, AM to PM. Treat Tincture is considered beauty sleep in a bottle. Therapeutically dosed with youth-enhancing, radiance-boosting active ingredients - including a retinoid complex that eludes the skin downtime traditionally caused by retinol - it performs multiple functions to counter the symptoms related to premature ageing, simultaneously easing signs of pigmentation, lines and slackness. Striving for plumper, firmer and better-hydrated complexions, our Liberty beauty buffs put the wonder elixir to work for two weeks…
T

he

grainy skin patch

on my

forehead

that

bothered me so much

is

softer

and

less shiny than ever
The serum has a delicate scent and a very light, creamy texture, which was quickly absorbed by my skin. The packaging feels as sophisticated as the product – I love the application wand, which measures out the perfect dose with zero effort! The retinoid was efficient and not aggressive, working its magic by smoothing fine lines on my neck and the skin around my lips and eyes. My combination skin is usually affected by enlarged pores, which reduced over the two weeks of testing; the grainy skin patch on my forehead that bothered me so much is softer and less shiny than ever, and my cheeks – which are usually dry and very sensitive – now feel moisturised and brightened. Overall, my skin looks more radiant with oiliness under control.
T

o my

surprise,

this

applies

to

lips too – fuller

by

morning!
I have dehydrated skin and a dose of this serum smooths into it readily, leaving it feeling soft and plumped up (thank you, squalane and hyaluronic acid). To my surprise, this applies to lips too – fuller by morning! My skin was firmer within a few days and, after two weeks, my complexion is clearer and I can see the smallest lines around my eyes starting to blur. My usual routine involves layering serum, retinol and a heavy moisturiser to target fine lines, dryness and hyperpigmentation, so using a single product that targets all three concerns has been a considerable timesaver – and definitely warrants a higher price tag. I've also noticed a slight fade in my hyperpigmentation, which is by far my biggest bugbear, so have high hopes it will lesson more with continued use.
T

he

packaging

is

perfect! I've taken mine

on the

move

a

fair bit

with

no leaks, cracks

or

damage
This serum is rich and hydrating yet lightweight, omitting the breakouts I often suffer with heavier serums. It absorbs quickly and my skin remained soft without becoming overly greasy, which I'm prone to in some areas. After two weeks, my skin looks and feels smoother with a more refined texture – particularly on the nose and chin where enlarged pores are usually a problem. What's more, the packaging is perfect! I've taken mine on the move a fair bit with no leaks, cracks or damage – and the clever dosing mechanism prevents product overload and wastage.