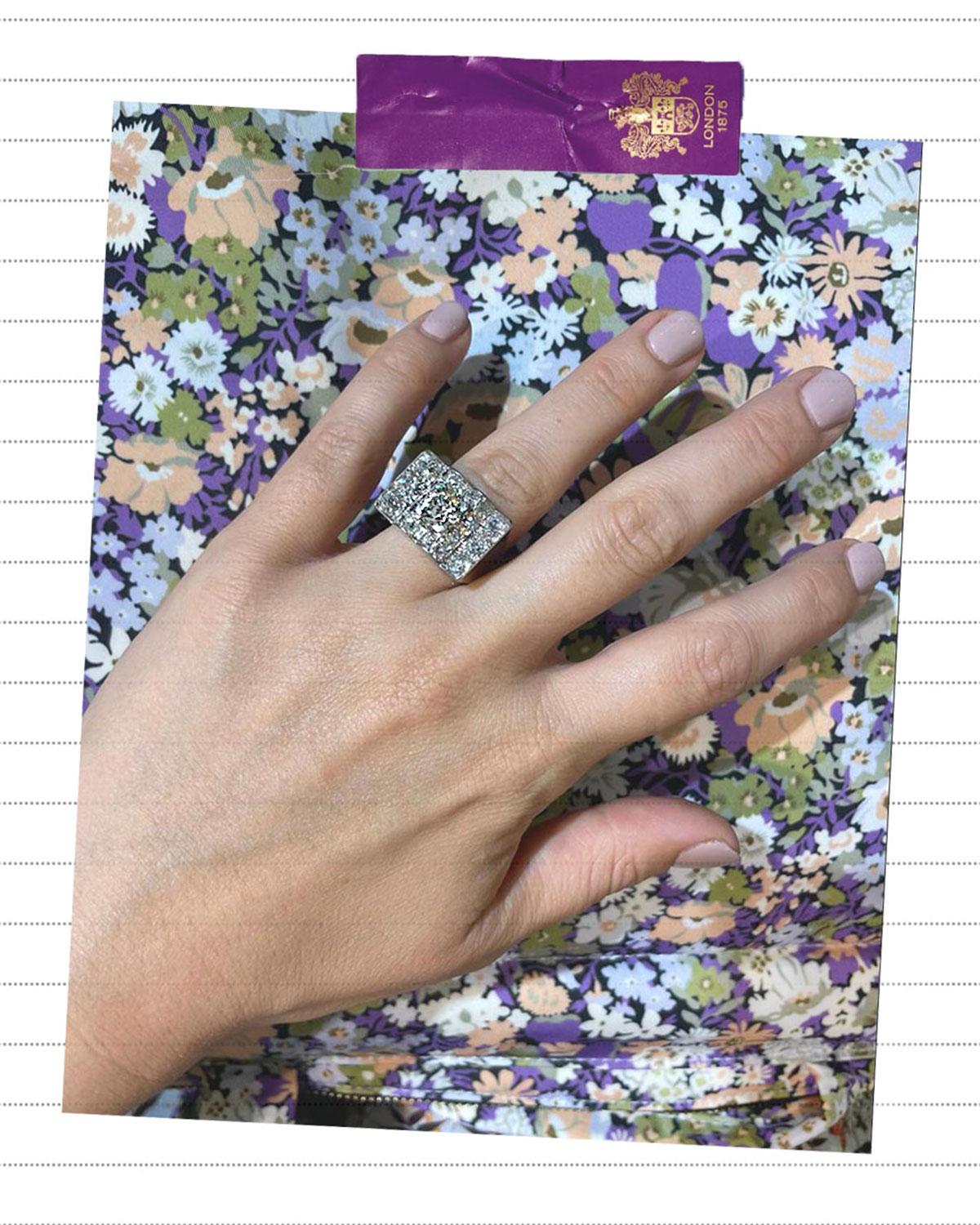 Rules of Engagement
An Expert's Guide to Buying an Engagement Ring
Tie the knot with a ring they'll love forever. Kojis' gemmology and jewellery expert, Freddie Feely shares her expert advice for choosing the perfect one
Shop Rings
By: Maddi John
If you're planning on popping the question to your other half, it's bound to be one of the most exhilarating moments of your life, but your nerves can certainly be settled if you first learn how to buy the perfect engagement ring. Needless to say, this ring isn't just any old ring – it's a symbol of your adoration that'll last a lifetime – so it's important to get it right. But how do you choose the perfect one? Princess or emerald cut? White gold or yellow? Diamond or sapphire? If that's all gibberish to you, fret not. Liberty has employed the help of Kojis' resident gemmologist and specialist Jewellery Consultant, Freddie Feely to take the weight off your shoulders with practical tips that'll ensure this monumental purchase is one you won't regret.
How Do I Work Out My Partner's Style?
As much as an engagement ring should be a symbol of your love for your partner, it also has to be something they'll love wearing (and looking at) forever more. That means first figuring out their style. "When selling an engagement ring, the first few questions we ask are always the same," explains Feely. "We ask: what are they like? Are they a yellow or white gold person? Are they super classic? Is their style minimal or maximal? Are they traditional or eclectic?" The good thing is, you have a head start. "Usually, if you're asking your partner to marry you, you have a good sense of who they are as a person. Having a sneaky peek at their jewellery box (or Pinterest board) will give you a good sense of what they like in jewellery," Feely adds.

It's always best to pare back, rather than lean too heavily into a specific style. "You need to strip back to the fundamentals. An engagement ring is (hopefully) for life so you don't want to buy something that will date or fall out of style in ten years' time." Wise words indeed.
DISCOVER CLASSIC ENGAGEMENT RINGS
Should I Opt for Diamonds?
While classics are timeless, there's something alluring about a unique, coloured gem and when it comes to choice, there's plenty. "There is a whole world of gems other than diamonds! There are a few that pop up in engagement rings much more often than others, and usually, this is to do with the nature of wearing a ring every day," explains Feely. "The best gems for everyday wear are rubies, sapphires, and diamonds, however, emeralds and aquamarines are also extremely popular. These stones are softer and require a bit more care day-to-day, but still make gorgeous rings and have wonderful colourings."
DISCOVER COLOURFUL ENGAGEMENT RINGS
How to I Figure Out Their Ring Size?
If you're planning on keeping your proposal under wraps, you might be thinking some sleuthing is in order. But before you go full incognito you might want to reconsider. "Usually, fingers are different sizes from finger to finger and hand to hand," explains Feely. "And most of the time, people don't tend to wear rings on their wedding finger, so even if you surreptitiously acquired a ring from the ring box, it still may not be the right size."

Yet according to Feely, ring size is nothing to worry about. "Any reputable jeweller will offer ring resizing, and at Kojis, the first resizing is a complimentary service. We always suggest presenting the ring you've chosen to your partner and then bringing them in to get their finger sized professionally." That sounds like a lot less hassle.
What If I Want Something a Little Unique?
If your partner tends to skew more alternative than classic, then you may want to consider a different gem to diamonds. "There are so many ways to have a unique engagement ring, but the most popular way is coloured stones. Gems come in all colours of the rainbow, but there are three that are most suited for everyday wear: diamonds, rubies, and sapphires," shares Feely. "Sapphires are a wonderful gem for engagement rings because they come in all colours. At Kojis, we even have colour-changing sapphires, which change hue in different lights."

And if that doesn't pique your interest, then how about something pre-loved? "The other great way to have an alternative engagement ring is to go vintage," Feely adds. "Our vintage pieces are one of a kind, made with precious stones and fabulous craftsmanship."
DISCOVER STATEMENT ENGAGEMENT RINGS
How Much Should I Spend?
If you're worried about the budget, don't be! No matter what anyone tells you, you should only spend what feels right for you and what you can afford – and Feely agrees. "The engagement ring is a symbol of your commitment to your partner. It's special because it has been bought by you and it is a symbol of your future together. At the end of the day, that's what matters," she shares. And if you are looking for some general guidelines, a good jeweller will be able to suggest options that fit into your price range – be it a more affordable style or stone. So if you're happy with it, do what feels right for you, we say!