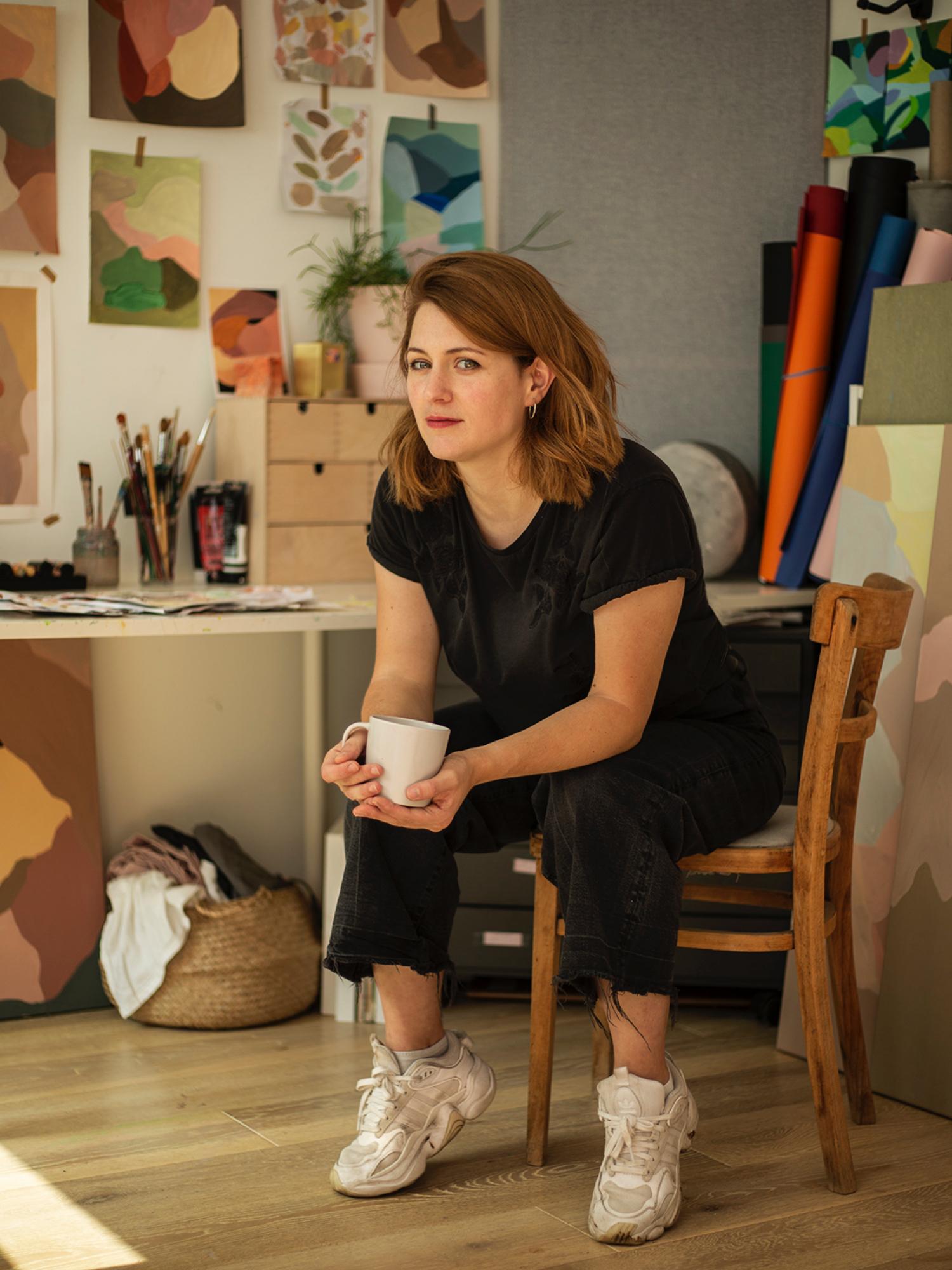 Artist in Residence
Borneo Studio
Artist and founder Andrea Mongenie invites us into her creative beginnings and inspirations
Shop Borneo Studio
Paris-born and now London-based, Andrea Mongenie is the creative mind – and eye – behind Borneo Studio. Her abstract compositions play with evocative colour palettes and fluid linework, achieving an aesthetic that finds its beauty in chaos and contradiction. Here, Mongenie opens up her world, telling us about her early introduction into the art world, the forward-thinking women who inspire her, and the free-spirited approach that drives her creatively.
How did you get into art?
My mother's a painter, and my grandad drew a lot as well. I grew up in Paris and went to museums with my parents a lot – like a lot. I can't remember a time in my childhood or teenage years when I wasn't filling my time drawing. I went to the École du Louvre in Paris when I was a young and learned how to use paint and mix colour. I was really into realistic landscape and portraiture at the time, the technicality and mastery of it. I got into making abstract art when I started experimenting more in printmaking, in university, dyeing and printing onto fabric.
How would you describe your style in your own words?
It's abstract, my art looks like me, or parts of my brain. It can be soft, it can be hard, it can be colourful, it can be dark, but it inexplicably always seems to have some family resemblance in its form, emotion, or colour. They're all distant cousins. A lot of it is about feelings and emotions and using my practice as a form of therapy, and if that's part of the way you see art, you'll probably see a lot of that in my work.
It's abstract, my art looks like me,

or

parts

of

my brain. It

can be

soft, it

can be

hard, it can be colourful, it

can be

dark.
What do you hope to convey through your work?
I hope to touch people, to convey calm, peace, inspiration. The same way a painting brings me calm when I paint it, and a sense of wholeness when I finish it, I hope it brings similar feelings for the person who ends up living with it.
What are your main sources of inspiration?
I get inspired by other women who have a desire to change things. Seeing other women being artists, being successful and navigating a creative career (and sometimes motherhood too), following their career gives me great confidence. I get inspired by nature a lot, and lighting, and the sea. And, subconsciously, by all the artist's work I studied at school, and all the museums I visited. Some paintings just stay stuck in my memory bank, I guess, like this landscape painting by Manet that I've forgotten the name of – all greens with a speck of red.
Can you tell us about your materials and how you use them?
I use acrylic paints and gouache on linen canvas or paper, sometimes I mix in sand or other materials. The nicer the quality of the linen on the canvas the more satisfying it is to paint onto. I never put paint straight from the tube onto a canvas, I always mix and mix and mix to find the perfect hue.
Where do you begin when starting on a new piece?
I approach my pieces organically – I rarely plan a piece ahead of just putting some paint down on the canvas. I find it's the best way for me to minimise my brain's tendency to overthink. I don't like having a set process, I like things evolving naturally according to practicalities, weather, space. I work in layers so there's never any guarantee the first mark will still be visible when the piece is finished.
I like things evolving naturally. I work

in

layers

so

there's never any guarantee

the

first mark will still

be

visible when

the

piece

is

finished.
Which artists or movements have been your biggest influence?
There's too much to fit in here. I'm a sponge. Everything influences me, music, architecture, a film, old artists, new artists. I think something happened when I discovered the work of Etel Adnan at the Serpentine a couple of years back. It really spoke to me, and she was a woman which was, and still is, pretty rare in big galleries. I love what Marine Tanguy is doing getting art in the city. I love Tiffany Bouelle, and her approach to art; and another bunch of artists; I love the work of Tahnee Lonsdale, Claudia Valsells, Diana Miller, Hayley McCrirrick, Sara Berman, Laurence Leenaert, Caroline Denervaud.
What's your earliest memory of the art world?
I don't know which one is earliest, but it's either going to a museum as a child and getting lost in the crowd or a private view or going to my mother's studio, seeing paintings on walls. I loved going to my mum's private views, looking around at the paintings and seeing which ones had already sold, deciding which one I would want to buy.
Where do you go to feel inspired?
There's nowhere in particular. I think not having a routine or a particular thing I rely on for inspiration is one of my greatest assets. When things are slightly unsettled, like in nature, organised chaos, I think there's more to be stimulated by. My studio can be the most inspirational place in the world when the light and the music is right but unless you keep an open mind, travelling, having new inspiring experiences outside of it, then the studio becomes a routine.
If it's

on

demand, it must

be in

demand. T

he

thought that

a

particular painting

is

going out

into the

world

to

live

with

another person

is

such

a

motivator.
Do you have any other creative outlets outside of your art?
Everything is creative. The way you dress, the things you fill your home with, the food you eat, the way you interact with people, the way you solve problems. I like seeing creativity where it's not obvious. Some people will tell you that they're not creative because they associate creativity with art, but I think everyone spends some of their days being creative.
How do you manage the pressures of creating art on demand?
To be honest, I love it. If it's on demand, it means it must be in demand, to some extent, and the thought that a particular painting is going out into the world to live with another person is such a motivator. It's hard sometimes, making sure to manage my own expectations for what can be done in any given week, making sure everything gets done that needs to be done, but that's true of any job.