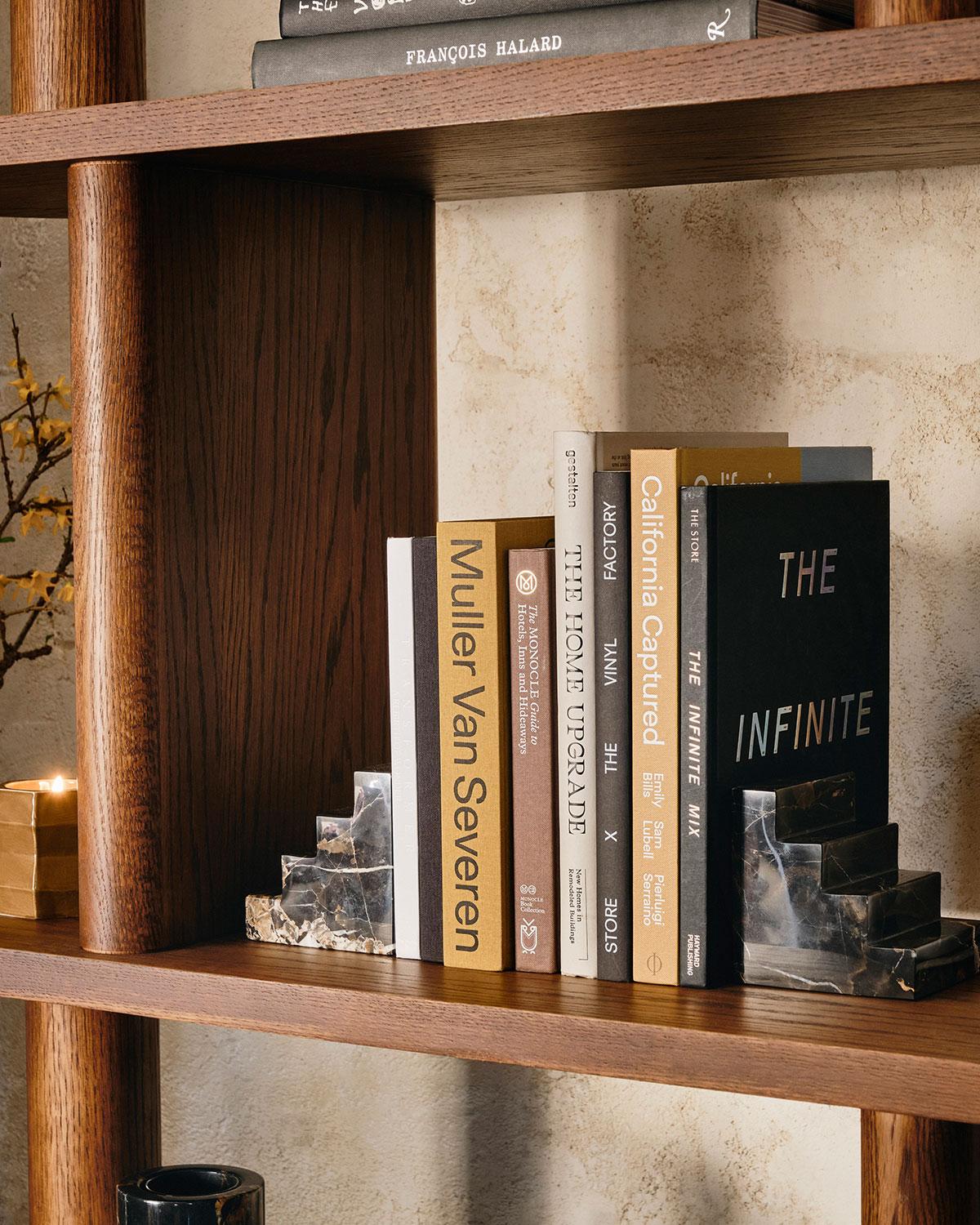 Build A Home
Shelf Life: How to Style the Perfect Shelf
Curating your shelves is not as easy as it seems. To help you achieve the perfect style to substance ratio, here is our best practice Liberty guide.
By: Charlotte Pavitt
Strictly speaking, shelf styling is a skill that involves more heart than head, which means more art than science. We can't give you an exact recipe on how style a shelf to perfection, but that doesn't mean there aren't key ingredients to consider when designing a pleasing display in your home. Let us show you the Liberty way.
Take Stock
Make an inventory of what you're working with. Start by envisioning what pieces you want to place together, and how you want to create cohesion. Approach the shelf (whether that's one long open shelf or an entire bookcase) as a whole zone - giving the eye some obvious focal points, and places to rest the eye: aka low visual moments. This technique helps your space to look curated and thought out – not piled high with everything you own stuffed onto it.

Next, you want to begin grouping your objects by size, styling your largest items first to create anchors to work around. Art and picture frames are perfect for adding height and warmth to layer upon. Elin PK's Sunflowers On A Summer Evening Print, £48 will work to inject some life to your decor, particularly when housed in a PLTY Yellow Solid Oak Wood Frame, £32 (we are maximalists, overall). Pick out accent colours from your chosen art and distribute the tones throughout your shelf-scape.

TIP: it helps to place all of your similar objects at the same time so you can see the common thread in your pieces, and consider what you might want to add (e.g style all your artwork, stack-up your books, then add ornaments).
Group Strategically
Create groupings with medium and smaller objects to fill in the spaces that large pieces don't occupy. Stacking books is one of our go-to's as they have a lot of visual weight, so try playing around with styling them both horizontally and vertically, and adding personality with quirky bookends like Sophia Enjoy Thinking's Venus Bookends, £140 or a large vase for contrast. Magazines also work well for this look too, giving you the perfect excuse to get out your archive The Liberty Book copies you just aren't ready to part with yet! Breaking up hard lines with more organic items in your separate vignettes helps to introduce variety – a shelf that wows is one packed with different elements that get people talking.

TIP: when grouping items, always work to a Rule Of 3 for a fool-proof formula. Items arranged in odd numbers are more visually appealing to the human eye as they tend to look more dynamic.
Prioritise Balance
It's important to give your objects room to breathe – sometimes less is more. Low visual moments don't need to be empty space however, try breaking up brighter tones with a more subdued piece such as Astier de Villatte's Octave Box, £110. These juxtapositions add depth and stop your shelves from looking too chaotic to the eye. Balance is also key when considering the height and scale of your items. To achieve harmony, you want to stagger your larger items, anchoring the top and bottom of your shelving with the more substantial pieces - like filling the bottom of a bookshelf with storage baskets.

TIP: with your eye, draw an imaginary line between the top of each item – the goal is to have them create a zig-zag pattern. This creates visual interest and keeps the eye moving around the vignette.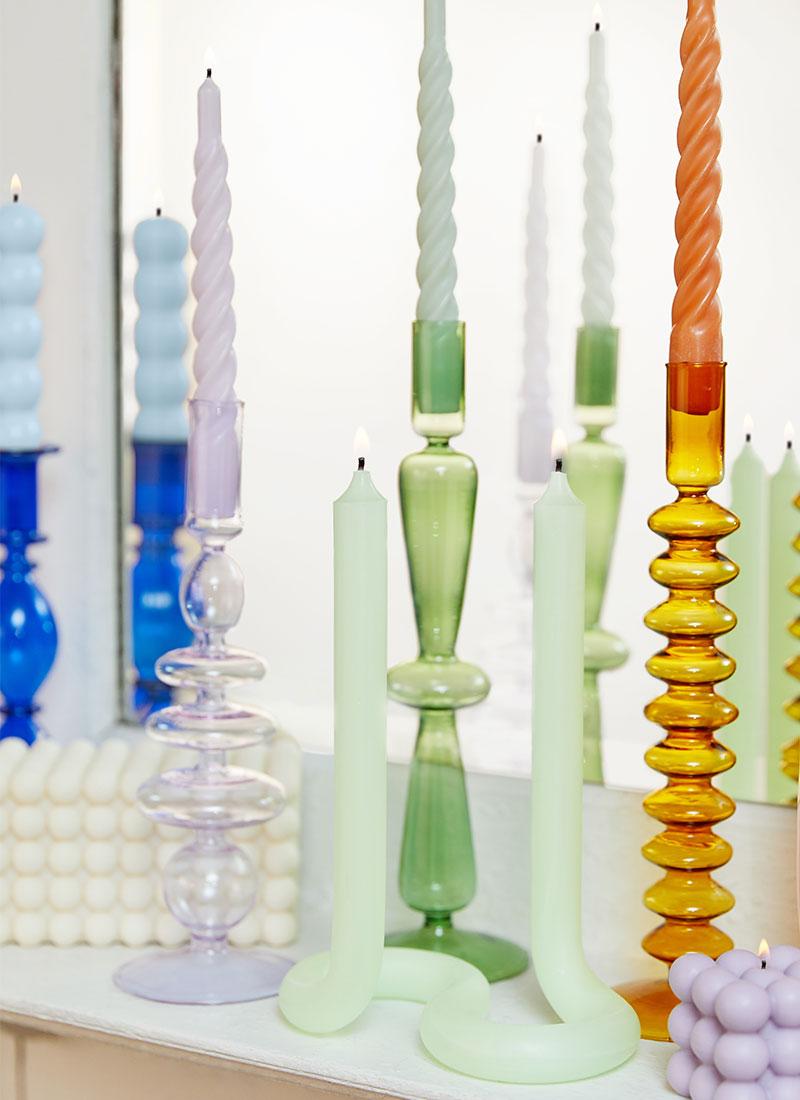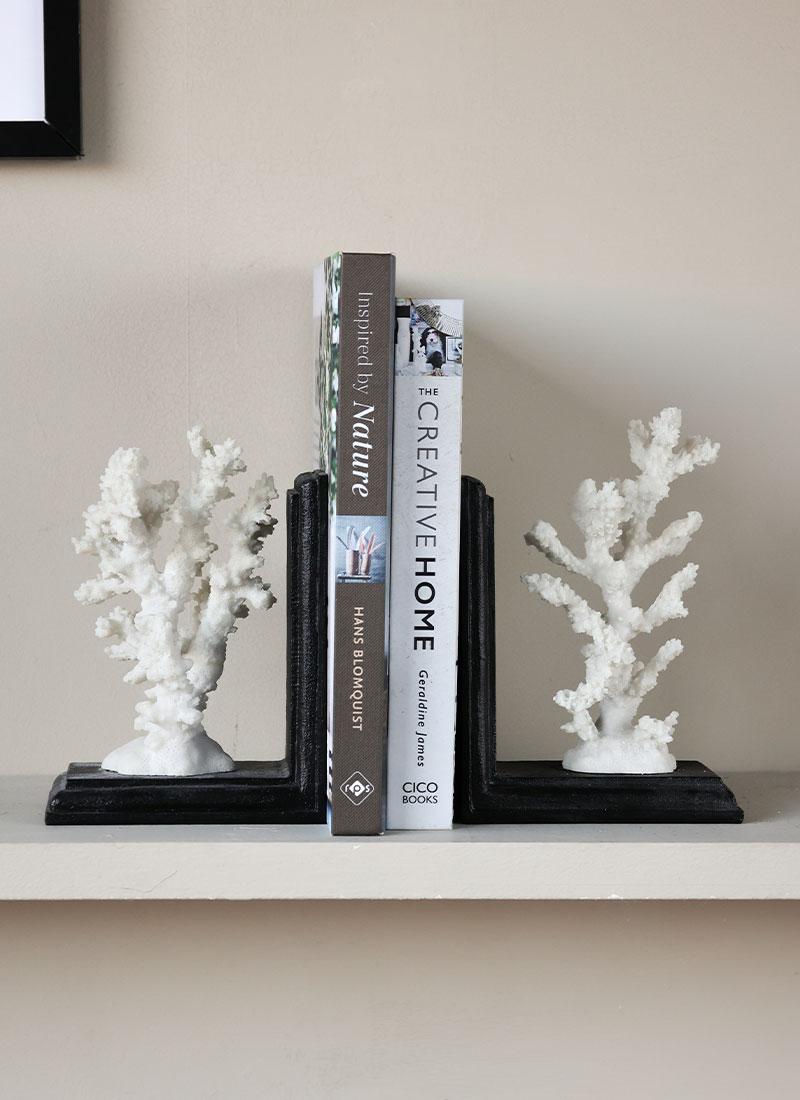 Stand Back & Edit
Home decor is at its best when it's thought out stylistically. Carefully selecting items that mirror the textures, colour palette and feeling already present in your home will help you to successfully curate a united look in your space. From the integration of new interior aesthetics, to decorating with seasonal fresh flowers and foliage – allow your style to naturally evolve over time by switching things up with small tweaks over the year rather than everything at once. Fairholme Studio's set of Citrus Taper Candles, £35 can be rotated accordingly while still working with your existing scheme.

TIP: the only hard-and-fast rule is not all items are worthy of such a display moment. Leave the room and come back with fresh eyes to see what pieces you need to axe.