Meet The Makers
How Joanna Ellner Created REOME
Crafting a meaningful skincare brand in 2023 is no easy feat, yet somehow, this visionary has managed it. To mark its induction into our Beauty Hall, we find out the story behind REOME
By: Shannon Peter
Champions of the creative spirit, we've always spotlighted those who go above and beyond to deliver the unexpected – and now we'd like to help push them forward. Join us as we share the stories of the most courageous changemakers, experimental artisans and progressive innovators that make the Liberty community so extraordinary
With a long, award-winning career in beauty journalism to her name, there's very little that Joanna Ellner doesn't know about skincare. But it wasn't until she rerouted her path to embark on intensive training in the practice of Traditional Chinese Medicine, through which she found justification for her long-held belief that skincare could (and should) feel like a grounding ritual and sensorial pleasure, that the idea for what would later become REOME started to bubble. This is a refined and elevated skincare brand focussed on remedying stress and encouraging a little self-connection. Just the thing to join the coveted line-up of high end skincare brands that make up our Beauty Hall, then. Here she shares a little insight into the inner workings of her mind...

Read More: What makes REOME's hero product quite so extraordinary? Our review of the Active Recovery Broth explains all..
How Did Your Career History Lead You to Start REOME?
I spent 16 years as a beauty editor, and during the latter years, I found myself leaning into writing about skincare the most; the breakthrough technologies, the pioneering results, the tactile textures and the ways in which we engaged with it within our busy, professional lives. And, as with all sub-categories within beauty, I viewed skincare to be a broader mirror to the culture we live in, the way we want to present to the world, and the way we view ourselves.

And yet, it wasn't until I pivoted, to study for a degree in Chinese Medicine that I began to engage with skincare in a more organic way. Less perfunctory, more emotional. Within Traditional Chinese Medicine (TCM) theory, the act of engaging in a daily practice, something slow, gentle, almost hypnotic, something that busies the hands and quiets the mind. Often, the examples of this self-cultivating practice, 'yang-sheng', are t'ai chi, gardening, journaling, cooking, or qi gong. And, I believe, skincare – something that millions of us already engage in each day. I believe that skincare offers us one of the last vestiges of time to truly disconnect from our hyper-digitised world, and for that alone, it's a meaningful gesture, and one which has unfortunately, historically been pitched as something silly, fluffy, over-indulgent, and superfluous. It is anything but.
You Have One Minute – Give Us Your Brand Elevator Pitch
Advanced formulas for slow rituals, REOME is an elevated skincare brand with a singular intention: to de-stress skin – and self.
What Was It About the Traditional Skincare Industry That You Wanted to Disrupt?
With REOME, I knew that we should be speaking to the modern skincare consumer: someone who has tried 12-step K-beauty routines and found that they were completely untenable, not only in terms of time spent, but also the excess and waste of it all. If we're at the best place we've ever been with regards to skincare science, there is no legitimate reason that we would need to apply any more than five skincare products in the morning.

I believe the trend towards mono-dosing ingredients, that is, the act of indiscriminately applying multiple high-volume siloed active ingredients – essentially, cosplaying at being our own skincare chemists – has set us all back 20 years in caring for our skin. It's done the opposite: it's wreaked havoc. Unless prescribed by a skincare professional, many of these high-potency mono-ingredients are too rich for everyday use, and are only tolerated by some, when used daily in conjunction with multiple other mono-dosed acids or actives. We've been overloading our skin. And now, we have unforeseen rates of sensitised skin and decimated skin barriers.

With REOME, I wanted to push against that; our formulas are all ratio-specific, comprehensive, and multi-benefit, they can do a combination of things at once to improve the quality of our skin tangibly and swiftly. And yet, potency and efficacy are still paramount for us. Beyond feeling nice and looking nice, we want our formulas to make a profound impact to your skin and we believe there is a sweet spot of potency with which to deliver that; 15-20% active ingredients for a daily use product; any more and it risks being irritating for too large a group of people, below that and it may lack the visible impact we want to achieve.

It's a question of balance. And this notion of optimal balance is the thread that runs through REOME. It's like yin and yang; the hard and the soft together, science and nature, biotech, and bio-ferments, as opposing, yet complimentary equal parts. Balance is what we should all be targeting with our skincare efforts, not to youth. Balanced skin is your skin; at its very best.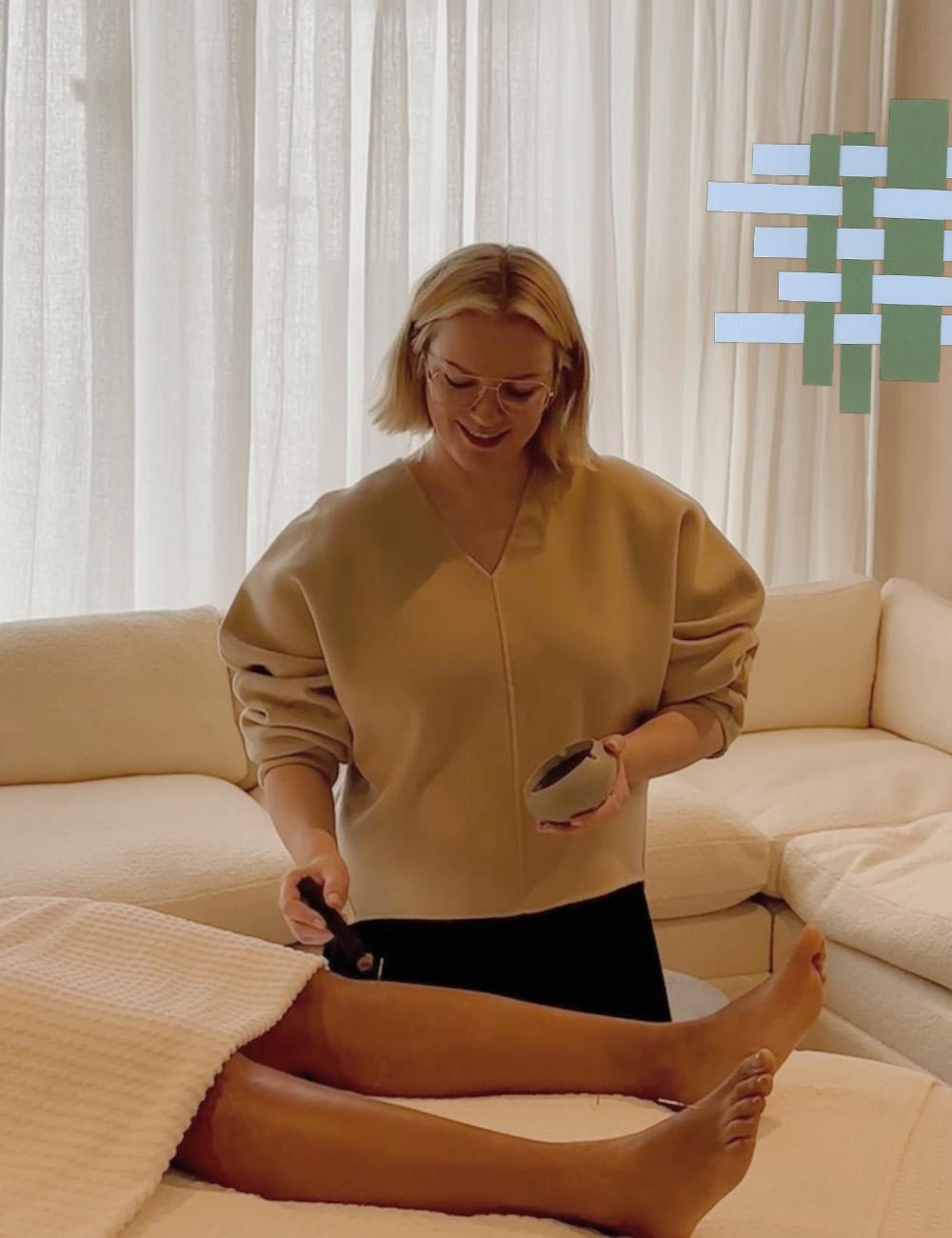 When Are You at Your Most Creative?
Creating the branding and identity for REOME, and the creative aspect of conceptualising a new product are my favourite parts of this work. My style of collating references and ideas for formulas, tools, events, or collaborative projects is something akin to 'organised chaos'. I look through old The Gentlewoman and Vogue magazines. I find most of my inspiration through fashion; the attention to detail, the commitment to quality, the elegance of minimalism – transmuted through skincare, which to me, is superlative formulas, and the rejection of excess and waste.

I have thousands of iPhone Notes, lists everywhere – in notebooks, on my laptop, phone, and I rip out tears and file them in my office, like I did as a beauty director. There's no real cohesive process to this, but I think the act of writing something down or saving a ripped-out page from a magazine, is in itself a recording of the idea; it's all logged in my subconscious, somewhere, and I trust that the right idea will ignite at the right time.
What Is Your Biggest Distraction?
Without question, my daughter Noah. Other female founders who are also mothers will know the omnipresent tug-of-war between being present and engaged as a mother and giving the brand all it needs during those all-important first years of growth. She is of course, a happy distraction, and the love of my life. She helps me to remember that I have a buoyant life outside of work, and to pull away from it often enough to not let it consume me.

Acupuncture, my other job, is also a somewhat welcome distraction. I relish my treatment days because they are the antithesis to my work on the brand. Treating patients for me, is the purest expression of my own yin; it heals me as it heals them. Whereas the dynamic forward motion at all costs energy of running a brand is inherently yang. And so, whilst the juggle is a test of my will, I can no longer see one without the other.
What Advice Would You Give Someone Looking to Start Their Own Brand?
This is such an important question. I could write a book on this subject as there's so much I've learnt and grown from. Broadly speaking, I'd advise some deep introspection into your 'why', do you want to put a message out into the world with your brand, or do you want to do it because it looks fun from the outside? Speaking as someone who has worn every possible hat in the process of bringing REOME to life – from marketing, to formulation, to manufacturing, to regulations, to fulfilment, to fundraising – it will be the most demanding and cerebrally challenging experience of your life, so you have to be doing it because you literally can't not do it.

From there, surround yourself with people who can always lend an ear, in a variety of industries beyond beauty – anyone good with numbers, law, and anyone who runs their own business – and schedule monthly or bi-monthly check-in meetings with them. Being a founder is lonely at times and having spent the first two decades of my career in the bustling offices of magazines, it's hard to not have a big team to bounce ideas off. Sense check everything. Form a focus group of not just your friends, but your target customer and have them test everything, concepts, names, formulas, ideas.

I wish more people had offered me advice – and I'd like to publicly state that if anyone is in an advanced stage of planning to start a beauty brand, and they'd like any advice, my DMs are always open.
What Does Success Look Like to You?
Success to me is REOME being the next heritage brand; around for the next 100 years. We have eschewed trends in favour of timeless quality and that will remain our legacy. And with that comes a responsibility to make a difference. We applied for our Pending B Corp certification before we'd even launched to ensure that this notion of reciprocity was woven into the fabric of the brand from the beginning, so that this could grow with us. We have pledged a portion of our profits to charities that help vulnerable women and children into safe spaces. REOME is an homage to the nurturement of women, the kindness that the act of skincare extends to us, and the rituals of daily self-cultivation. And those things aren't accessible to all; for acts of self-care, we first need access to a safe space, and we are committed to providing that for the most vulnerable groups in society.