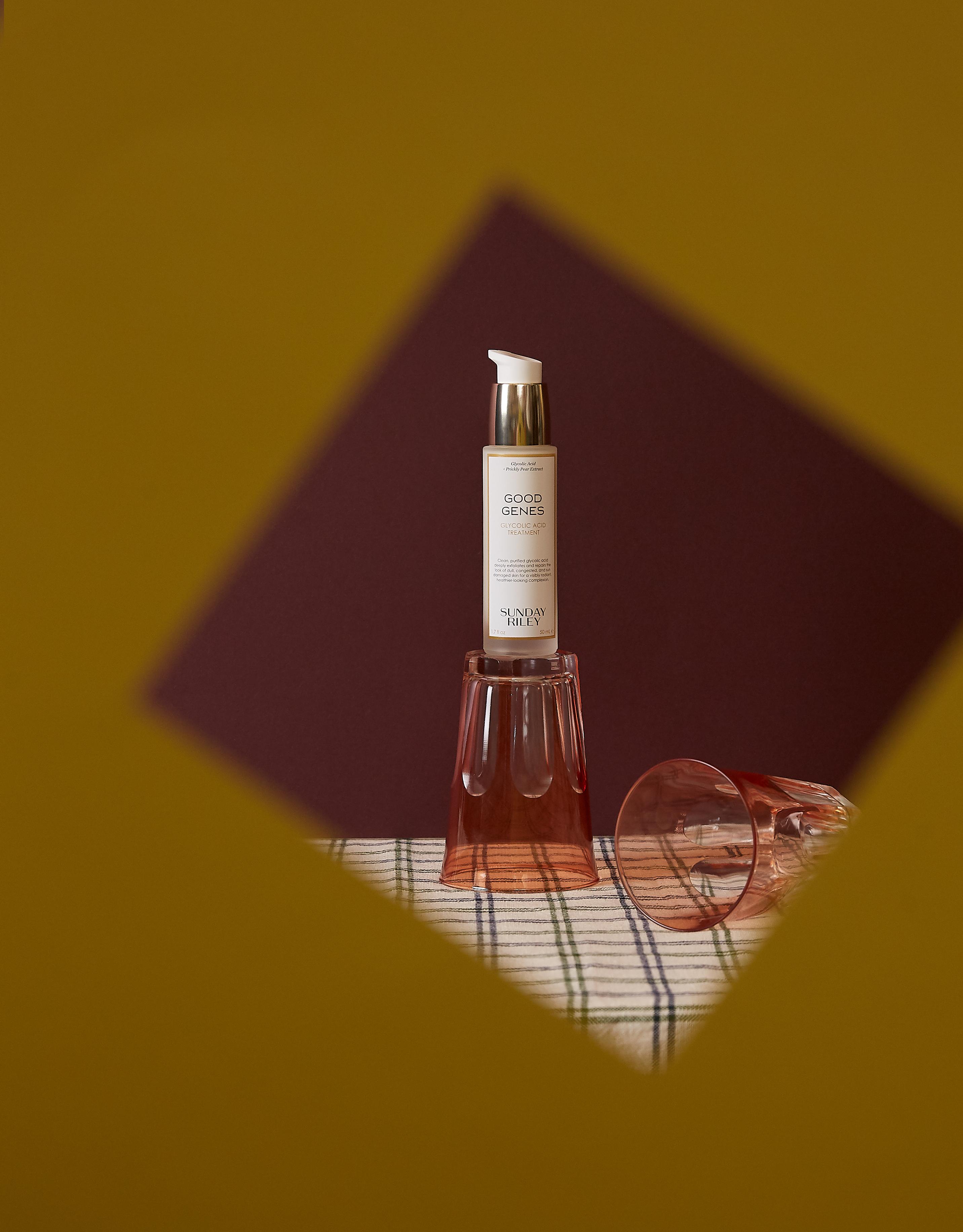 Sunday Kind of Love
Sunday Riley
The skin care expert talks finding beauty in chaos, without letting her interior style slip
Shop Sunday Riley
By: Kate Przybyla
With a family-centric design ethos as honest as her celebrated beauty formulas, Sunday Riley has found that home is ultimately about the life you build in it over what you put in it.
A sense of realism underpins Sunday Riley's interior stylings at all times. Understanding the all-too-real demands of family life, her design approach is something she has lovingly compromised, admitting her space must be: "Contemporary but cleanable. I love a modern aesthetic, but I have to be able to wipe everything down easily: leather couches instead of cloth, concrete floors instead of carpet."
This comes as no surprise in a home in which chaos is embraced. For Riley, everything revolves around her four kids, dogs, and parrot "all together on the couch – (yes, even the bird)". It's lived in, yet design-led, centring on the family and all its facets, which she drills down to: "A lot of noise, a healthy amount of fighting amongst the kids, but a lot of love."
I love

a

modern aesthetic,

but

I have

to

be able

to

wipe everything down easily: leather couches instead

of

cloth, concrete floors instead

of

carpet.
It's these surroundings that give Riley's world meaning, and she finds nourishment in mood over appearances. "I think my home environment, the cosiness of the space that I share with my kids, nurtures my soul," she says. "I'm not sure that inspires me, it more feeds and sustains my existence. I get inspiration from my travels – I like walking the 5th and 6th arrondissement in Paris and looking in the furniture shop windows."
While, aesthetically and emotionally, Riley's domestic space is one of constancy, the definition of where she calls home morphs continuously. She splits her time between residences and finds new meaning daily in the environments that surround her: "I live in Houston, Texas, but I also have a home In Aspen and a farm and villa in Tuscany." Each offers her a different form of comfort and respite: "My Houston neighbourhood is quiet but also really central, with a tonne of mature oak trees and beautiful gardens – I go for five-mile walks every day. In Aspen, I love hiking the mountain paths, which I can get to by foot from my house."
A home

is

truly where you live. I

f

you were

to

come

by

my house

on

any given day,

it

would

be a

wreck –

with

four kids. A

nd

I'm fine

with

that.
This exploratory eye is where Riley lets herself indulge her design sensibilities, and she sources choice impact pieces with the same sense of discernment she carries into her brand. She reserves her greatest design statements for the less child-oriented spaces in her home. "My bedroom doubles as my home office and yoga studio," she explains. "I have an antique French side table in my office, made with malachite, that I'm obsessed with. And, I've been eyeing this new lighting from Paolo Castelli for my Tuscan home, called Golden Disc."
Outside of her restrained yet curated approach, Riley maintains an inherent need for practicality. It's a persuasion gathered from humble beginnings, reflecting the honest sentiment that it's the moments shared within the home that come above all. "My parents couldn't afford to spend money on design," she tells us. "Everything was functional and necessary. It taught me that a home is truly where you live. If you were to come by my house on any given day, it would be a wreck – with four kids. And I'm fine with that."