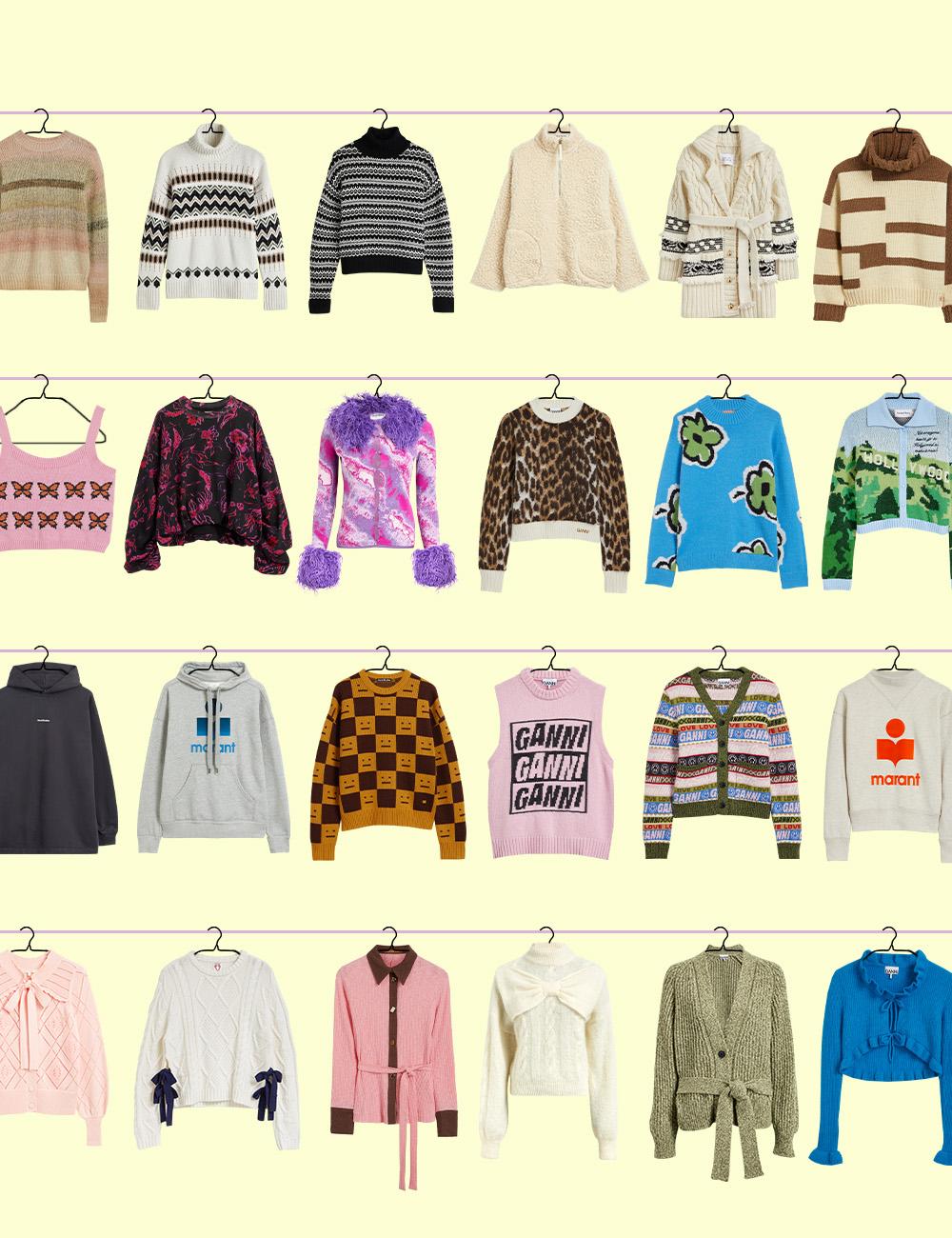 Sweater Weather: Layer Up in the Best Jumpers
These colder climes call for knits that'll keep out the chill, without hindering your style. Here's Liberty's edit of the best
By: George Elliot
Sure, we might face single-figure temperatures and a dark morning commute but look on the bright side – Sweater Weather is back. But to fulfil all these layering opportunities, you'll need some of the best jumpers around. And luckily, we have plenty. But do note: by no means should wrapping up in knitwear be viewed as purely practical. Choose wisely from winter's selection of pullovers, roll-necks or cardigans, and you needn't lose your well-honed sense of style. So without further ado, here's how to master Sweater Weather this season.
Earn Your Stripes
Stripes are big news right now. Case in point: Stine Goya's Lucs Jumper, £280, which comes patterned in bands of grunge-inspired neon green and made from a luxuriously soft, brushed alpaca blend wool. But if you prefer to err on the side of subtlety, set your eyes on the Zip Printed Cardigan by Paloma Wool, £175. Earthy in colour, this black and brown knit will pair effortlessly with pretty much anything you have in mind.
Shop Now
Shop More Striped Jumpers
Prepare for Graphic Content
If you've already consulted our definitive rundown of the biggest fashion trends worthy of investment, you'll know that knitwear featuring decorative graphics dominated this season's runways, so House of Sunny's Hypnotise Violet Crew Jumper, £200 certainly deserves a place in your wardrobe. Oversized in fit and crafted from patchwork panels and embroidered appliqué, it's the knitted equivalent of a statement-making shirt; the kind of thing you can easily wear with a basic vest and classic pair of jeans.FARM Rio's Flower Tapestry Embroidered Jumper, £195 also delivers on both character and comfort. Crafted from a sumptuously soft wool blend and decorated in larger-than-life florals, it'll prove a delight to wear.
Shop Now
Shop More Jumpers in Playful Graphics
Master Chalet Chic
Even if you're not planning on making a weekend getaway to a mountain-side ski resort, complete with alpine cabins, roaring fires and knee-deep snow drifts, the fashion agenda suggests that you should still dress the part. How exactly? By delving into Chalet Chic, of course. Knitted from pure, organic wool and adorned in a Fair Isle-like geometric pattern, Ganni's Green Wool Jumper, £265 is perfect while Shrimps' Salem Knitted Vest, £350 is another that's as snug as it is stylish, just the thing then to slip into for a run down the slopes…or to the office.
Shop Now
Shop More Chalet Chic Jumpers
Roll Up, Roll Up
Luckily for all you heat-seekers out there, the snug roll neck jumper - arguably the warmest of all knits - is back this season. So swap out that old faithful (but somewhat tatty) polo-neck for an upgraded model: Acne Studios' High-Necked Tufted Wool Jumper, £600. Glowing in vibrant orange, it's got dopamine-inducing potential. Like classics with a twist? The Signature Stripe Turtleneck by Totême, £395 features timeless cream and black banding, cut for a relaxed silhouette. Expect knowing nods and plenty of compliments.
Shop now
Shop More Roll-Neck Jumpers