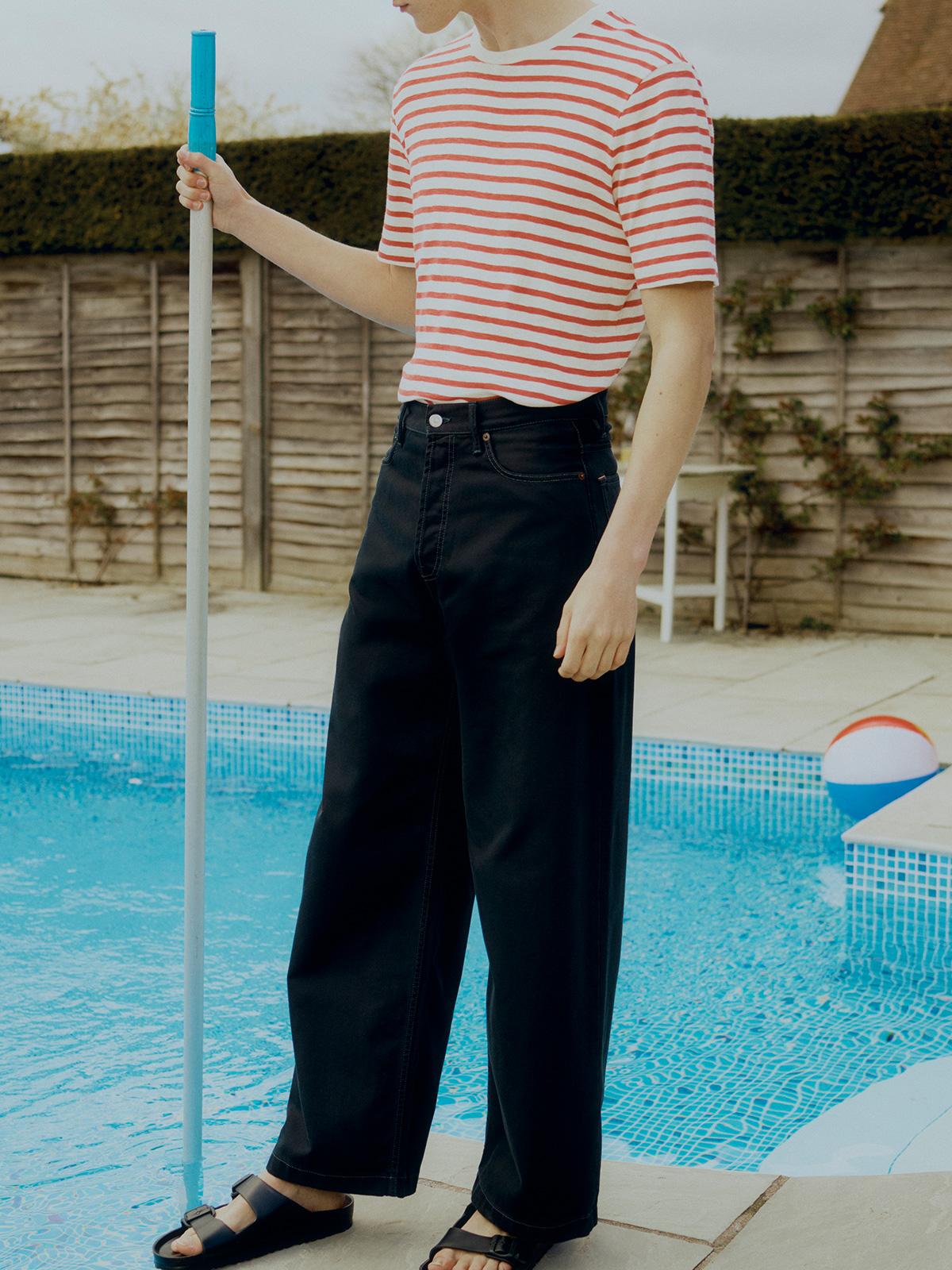 AW21
The Best Menswear Jeans Styles
Liberty deciphers the catwalk looks and eases you into autumn with these new season and mainstay denim trends
Shop Jeans
Summer's break from trousers has felt briefer than usual and, with that, the opportunity to refresh your denim wardrobe comes sooner than expected. AW21's menswear collections hinted at cuts last seen in the '90s and '00s, with raw indigo denim and workwear finishes continuing their reign. Whether you're into classic shapes or maverick finishes, let Liberty's buying team do the leg work and guide you to the new season jean styles that will carry you through to spring.
Impossible to knock off its bestseller perch, the slim-leg jean offers easy, fitted tailoring with a hint of rock-and-roll edge. A more wearable update of its brother style, the drainpipe, we love Nudie's Skinny Lin and Tight Terry fits. Neuw's Lou Slim silhouette is updated in a blue-toned slate-grey and go-with-everything khaki-green – a hint of colour as an alternative to your everyday indigo denim. Acne Studios is the master of the casual straight-leg jean – explore its beloved River fit in shades from petrol to black.
Originally the reserve of fanatics the world over, Japanese denim has gone mainstream. Decades-practised craftsmanship and an unrivalled eye-for-detail reign as brands prove their technical know-how. Edwin gets super specific and updates its sought-after ED-55 and ED-80 fits – linchpins of the 70 year old company - in premium, Japanese Yoshiko left-hand denim and unwashed, red selvedge. Kapital adorns its new season, streetwear silhouettes with bone embroidery – a gothic twist typical of the avant-garde brand.
Known as the home of casual denim, a host of Los Angeles labels stormed the denim market in the early '00s. Today we look to LA for denim innovation, a city where contemporary cuts and innovative fabrications are taken to luxurious heights. With a renewed focus on responsible manufacturing, local label Paige's instantly-recognisable, sculpting cuts are a must in every year-round wardrobe.
The cool kids on the denim industry block, look to Scandinavia for jeans that you'll pull out of your wardrobe daily. Adding a subtle hint of denim proficiency to any look, Acne Studios' jeans are christened by pale pink leather branding – immediately detectable to those in-the-know. Swedish label Nudie Jeans' organic cotton jeans come in an expansive range of silhouettes and finishes – explore the brand's dry, washed and selvedge denim styles now.
Head to A.P.C. for the most low-key of lived-in feels. Echoing every quiet move the Parisian brand makes, the brand's logo-free Standard jeans offer a one-stop shop for an uncomplicated, all-day look. Nudie Jeans offers many levels of worn-in detailing. Copied from original pairs of well-loved jeans, from lightly faded to stained, torn and distressed, you'll find your authentic finish here - christened by Nudie's iconic, zig-zag stitch across the rear pockets.
Originating as the workwear of choice for labourers across the American frontier, selvedge denim is woven slowly and painstakingly on shuttle loom machines. This high-quality, 'raw' material acts as a journal to your experiences with every pair moulding to its owner's lifestyle. Experts tell us that the longer you leave your jeans before washing, the better the fade and fit. Today, Edwin's textbook selvedge denim makes its way into disciples' wardrobes in every new wash.