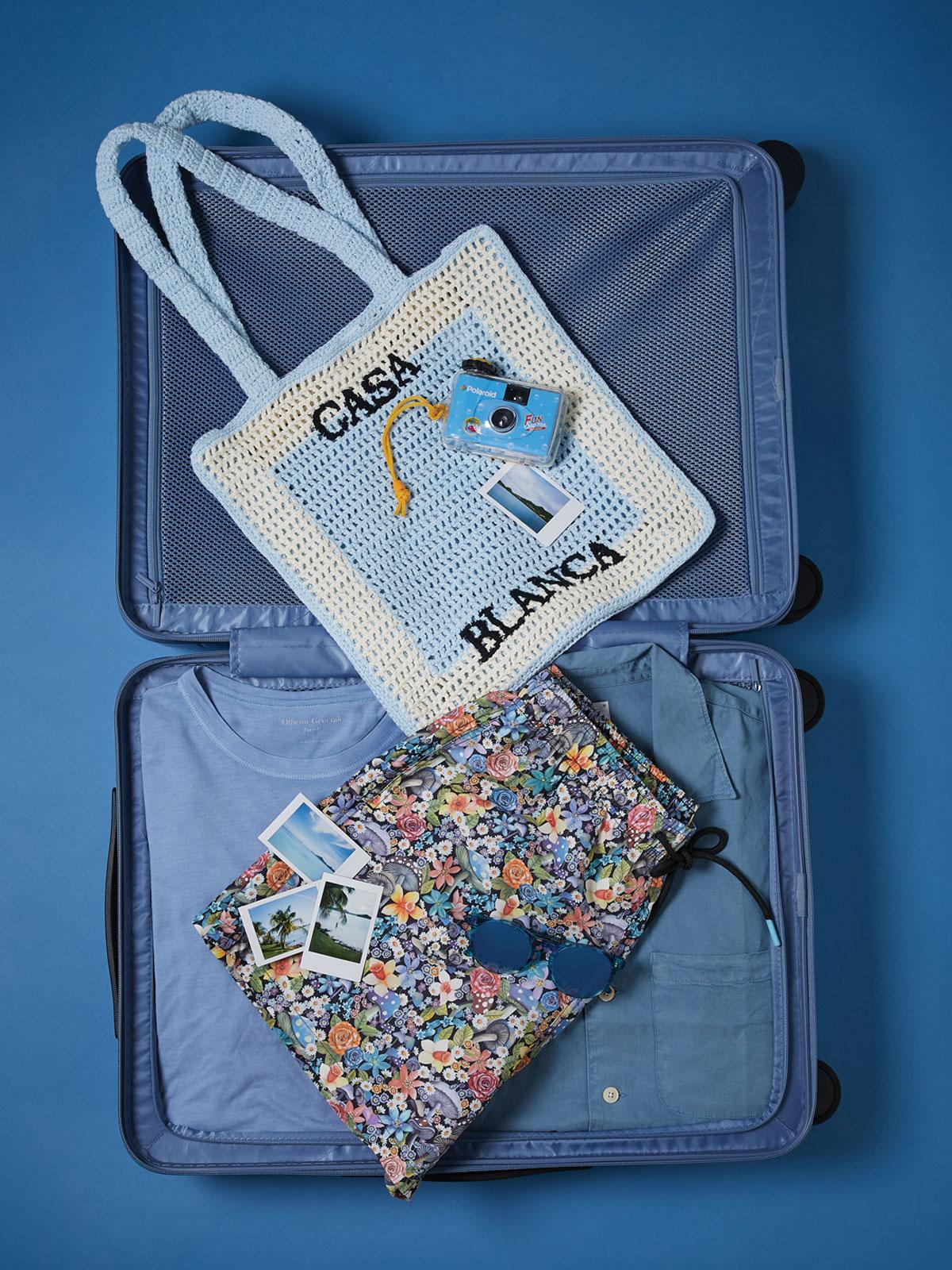 The Summer Store
Pack Right Every Time With The Liberty Holiday Packing List
Every season is holiday season and we have the definitive holiday packing list so you can travel in effortless style.
Shop The Summer Store
As summer approaches and we emerge blinking into the sunlight after two years of Business Unusual, you might be thinking, sorry, what does one pack for a holiday again?

If you're feeling out of practice and not sure where to start, sit back, relax and let Liberty be your guide.

We've thought of everything so you don't have to, from the big-ticket items (hello Shrimps Liberty Dress) to the really practical stuff (water bottle – remember to hydrate) and that one item you leave behind (Sunglasses! You always forget your sunnies), we have the ultimate downloadable holiday packing list so you can be stylish and organised for your well-earned break.

This is your list of essentials (a bubblegum pink hot lips ring counts as essential, right?) whether you're heading to the beach, the countryside or for a city escape.

We're sending you packing (in a good way). Let holiday season commence!
Essentials
• Passport:
Don't forget to check your visa's expiry date in advance to make sure you've got at least six months left on your passport before you leave.

• Suitcase:
Whether you're going away for a short staycation or long summer holiday, always opt for a sturdy, recognisable suitcase that will safely store all your holiday belongings.

• Money/Currency:
Even if you're planning on paying for everything with your cards, it's always a good idea to keep some spare change on you just in case you get stuck in a cash-only situation or need to pay for taxis and tips.

• Electronics:
- Your phone (and charger of course!)
- Headphones to listen to your summer playlist on a journey or by the pool.
- A camera to document all your amazing memories!
Clothes
• Pyjamas
Pack 1-2 pairs of your favourite comfy pyjamas to sleep in or for when you want to relax it out in your room.

• Underwear
You can never have enough!

• Robe
A robe is a must so you can throw something on post-shower or for when you're getting ready (the brighter the better if you're asking us!)

• Tops and Shorts
For the casual days, you can't go wrong with the classic t-shirt and shorts combo. Pack a 3-4 t-shirts and 1-2 pairs of denim or linen shorts.

• Dresses
Easy and breezy, no holiday is complete without summer dresses for both your daytimes and evenings.

• Swimwear
For a coastal holiday, pack at least 3-4 swimsuits and bikinis for your beach and pool days so you're not stuck waiting for one bikini to dry.

• Activewear
Although exercising won't be on everyone's holiday agenda, it's always a good idea to bring some workout gear in case you fancy a long walk or sweaty workout.

• Shoes
Bring a pair of sandals, heels and trainers and you'll be prepared for every occasion (p.s. don't forget socks)!
Accessories
• Sunglasses
A must! Sunglasses are great for mixing up your everyday looks.

• Jewellery
Holiday jewellery is always fun, especially when it's bold and colourful. Pick out 2-3 statement pieces of jewellery, followed by your everyday staples to elevate your day-to-day outfits.

• Bags
It's always good to have a daytime option and a night-time option when it comes to handbags. A basket bag is the quintessential holiday accessory if you've got lots of beach bathing and summer shopping on your agenda.
Toiletries
• Travel-sized Minis
Shampoo and conditioner can take up lots of space so travel-sized minis can save you space and weight when packing. This goes for your body wash and creams too!

• Haircare
Keep your hair healthy and clean by packing a few of your haircare essentials. Leave-in conditioner and detangling spray are a must if you're planning a beach holiday.

• Skincare/makeup
When you're in the sun all day, SPF is going to be your face's best friend so pack SPF-rich products to keep you protected. Keep your makeup light, especially if you're travelling somewhere hot, as sweaty makeup face is never easy to work with.

• SPF, After Sun and Moisturiser
Just like your face, SPF is a must for your body, so pack a high factor lotion you can trust. An Aloe Vera-rich after sun and body moisturiser is key to keeping your skin replenished and hydrated.

• Perfume and Deodorant
Pack your favourite summer fragrance and a trusty deodorant to keep you smelling fresh throughout your trip.