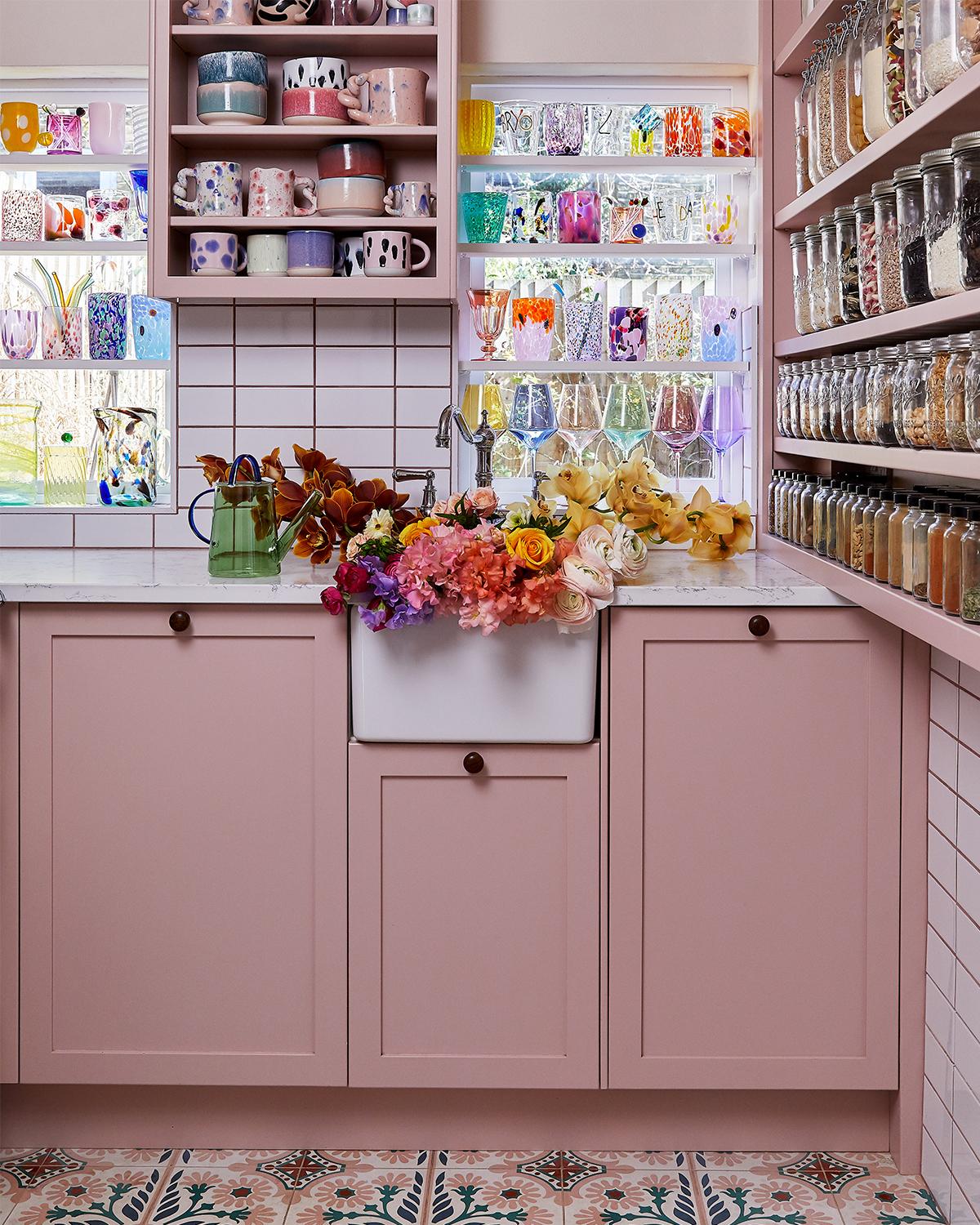 Build a Home
Your Kitchen Storage, Elevated
Cut through the chaos and bring order to the heart of the home with these practical but fundamentally, beautiful kitchen storage ideas
Shop Home
By: Charlotte Pavitt
Interior Design: Bryony Sheridan
Those in search of nifty kitchen storage ideas will have no doubt come across those meticulously curated celebrity kitchens, filled with Perspex jars housing perfectly placed biscuits or market-fresh vegetables. Sure, we might aspire to that level of organisation, but somehow, it doesn't ever feel quite within our reach. Real kitchens are chaotic places. Feet run constantly in and out, grabbing snacks, making hot drinks and depositing dirty dishes. There is spilled salt and errant bits of cereal crunching underfoot after the breakfast rush. But this space needn't feel overwhelming. By choosing functional objects and storage solutions that you also love the look of, the whole space becomes a happier one to use. Liberty's Assistant Home and Interiors Buyer, Connah Reiss-Lamb, shows you how.
A Savvier Kind of Storage
Investing in beautiful storage to contain the chaos of such a busy room will make time in the kitchen all the more enjoyable. "I use coloured crates and boxes in the fridge for vegetables or in the cupboards", says Reiss-Lamb. "They're fun, stackable and there's so much more personality in them than there is in the perspex containers that are everywhere on social media."

Equally, you can start small by adding a hodgepodge of jars to your shelves or kitchen counters, favouring character over uniformity. Rockett St George offers a collection of playful ribbed glass jars, while Vaisselle's Jar Jar Binks Deco Jar, £80 will bring some kitsch to your kitchen.
Think about making your kitchen work harder for you with solutions that make the most of precious cupboard and counter space, the efficient place to hide away smaller items that don't necessarily have a 'place'.

"You can add flair to surfaces with a really nice bottle of olive oil or some jars filled with beautiful pastas", says Reiss-Lamb, particularly when artfully arranged on a beautiful decorative tray. The key is to also optimise the use of space in your cupboards with clever hacks. Try using a dish rack, Hay Dish Drainer Rack, £35, to double up as an organiser for your pan lids, trays and chopping boards. A coat hook can be repurposed on the inside of cupboard doors for hanging tea towels, too.

Replacing cabinetry with open shelving allows for more display opportunities. When styling kitchen shelving, the trick is to balance height and colour for rhythm, and accessorising with accents like ceramics or artworks. "I've got a picture shelf with food prints on it, or you could display a really nice salt and pepper mill" adds Reiss-Lamb, who is a fan of Quail's Reuben and Sparky Salt & Pepper Shakers, £32.
Not all storage has to be bought for that purpose, Reiss-Lamb advises. "There's the sustainable angle of reusing things. If you bought a really beautiful candle and you don't want to get rid of it, you can use it for storage. I've got a Fornasetti candle jar – one of the large ones – and I keep chocolate in it. It's just about reusing those design pieces and making them work for you." Once burnt, Loewe's terracotta candle jars can be given a new lease of life to house cutlery and napkins within a tablescape.

Jugs and vases are also a great multi-use purchase. Hot Pottery's Burnt Orange Jug, £55 will make a sunny addition to any side when used as a utensil holder, while a humble bud vase filled with colourful reusable straws or glass drink stirrers works wonders when hosting (and can be kept on a shelf as decor, too).
Finally, consider the full scope of your space. Could you rework an awkward corner by adding in a full-height pantry or add in clever cabinetry? Glass-fronted cupboards can be used to show off your best glassware, and work to reflect light around your kitchen, while allowing you to see into the depths of the cabinet – this tricks the eye into thinking your kitchen is bigger than it is. If you have a small space, bench seating underneath a window or backing onto a kitchen island not only makes for a more intimate, family-style breakfast table, but is incredibly practical too. Why not hide extra storage under some Liberty Fabric-upholstered seats?