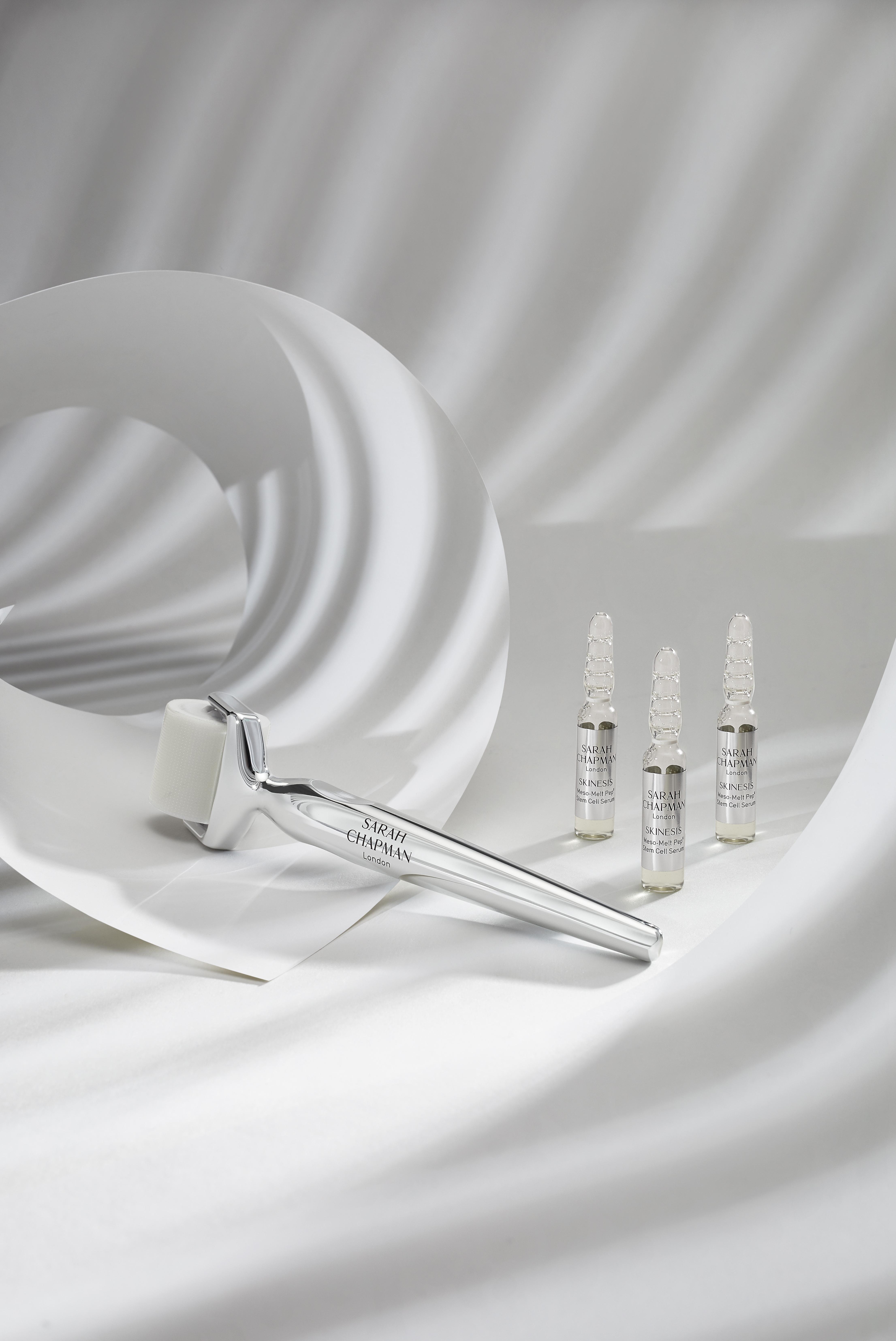 Tried and Tested
Sarah Chapman Meso Melt Infusion System
Our insiders put the innovative at-home microneedling programme to the test on fine lines, wrinkles and acne scarring
Shop now
It's no secret that Sarah Chapman's Chelsea skin clinic is the city's most sought-after destination for a facial, and her skin care line has been met with equal aplomb. A never-before-seen development in take-home treatments, the beauty authority's home microneedling system seamlessly overcomes the practical and hygiene-related complexities that come with adapting a salon service – allowing our staff a piece of the action. Taking to their bathrooms for one treatment a week over the course of 21 days, our testers see the tool take on signs of ageing, dullness and acne scarring – but did it live up to salon standard?
My skin

was so

smooth

and had a

lustrous gleam

to it

after

the

first treatment!
My mature skin now needs a bit of additional TLC – and this product bettered any salon treatment I've previously had. My skin looks and feels noticeably smoother, fresh and alive. My beautician commented on how good my skin looked and I shared my secret with her – she was impressed! This product may be an investment, but it's 100% worth it.
My acne scars

are

not

as

visible

as

before, all thanks

to this

innovative product
I was sceptical about whether this treatment would match up to a salon one, but, firstly, it was really easy to use. The first few minutes of rolling were a bit painful but very bearable, and by the third treatment there was no pain at all. The serum smells amazing and there's enough in each ampoule to cover the neck and décolletage. Now, my skin is firmer, smoother and very luminous. Also, my acne scars are not as visible as before, all thanks to this innovative product.
I

f

you're feeling

your

skin

is

not what

it

used

to

be, (

as

I was!) this

is

definitely worth

the

investment for

an

instant pick-me-up
Having never tried micro needling before, I was intrigued if not a bit apprehensive as to whether it would be enjoyable and live up to the hype. I can safely say this product delivered on both. I've been super impressed with the changes I've noticed in my skin's tautness and texture. I didn't find the treatment painful, but a mild tingling sensation told me something was happening. The cooling serum is applied after the rolling process – a satisfying relief to the heat generated by the needling, which penetrated my skin much more noticeably than usual. I woke up the next morning with soft, supple and toned skin which continued over the course of the treatments. If you're feeling your skin is not what it used to be, (as I was!) this is definitely worth the investment for an instant pick-me-up. I'm the happiest I've been with the look and feel of my skin in a long time and am now a microneedling convert!