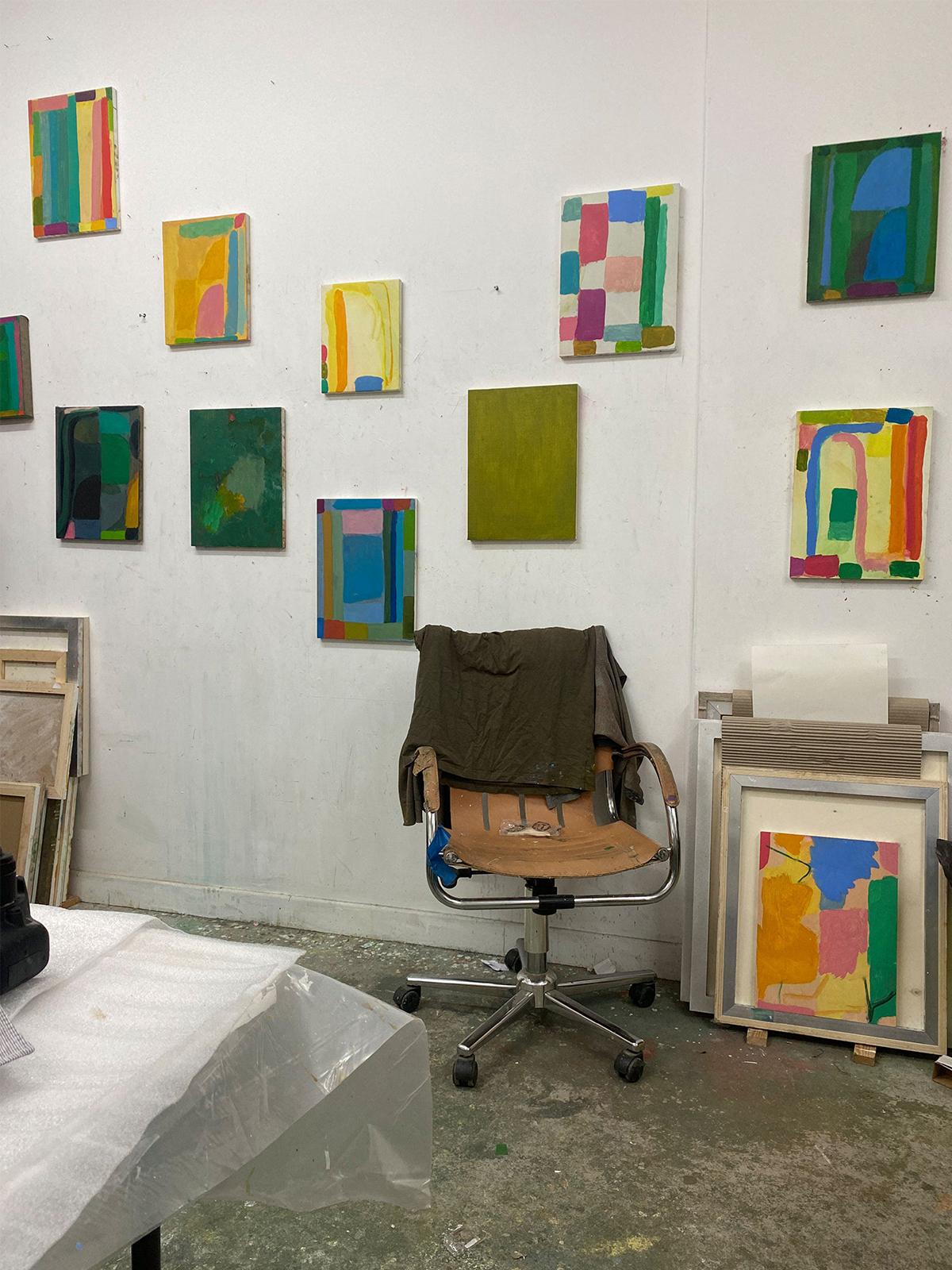 Artist in Residence
Andrew Graves
The London-based artist talks quietly capturing moments in vivid colour
Shop Andrew Graves
Andrew Graves is the London-based artist depicting the unpredictable through abstraction. Built around striking colours in oil, his organic way of working creates a certain intimacy, capturing places and moments in time with openness to fluidity in their interpretation. Here, her invites us inside his process, delving into the creative connection and unique presence that brings his paintings into being.
How did you get into art?
I was always drawing on everything. Also, I had an older brother who would render amazing drawings from photographs, which I was quite jealous of, later we'd both spend hours working together on our own drawings – he had a patience with them, I tended to work at a different speed.
I like

the

work

to

ask questions about making

and

doing, what happens

if

I push this over here

or

remove that, what does

it

mean

to

use that colour?
How would you describe your style in your own words?
Formal experiments with paint, mark and surface, they're handmade and colourful. They are constructions of colour and form to suggest landscapes, architecture and interiors – the style is reminiscent of early experiments in abstraction, Kandinsky, the Bloomsbury Group and Patrick Heron.
What do you hope to convey through your work?
I like the work to ask questions about making and doing, what happens if I push this over here or remove that, what does it mean to use that colour? I also like the evidence of doubt in my painting, my presence in front of the work. A precedence given to the making, the anatomy of the painting. I want the viewer to be aware of how this thing might have come into being and how it might not have come into being.
What are your main sources of inspiration?
Colour is more and more important, but also surfaces on which to work, and a sense of a thing, place, or time.
Can you tell us about your materials and how you use them?
Oil paint, pigment, and mediums such as linseed oil, damar varnish – I like exploring different materials and recipes for making these things in the studio, the alchemy of paint. I like working with different varieties of paint manufacturers and testing out colours across ranges of paint. I work on a range of different substrates or surfaces. I use professionally constructed panels but prepare them in a variety of ways to give different sensibilities to each piece. Some panels are primed with acrylic gesso, a semi-porous surface, some with a traditional handmade gesso that I prepare in the studio with a recipe of rabbit glue, plaster, and pigment. I also use traditional stretched canvas which is usually an oil primed linen. I'm currently developing a series of soft pastel works and experimenting with surfaces and paper – soft pastel needs a sandpaper-like surface to properly adhere.
They begin

with

some sort

of

construction

of a

form. I like

the

idea

of

pitching

an

idea

to

myself, then review this

and

often take

it

away

and

start again
Where do you begin when starting on a new piece?
Everything starts with a relationship to the ground (the surface of the painting), the surface on which I work is key. But then they begin with some sort of construction of a form, I build a composition, I like the idea of pitching an idea to myself, then review this and often take it away and start again.
Which artists or movements have been your biggest influence?
Early experiments with abstraction and the exploration of paintings potential through Modernism are a constant influence. I recently saw Bridget Riley's show at David Zwirner gallery that confirmed a passion for her work, it was like a restating of things she made in the '60s. Also, a Walter Price exhibition at Camden Arts Centre was an example of a show that repositioned things for me, things I think I know about painting, it was helpful to make me rethink my own making.
What's your earliest memory of the art world?
My first exhibition I really remember was being taken to a Jean Tinguely show at the Tate, it was kinetic, quirky, handmade machines. It's art that has the potential to transgress, be radical with ideas and subvert. It was a noisy show and I loved it.
Where do you go to feel inspired?
Galleries, a museum, or friends' studios. Now I'm at home more watching YouTube videos, I got stuck on a series of videos from a ceramicist called Florian Gadsby; it's the story of his workshop and how his works are made. Studios in themselves are inspiring and I'm fascinated by how we use workshops and studio spaces. I've been lucky enough to work in studio blocks with some great people. I once shared a studio with Jochen Holz who had a remarkable studio space creating beautifully crafted glass pieces. Heather Phillipson also shared a studio with me for a short while, and I currently work alongside my partner Hannah Knox, who's a stunning draughtswoman and paints immaculate shirt paintings.
Studios

in

themselves

are

inspiring

and

I'm fascinated

by

how we use workshops

and

studio spaces
Do you have any other creative outlets outside of your art?
I try to garden, but everything I've grown this year has been eaten by snails – we seem to live in a snail factory. I also ride a bike everywhere I can, which feels creative, and I like making up different bikes too, so I have several and they get me places and get me thinking.
How do you manage the pressures of creating art on demand?
It can be tricky if time is short and paint doesn't dry quickly. But I also often enjoy the pressure to make, it's helpful. Momentum in the studio, for making is important and my head feels better if I know they are going somewhere else - someone wants them. I try and spread my bets too, so make several works to disperse the pressure on one thing. It can also help to get the work out of the studio before I go too far and lose what I once had.