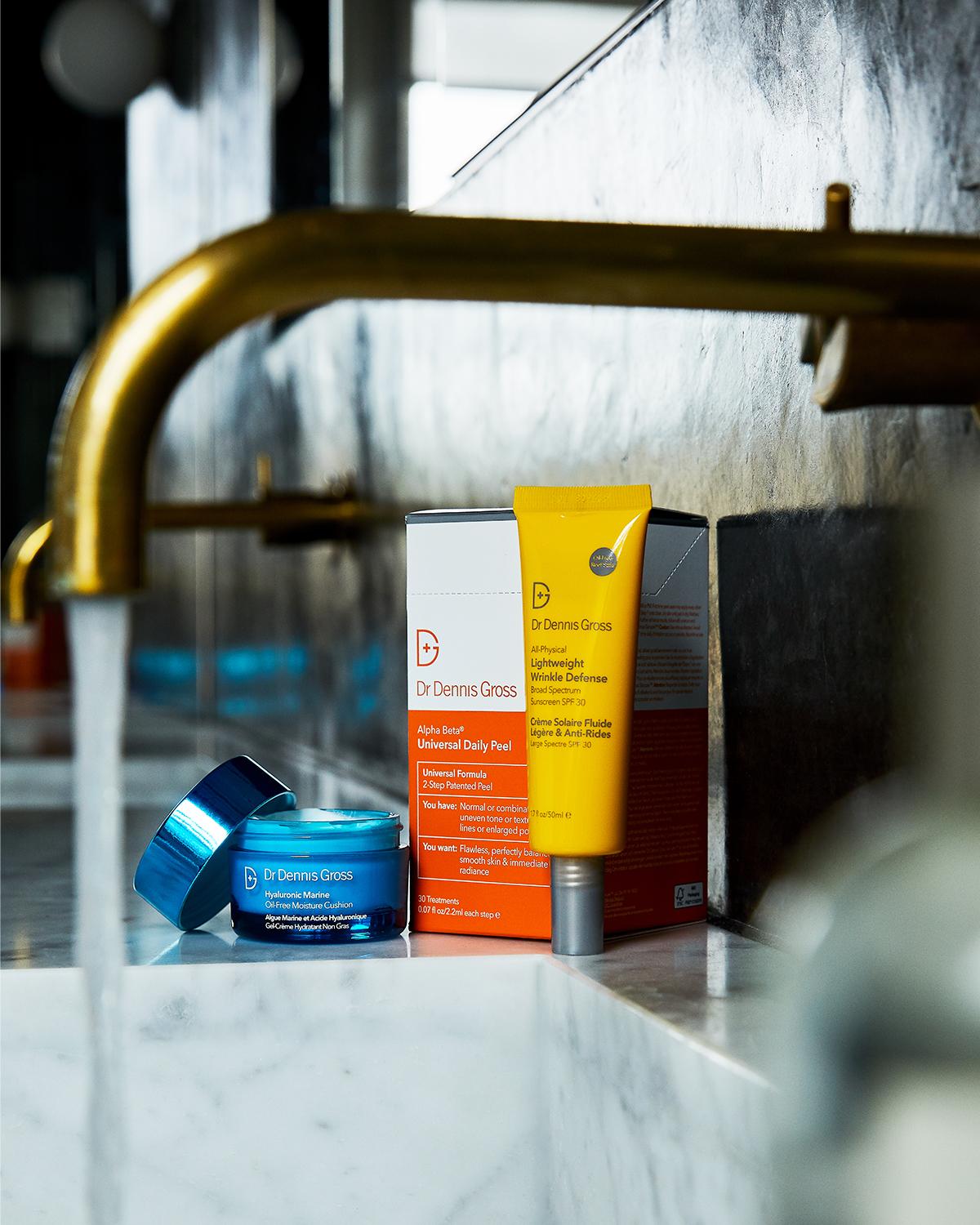 Skin City
A Comprehensive Skincare Routine for Oily Skin
From migrating makeup to breakouts, oily skin can be difficult to manage. We look at the best skincare routine for oily skin, day and night.
Shop Skincare
By: Laura Kennedy
Our grandmothers may have told us that oily skin is a blessing, really, but now that we're grown up, we can face, head-on, the nuanced reality of what it takes to curate a skincare routine for oily skin. That's not to say that oily skin doesn't have its benefits – it's certainly naturally glowy, often a great base for makeup, and it can be hardier than dry skin when met with fluctuating temperatures and active ingredients. But it can also be incredibly frustrating. Makeup looks excellent for forty minutes, but then refuses to stay put, migrating south like a flock of swallows. And oily can also become randomly shiny at the most inappropriate times (that office ID card comes to mind), and prone to congestion.

Like the ancient, fickle God of a lost civilisation, oily skin can be antagonised with the wrong offerings, so what you need is a cleverly curated skincare routine – for both morning and night – to keep it clear, calm and perfectly balanced. Let Liberty show you the ropes.
The Best Morning Skincare Routine for Oily Skin
Keeping it simple is essential for oily skin. You need a streamlined set of basics that will regulate oil production and encourage a healthy rate of cell turnover for an uncongested, glowing complexion. So that means a morning cleanser, a good, hydrating serum, a non-congesting moisturiser and that all-important SPF. And note: if your eye makeup tends to slip and slide, keep your eye cream solely for night time. Your routine should look a little something like this:
The Cleanser
Dermalogica Special Cleansing Gel, £35
Avoid harsh, stripping cleansers and opt for something gentle and comforting that leaves skin feeling completely clean but comfortable. If your skin feels like it's been shrunk in the tumble dryer after cleansing, you're using the wrong product. This gentle, soap-free cleanser ticks all the boxes.
Shop Now
The Serum
Dr. Barbara Sturm The Better B Niacinamide Serum, £110
As well as preventing moisture loss, niacinamide is brilliant at regulating sebum production and minimising pores, and it's found by the truck-load in this light serum. Even oily skin can feel thirsty and tight due to poor hydration, yet this will keep skin hydrated and comfortable without feeling heavy or exacerbating oiliness.
Shop Now
The Moisturiser
Dr Dennis Gross Skincare Hyaluronic Marine Oil-Free Moisture Cushion, £59
Formulated with zero oil, this supremely hydrating moisturiser incorporates hyaluronic acid, aloe and marine algae to to provide an ideal base for makeup without leaving skin excessively shiny.
Shop Now
The Sunscreen
Ultra Violette Lean Screen SPF 50+ Mattifying Zinc SKINSCREEN™, £34
Figuring out which SPF is best can traditionally be tricky for oily skin as many formulations can feel heavy and filmy. Thankfully, formulations are becoming more and more sophisticated. This one is lightweight and non-sticky, making it an ideal option for anyone with oily skin who finds that heavier SPF products can move or cause shine through the day.
Shop Now
The Best Night Time Skincare Routine for Oily Skin
Oily skin is often more tolerant of active ingredients, and your evening skincare routine is the very place to incorporate them. Thorough cleansing will remove the day's makeup and SPF will maximise the effectiveness of every other product that follows it, while an exfoliating toner will promote cell turnover while you sleep. Here's what we would suggest:
The First Cleanser
Lixirskin Electrogel Cleanser, £25
A double cleanse ritual will ensure skin is freed from all the extra oil and dirt it accumulates throughout the day. Start with this pleasingly gelatinous evening cleanser that not only thoroughly cleanses skin, it also doubles up as a detoxifying mask.
Shop Now
The Second Cleanser
Seed to Skin the Divine Cleanse Dual Detox Marine Clay Cleansing Gel, £78
For your second cleanse, try this gel-to-oil cleanser that melts away any last trace of makeup or SPF before emulsifying to a milk on contact with water, leaving skin feeling fresh, comfortable and clean. The green marine clay is ideal for oily skin and congested skin pores.
Shop Now
The Toner
Biologique Recherche Lotion P50, £72
A skincare icon, P50 is an exfoliating acid toner that has amassed a legion of celebrity fans. Particularly good for oily skin, it promotes cell turnover to keep skin at its freshest and bounciest, but also helps to regulate oil production and minimise pigmentation marks.
Shop Now
The Serum
Medik8 Hydr8 B5 Intense Serum, £57
Recently inducted into Liberty's iconic beauty hall, this serum from Medik8 is an excellent emergency rehydrator for skin. Ideal for those dull skin days, you can use it day or night for a boost of hydration for plumper, healthier looking skin.
Shop Now
The Eye Cream
Verso Skincare Super Eye Serum, £70
An eye serum will moisturise the delicate skin of the eye area without adding more layers of heavy emollients, ensuring that there is no dryness for makeup or concealer to sit in during the day. This night serum contains retinol to resurface and work on fine lines while you sleep.
Shop Now
The Moisturiser
Augustinus Bader The Light Cream, £135
A moisturiser that finds the balance between efficacy and light, delicate texture is important for oily skin. This widely loved cream fits that description and won't clog or stress oily skin, but will soothe, fortify and deeply moisturise it.
Shop Now