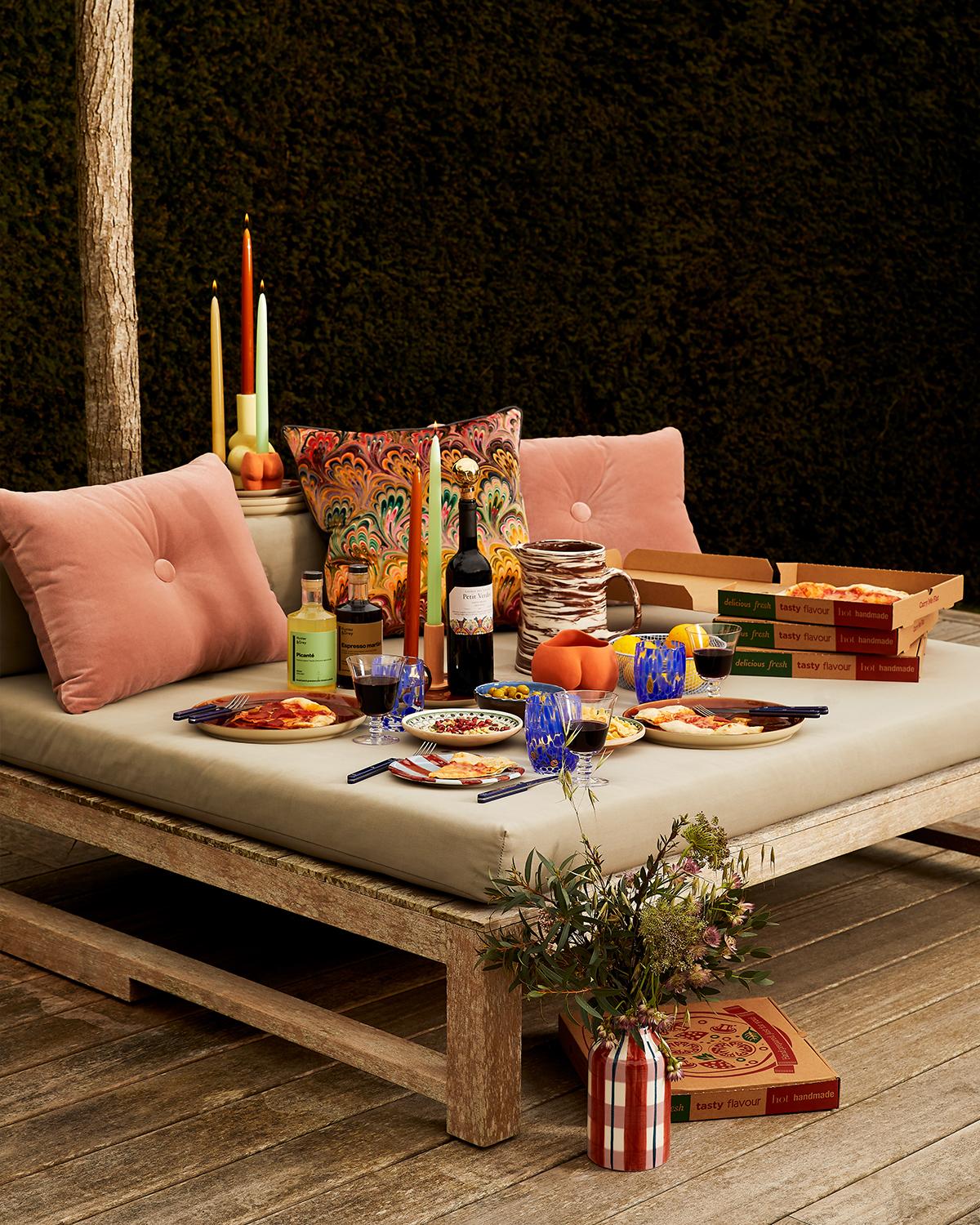 Do You Have Planxiety? Try Our Outdoor Entertaining Ideas
This season, we're overcoming our fear and embracing the last-minute gathering. Here's your Liberty guide to stress-free outdoor entertaining
Shop Garden Party
By: Laura Kennedy
A formal party with weeks of advance planning is all well and good, but what happens when people are coming over on short notice? No need to panic, says Liberty's Lead Creative Hannah Perse-Cottle, who can transform sheer 'planxiety' into uber chic outdoor entertaining ideas in the blink of an eye. Spontaneity is back, so let's celebrate it. This is your Liberty guide to reclaiming the last-minute gathering.
Outdoor Entertaining Ideas For When There Aren't Enough Chairs
We've all had people over and realised that we're short on seating, says Perse-Cottle. Not to worry – there are plenty of workarounds. "Two tablecloths layered over one another on the grass give more texture and colour, encouraging people to sit and relax." A scattering a of plump, patterned cushions will up comfort levels, if that's a worry.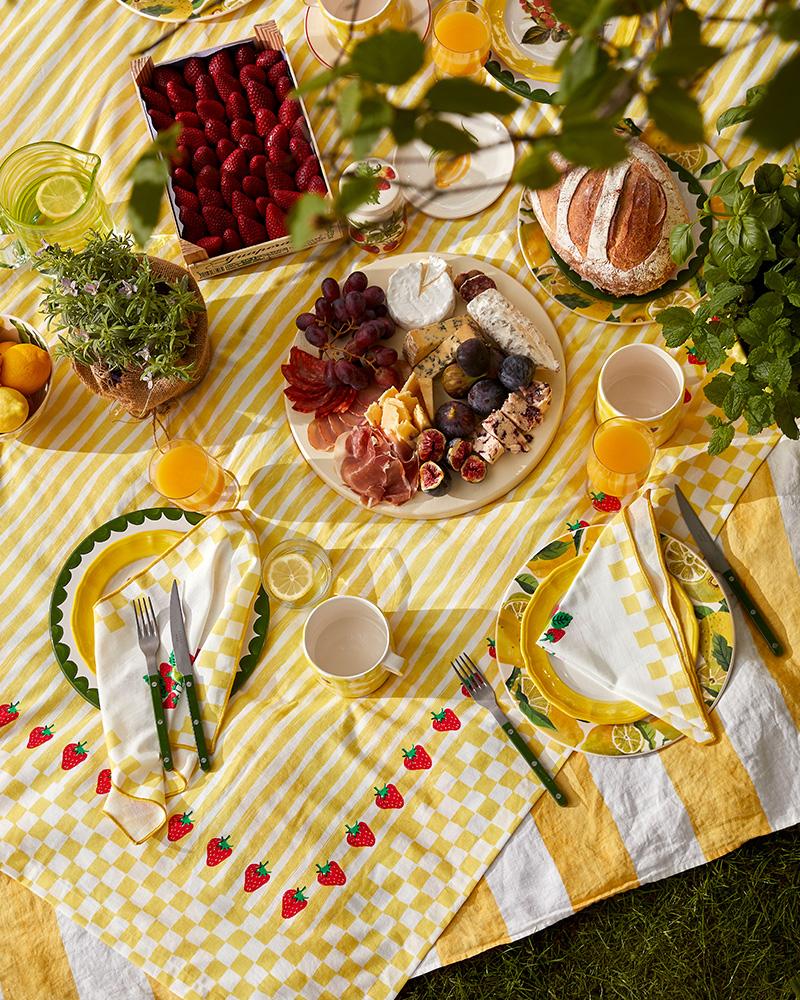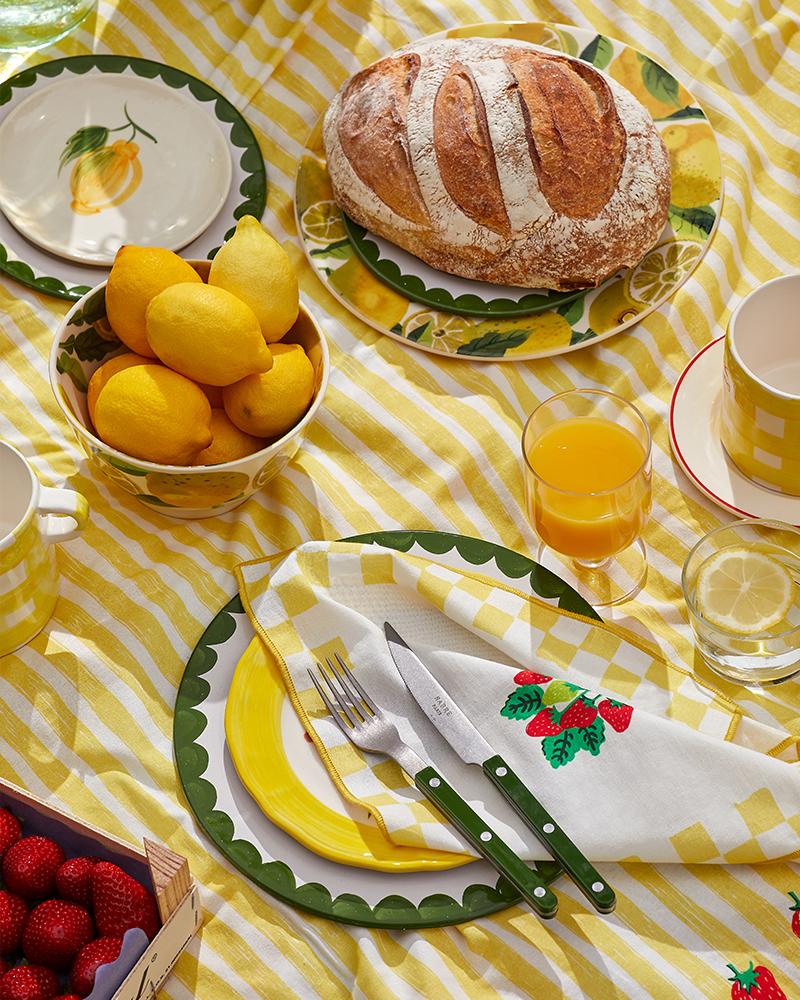 "Getting creative with what you have lends a lovely, homely feel to any gathering. "I have carried my dining table out through my tiny back door hundreds of times", says Perse-Cottle. "If you're feeding people, it is so much nicer to have a substantial table to sit at than struggling with bits of garden furniture, especially if you don't have very elevated garden furniture. For longer stints, the furniture you use daily is just more comfortable and helps create the feel of an outdoor room.
Outdoor Entertaining Ideas For When You Don't Have Matching Dishes
If this talk of tables makes you feel a pressured to create elaborate tablescaping or a formal meal, again Perse-Cottle says, there's really no need. She stresses that "it's important that you don't feel as though you have to have six or eight or ten matching plates. This version of a gathering involves just pulling together what you have, and it's sometimes more enjoyable." If you're putting some food together for guests, Perse-Cottle advises that the mismatched feel can itself become a theme. "With place settings, make it a casual mezze sharing situation. It's beautiful to have lots of dishes that don't overtly match, but will still look nice together. Not everyone's place setting needs to be the same. It's eclectic."
Outdoor Entertaining Ideas For When There's Nothing in the Fridge
There's no need to stress about food, either, if you're not the sort of person who just so happens to somehow always have the makings of a meal for ten ready to go in the fridge. Perse-Cottle recommends leaning into the casual vibe of a last-minute gathering. "There is something so comforting and lovely about just ordering some pizza", she says. "Just stack some beautiful crockery and everyone can pile in. That actively enhances the social element of the gathering." It is also a refreshing cure to hosting anxiety – you're creating the gathering as it happens rather than curating it in advance.

On a still, balmy evening, she recommends lighting scented candles outdoors. They add a lustre and luxury that lingers in the air. "I favour fresh botanical smells like mint or tomato", she says. "They enrich the space, rather than fighting with the natural scents of your garden, or the food you're serving."
Photography: Jessica Gates
Styling: Hannah Perse-Cottle
Production: Nicole Hains
Assistance: Hannah Edgar and Danielle Hiatt