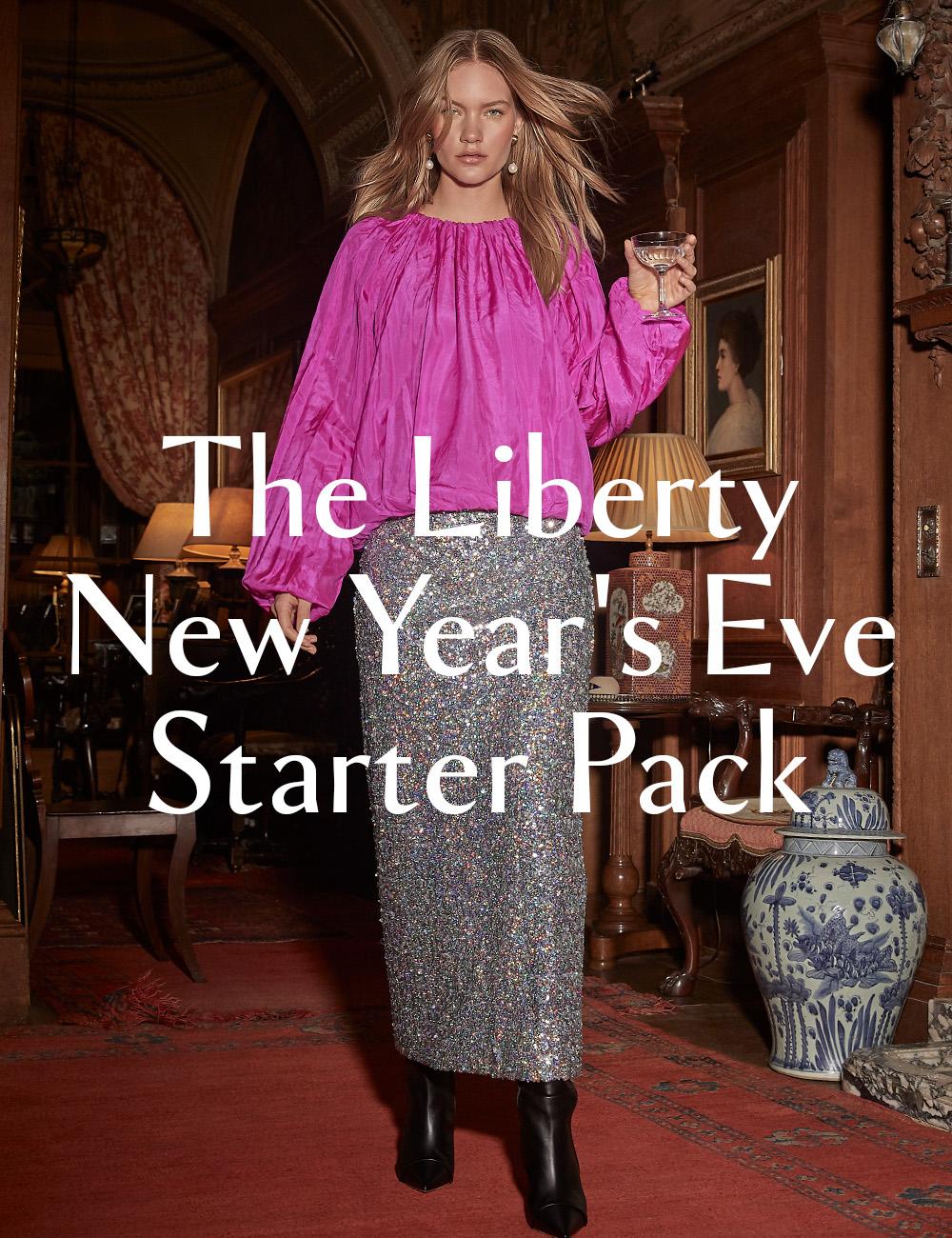 When deciding what to wear on New Year's Eve, the very last party of the year, there's at least one thing that's certain: you'll want to welcome in 2023 dressed in a somewhat glamorous getup, right? But be warned. With not long left until the big night and all your planning to do in between, now's the time to get your outfit nailed. This Liberty New Years Eve Starter Pack should help…
A Spectacular Dress
Think of New Year's Eve and images of technicoloured fireworks exploding overhead will probably come to mind. Good, because this year, consider them your style inspiration. You want a dress that has plenty of vibrancy, pattern and dramatic form - and thankfully we have party dresses to tick all boxes. Featuring voluminous puffed sleeves and patterned all-over in painterly, larger-than-life florals, the Aje's Marlene Floral Midi-Dress, £405 is quite the spectacle. For something that's shorter in length but just as attention-grabbing, La DoubleJ's Ashbury Choux Dress, £650 is another that's bursting with colour.
Shop Now
Discover More New Year's Eve Party Dresses
A Chill-Preventing Coat
Speaking of fireworks, whether the party's round at yours, a friend's or if you're venturing out to somewhere a little fancier, you'll want to catch a glimpse of them going off, right? Therefore, a coat is needed. Try belting yourself into Max Mara's Manuela Coat, £1,700. Cut from luxuriously soft camel hair felt and with a slightly oversized fit, this tailored classic will keep you cosy. But let's face it, there's every chance you'll have to contend with a downpour too. In this instance, look to Kassl Edition's Original Below Oil Coat, £760; it may be practical and water-repellent, but it's still incredibly elegant.
Shop Now
Discover More New Year's Eve Party Coats
Discover More New Year's Eve Party Jewellery
A Party-Ready Bag
You'll also need a partner in crime by your side: a bag. Timeless and with the ability to instantly upgrade almost anything you wear, look no further than the LBB (Little Black Bag). Embossed with Liberty's instantly recognisable Iphis print, the iconic Petite Valise Cross-Body Bag, £475 is the epitome of effortlessness and has room inside for any extra essentials you might need to take with you. Or you could let Chloé's Alphabet Mini Saddle Bag, £740 find its way into your shopping bag. A bohemian-inspired classic, it offers the same desk-to-dancefloor wearability.
Shop Now
Discover More New Year's Eve Party Bags
Discover More New Year's Eve Party Final Flourishes