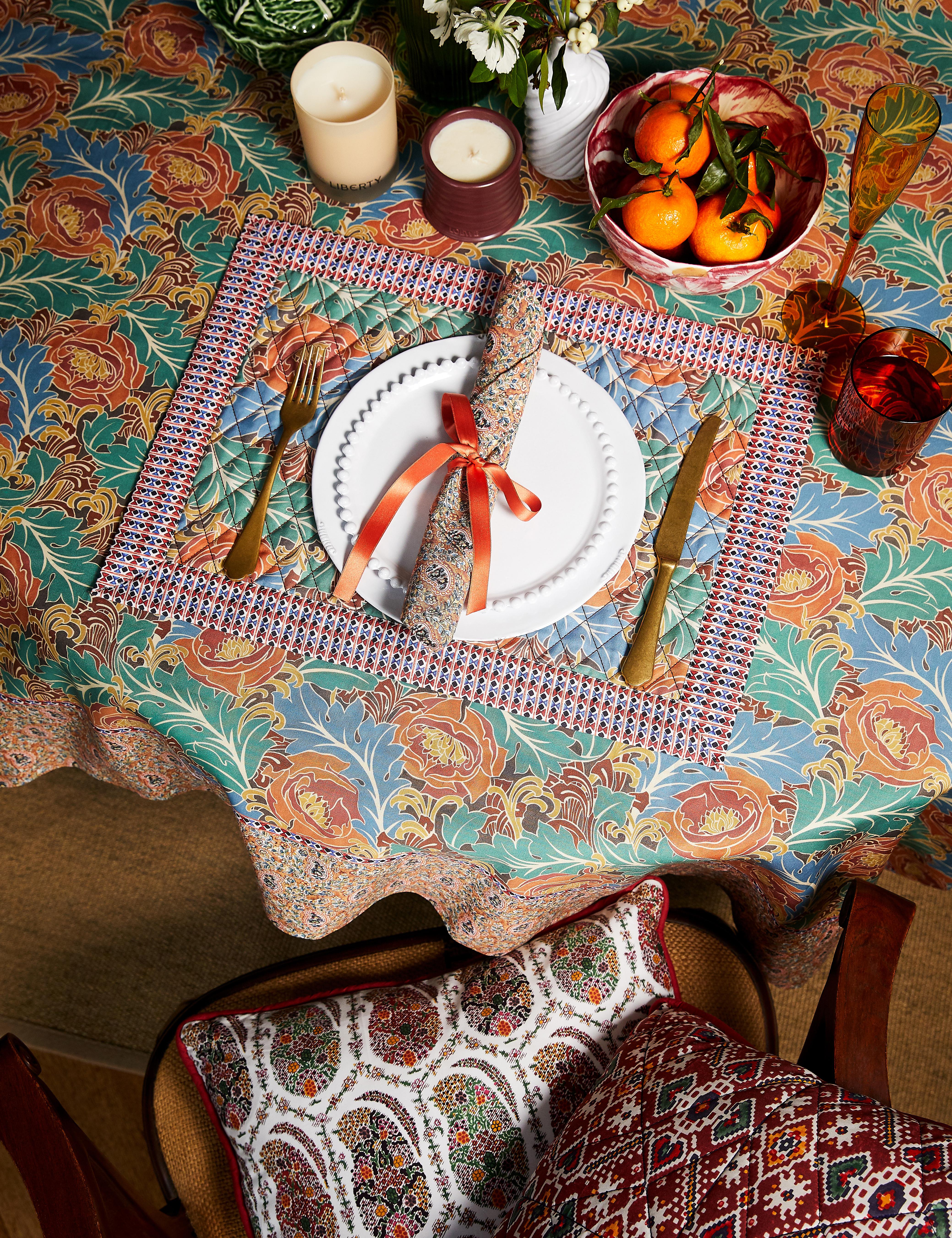 Cabana x Liberty: Hosting the Italian Way
Tastemaker and founder of interiors bible Cabana, Martina Mondadori, shows us how to throw a dinner party the Italian way. Buon appetito!
By: Emma Fowler
As the founder of covetable biannual interiors bible Cabana, Martina Mondadori, knows a thing or two about hosting a dinner party worth talking about. Spending her time between her hometown in Milan and her sumptuous London apartment, Martina brings Italian flavour to her at-home hosting in the best of ways. To celebrate the hotly-anticipated launch of our Cabana x Liberty homeware collection, we sat down with Mondadori to discuss the important things in life: how do you lay the perfect table ? What's the ultimate aperitivo? And why do Italian's just seem to do it best?
On Growing Up in Milan...
Although Milan is an industrial city, it's an extremely cosy and design-driven place to live. Design is everywhere, from Gio Ponti, the Portaluppi buildings, Gardella and Caccia Dominioni entry halls, and of course, all the beautiful antique churches. Your eyes become mesmerised as you walk along the streets.
Both my parents were obsessive about their homes. My mother was all about preserving the work of her decorator and best friend Renzo Mongiardino, whereas my father had a very eclectic approach to his house and collected many different artefacts over the years. At my mother's, it was all about the atmosphere. At my father's it was about the objects. I guess growing up in these environments made me naturally gravitate to Interiors and its many facets which ultimately triggered my passion for layered, soulful interiors.
On the Collaboration With Liberty...
Liberty is such an iconic British brand. I mean, who didn't grow up wearing Liberty print? It's a real honour to have heritage prints grace the covers of our next issue of the magazine. It was magical delving into the Liberty archive and having the freedom to pull out 'dormant' prints from the 1920s and 1930s to use within the Cabana collaboration. It has been one of the most special experiences since I started the Cabana adventure. I'm particularly excited about the quilts from the collaboration with Liberty - it's our first ever bedding collection and they are just so beautiful and versatile - they will make the most perfect Christmas gift!
On Hosting the Italian Way...
An effortless atmosphere and making people feel at home. Plus, obviously great food and wine!

I like to host buffet dinners, as they allow me to play with the menu and be more flexible as everyone has different tastes. A buffet always becomes a place to start a conversation or meet a new guest. If I had to pick, my first course would be risotto, and then the main course would include plenty of vegetables, salads, plates of mozzarella, Italian bresaola and prosciutto crudo. My favourite aperitivo is an aperol spritz or rosé wine. I like to make drinks on my table bar and serve them in a mix of different venetian tumblers.
On Laying the Perfect Table...
I am very much against anything 'matchy matchy' or themed. I normally always start with a tablecloth, which sets the tone. Then, I add a second layer of contrasting placemats. If the tablecloth is cotton or linen I usually use straw or wicker placemats. At home I alternate using vintage sets which belonged to my parents and ones from the Casa Cabana collections. I very rarely use napkins which match the tablecloth. If the tablecloth has a big pattern, I choose napkins with similar colours but a smaller pattern.
On Dinner Entertainment..
The right wine, guest list and a good conversation.

I think Italians quintessentially love entertaining whilst being surrounded by family and friends. Throughout my childhood, the dinner table was always a very jolly one – either chatting with my mother or father about my day or very often I would sit with their friends, listening to great stories – the room would be filled with laughter.
The perfect aperitivo set - a beautiful decorative ceramic bowl filled with a bag of roasted almonds. At home, I use a variety of ceramic bowls, either Romanian ones or the Cabana speckled small bowls, they're so versatile and always appreciated by the host!