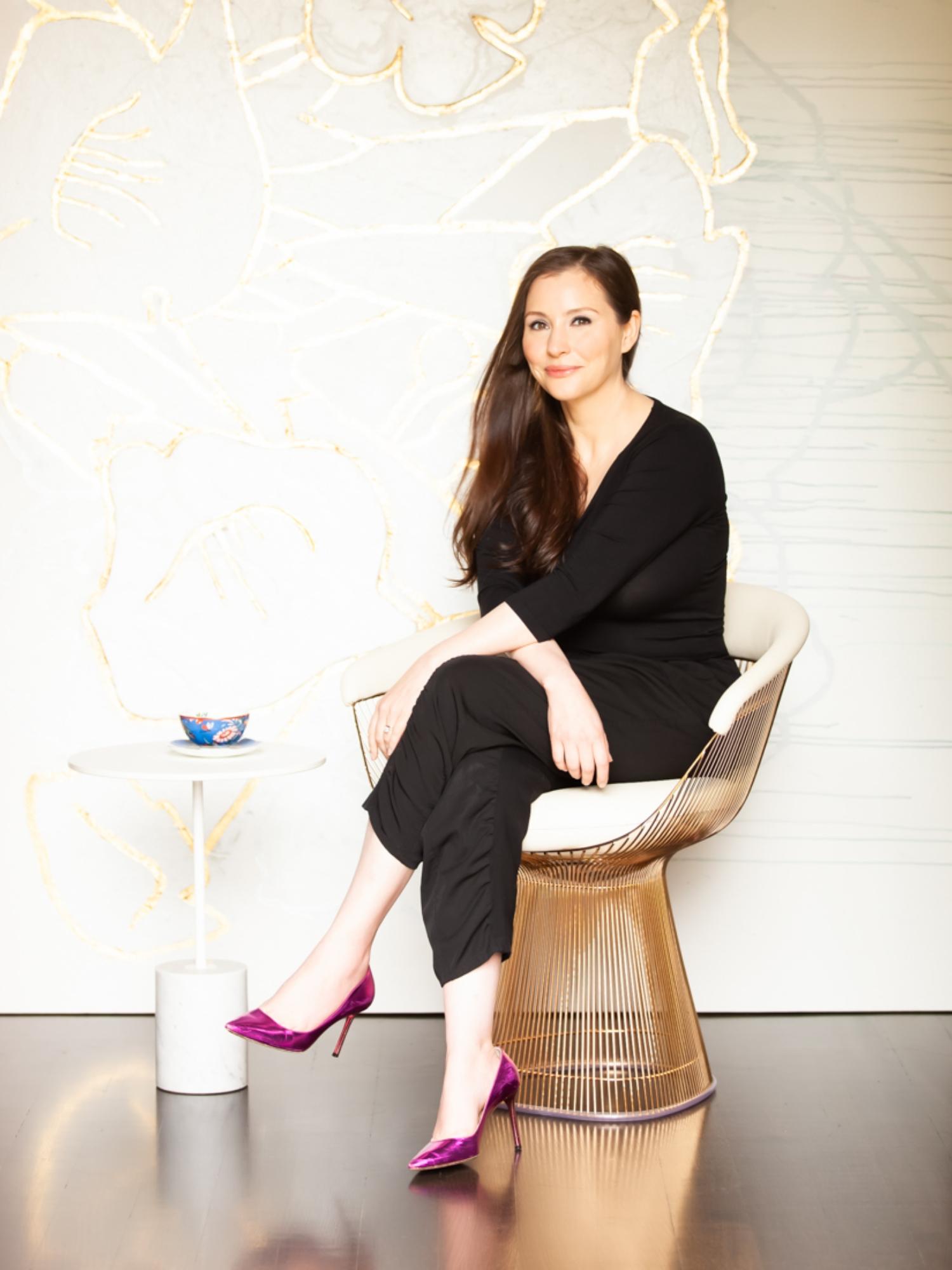 Skin Concerns, Solved
The Sunday Riley Skin Clinic
You called, she answered: the legendary brand founder solves your skin care problems
Shop Sunday Riley
With a reputation nothing short of legendary, Sunday Riley is the trusted beauty authority with over a decade of experience in curing skin concerns. Her namesake skin care brand's rave-reviewed products have been labelled truly transformative – just one of the factors contributing its unshakeable cult status. So, we invited you to step inside the Sunday Riley Skin Clinic and ask her anything – and here, she solves your skin care dilemmas with expertly prescribed solutions.
What five words would you use to describe Sunday Riley?
Yes, yes, yes, yes, YES! I'm a really big yes person, so if someone says "Can you do something?", I'm like "Absolutely I can, I'll figure it out". And when it comes to formulating skin care, it's all about products that are transformational, efficacious, good for all skin types and clean.

What is your desert island product?
Somewhere between Good Genes and C.E.O serum. Maybe I'd do half and half – providing I already have SPF!
A new baby and pandemic stress have left my skin looking dull and aged – what can I do?
When you're stressed, you hyper-produce stress hormones like cortisol, and when you have a new baby your hormones are imbalanced and you're probably pretty tired, so you're going to have a lot of hormones in fluctuation – which is disastrous for the skin! So, number one; it's OK – it's a natural time in your life, and it's going to be fine. Number two; there are some things you can do to help your skin out. Of course the best thing you need is some sleep and some meditation – but you can also use a product like Good Genes, which is going to help exfoliate the surface of the skin and boost your glow instantly, meaning your skin will look healthier and brighter. Make sure you stay hydrated and double up on your vitamins, too.
I get confused about layering. Can you give me a skin care layering 101?
Absolutely. There's really no right or wrong way to do it, but the general rule of thumb is to go from lighter to heavier consistencies – water-based serums first, so they have a chance to soak in, moving towards moisturiser last.

The exception at Sunday Riley is our oil-based serums, which are more like treatment oils. C.E.O Glow, for instance, is a really powerful vitamin C-infused oil, and Luna is infused with retinol. These treatment oils can go earlier in your routine, versus oils that just sooth and nurture – like Argan oil – which would go later, because they really just seal in moisture.

I also like to cocktail. Every day, I take two to three drops of C.E.O Glow and two pumps of C.E.O serum (both with vitamin C), then mix them together in my hands before applying to my skin. This knocks up two different layers really fast – so don't be afraid to cocktail!
Maskne – is there something I can carry in my bag to help my skin stay calm under my face mask?
Face masks are great, but they do trap in bacteria and moisture, and – particularly if you're wearing makeup or sunscreen – skin tends to get clogged. The first thing I'd recommend – and this is an obvious one with maskne – is washing your masks regularly and replacing them routinely.

The other thing I'd highly recommend is Pink Drink essence, because it works on supporting the skin's natural microbiome. We must remember that there's all sorts of bad and good bacteria on our skin at all times, and we really want to support the good bacteria in whatever way we can. I spray it on throughout the day, even on top of makeup – it really supports the natural positive functioning of your skin.
What is realistic to expect from an eye cream?
That's an amazing question because I know eye creams promise a lot. I think it depends on what type of eye cream you're looking at – if you're looking at an eye cream like Auto Correct, which promises to give a de-puffed look and work with the appearance of dark circles, with light reflecting particles, caffeine and horse chestnut, it's absolutely going to help you do that. Is it going to be the same as sitting with ice on your eyes for an hour? No, but does it assist? Absolutely. Can you reapply it throughout the day? Absolutely. Is it my secret weapon? Absolutely!

And when it comes to anti-ageing, there are other eye serums that are all about smoothing out the appearance of lines and wrinkles. Here's the deal – the eyes are a very high movement area of the face, and you want to have signs of movement and expression there. The skin is really quite thin as well, so it is going to show age. For me, it's not about an eye cream stopping the movement. That's not the goal. The goal is for the skin to be smooth and light-reflecting in-between movements, to camouflage lines and wrinkles, and to support the collagen the skin already has. I wouldn't be without an eye cream at all, but it's just one part of an anti-ageing strategy.
I have very sensitive skin prone to breakouts. Blemish skin care is too harsh – what can I use?
A common misconception that only oily skin is prone to blemishes, so that means a lot of blemish and acne skin care is working to remove that oily excess sebum build-up. If you have dry skin and you have acne, these kinds of products can remove all of the good hydration from your skin, too.

First of all, choose your cleanser wisely. I like Ceramic Slip because it removes makeup, dirt, pollution and excess sebum without stripping your skin. When you strip your skin, it might feel really good at first, but then it starts to create micro-cracks which collect bacteria, and it's a disaster.

Second, salicylic acid is one of my favourite ingredients for acne. Salicylic is oil-soluble, so it dissolves the oily build-up deep within the pore. It can be very drying as well, but that's why I like U.F.O. – because it's salicylic acid but in an emollient base, so it's not going to strip your skin and you can use it every single day.
I have persistent insomnia which impacts my skin. What can I do to not look as tired?
Join the club! If you look tired and you're not sleeping, I would drive you towards Auto Correct. That's because you probably have dark circles under your eyes and your skin might feel a little bit puffed and deflated, so it's going to wake up the eye area with caffeine, horse chestnut and Brazilian ginseng. The real gold is the light-reflecting particles – it's not like there's a sparkle, at all – it just reflects light in a way that diffuses the look of dark circles. This is a little trick often used in makeup as well. I personally need less concealer – or none at all – when I use Auto Correct. Plus, I like to keep it in the refrigerator because the coldness really helps with the puffiness.
I always get breakouts around my right cheek and the right side of my nose. Why?
Surprisingly, it could be the way that you're touching your face in general, which has then become a habit. You might put your phone there, you might be absent-mindedly putting your hand there, or it might be the way you sleep. Firstly, I'd say an awareness of what you're doing daily is going to be key. And, if it's just your right side that's more prone to breakouts, let's pay more attention to your right side with skin care – you might want to use something like Good Genes, which helps to clarify the skin, and remove dull dead surface cells plus all that debris that falls into the pores, which can lead to breakouts. You know, we are all wildly unique, and we all have our own unique skin chemistry, and that's normal – you just might have to change up your routine on one side, that's all. Pretty easy!
Need more than a home remedy? Book in at the Sunday Riley treatment room for a skin-transforming facial, expert guidance and complete escapism.