mute/unmute
More Than a Store
Take a Trip to FARM Rio's Tropical Dreamscape
Inside Liberty's central atrium lies a fantastical landscape where vivacious fashion meets vibrant flora and fauna. Liberty finds out what lies behind this FARM Rio magic
By: George Elliot
Venture inside Liberty's doors this season and you'll discover an enchanting tropical paradise, just waiting to be explored. A surreal winter forest of towering tree trunks, wild creatures and blooming florals bursting with technicolour – all brought to life with embroidery, textural fabrics and lifelike sculptures. In other words, welcome to the world of FARM Rio.

Fresh out of the balmy climes and luscious landscapes of Rio de Janeiro, for the uninitiated, FARM Rio is the brilliantly maximalist womenswear brand reminding us of the joy to be found in fashion. And this month, we invited the Brazil natives to take over the windows and atrium of our iconic flagship store, thus providing a bright, fantastical (and rather welcome) retreat in the centre of this bustling city.

And there's meaning behind all this magic, too. Embodying the collaborative spirit of FARM Rio, this immersive project emphasises the importance of craft by uniting a community of makers, made under the creative direction of esteemed designer and scenographer Gringo Cardia. Plus, the installation aims to support The Proeza Institute, an NGO that supports vulnerable women around Brazil.

But before you venture inside our store and experience the vibrancy for yourself, hear from FARM Rio's co-founder Kátia Barros about the cultivation of this extraordinary installation, and how her team of artisans imbue happiness into every collection.

Read More: Discover the latest FARM Rio dress to enter Liberty's Dressing Room
How Did FARM Rio First Begin?
It all began in 1997 at Babylonia Hype Fair, a marketplace in Rio de Janeiro, modelled after London's famous Spitalfields. It was just myself, Marcello Bastos and a collection of colourful garments that captured the vibrant spirit of Rio but the locals instantly fell in love and we eventually earned a reputation as Brazil's most beloved lifestyle brand. Now, there are so many more people in the FARM Rio community than just Marcello and I. With our own design team, we're able to find joy, happiness and magic through a combined creative spirit.
FARM Rio is all about bringing joy, optimism and happiness to everyday life
How Do You Manage to Capture the Spirit of Brazil in the FARM Rio Aesthetic?
When we first started the brand, I noticed that the clothing in Rio de Janeiro was not representative of the city's energy, something we call the Carioca spirit and translate to 'dress in happiness'. It's this spirit that our brand encapsulates, from the way we curate our stores to the way we design our collections. It sits at the very core of our brand identity and is all about bringing joy, optimism and happiness to everyday life.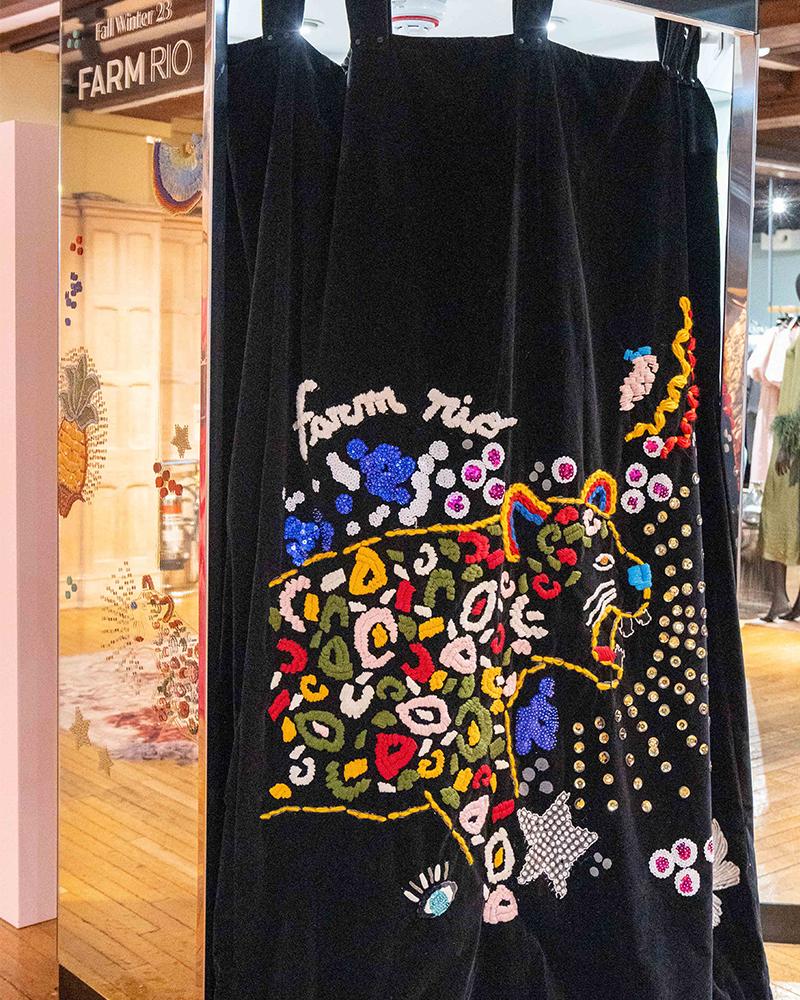 How Do You Manage to Weave Happiness and Joy into All You Create?
We believe clothes are tools of empowerment and self-expression that can impact your mood. Statements inspired by the colours and shapes of nature can lift frequencies and emotions, creating a ripple effect of optimism. The boldness of our colour palette is one of the elements we use to influence joy and optimism into our clothing. In our prints, you'll find a variety of natural elements from Brazil's tropical fauna and flora, from colourful flowers and leaves to flying macaws and bright toucans. Nature is FARM Rio's main source of inspiration. To dress in happiness is to foster a more affectionate, curious relationship with the world around you.
Each one of our pieces is made with flawless attention to detail thanks to our network of experienced partners
What Role Does Craftmanship Play in the FARM Rio Universe?
Craftsmanship is an important part of our design process. Each one of our pieces is made with flawless attention to detail thanks to our network of experienced manufacturing partners, from independent artisans (who we support through our community initiatives) to trusted factories that can deliver a product we are proud of. A vast amount of research goes into the fibres we use in our manufacturing, and this process is always evolving. Ultimately, we want to keep creating pieces that can live in someone's wardrobe for many years.
FARM Rio Is Dedicated to Keeping Local Culture Alive – How Do You Make this Happen?
This is a long tradition in our brand's culture. From our early days, we've celebrated the authentic voices in Brazil's art scene through long-lasting collaborations and meaningful partnerships. For us, it is all about that sense of belonging a creative relationship can give, getting closer and spending more time with those we admire, something which resonates in all of our projects.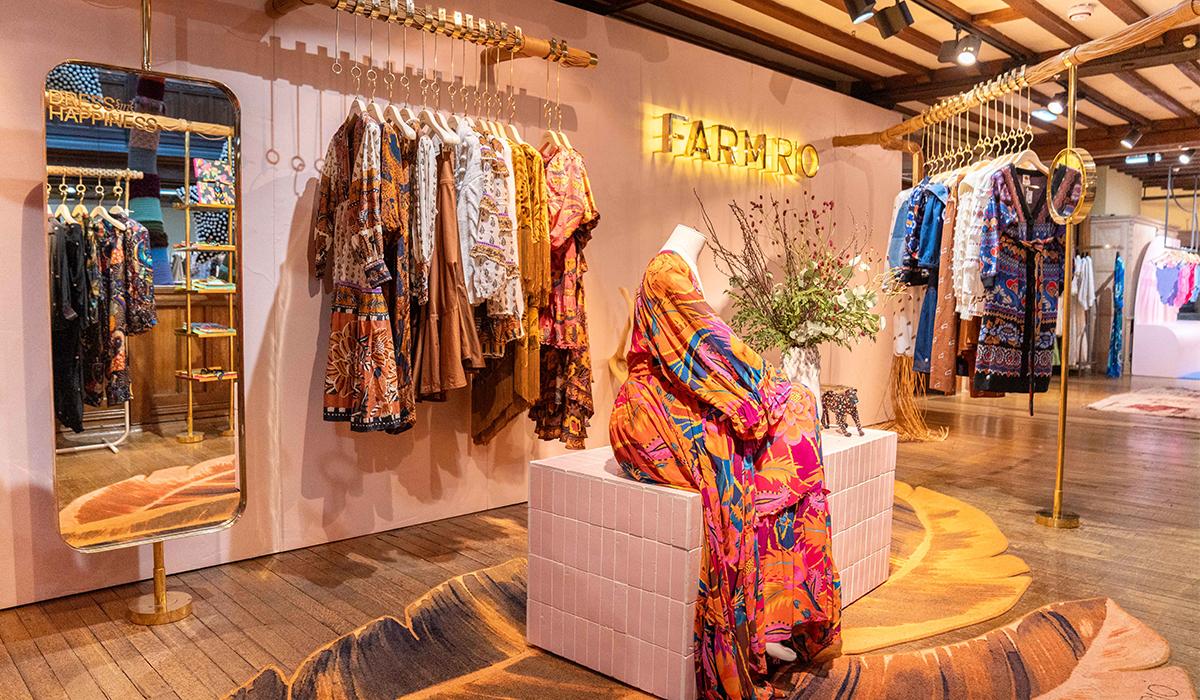 What Inspired the Surreal Winter Forest Installation?
The inspiration for the whole takeover design comes from our winter prints which reflect the living and imaginary beings that inhabit the winter forest, such as the winter macaw, the black jaguar, the stars, mushrooms and many more. Our idea for the wonderful atrium display revolves around two interlaced, rising tree trunks with large canopies of leaves that give shelter to the biodiversity around them. We hope the space offers a visual and sensory tropical experience that encapsulates the fun surrealism and heritage prints of FARM Rio.
What Role Did Creative Director Gringo Cardia Play?
Gringo has created and directed several theatre shows, musical performances and dance routines for the greatest Brazilian artists, and together with choreographer Deborah Colker created the show OVO by Cirque du Soleil, in addition to the design of the exhibition Amazônia Brasil in Paris, Munich, Tokyo, and New York. Together, we knew we could create an immersive journey for nature lovers and bring Brazilian culture to the world.
And Where Do Graphic Artist Leandro Assis and the Proeza Institute Come in?
Leandro Assis is a talented, self-taught artist whose passion for creating led him to the world of Carnival in 2001, where he started as a painter for Estação Primeira de Mangueira. With six titles of the Carioca Carnival and the Plumas e Sequins Award under his belt, Leandro and his team are known for spreading their art throughout Brazil and beyond. This is something FARM Rio very much relates to. The Proeza Institute is an NGO working to provide support to vulnerable women in Brazil through the implementation of teaching techniques for manufacturing products, always taking into account their cultural heritage and artistic trends. Again, an important cause close to FARM Rio's heart.