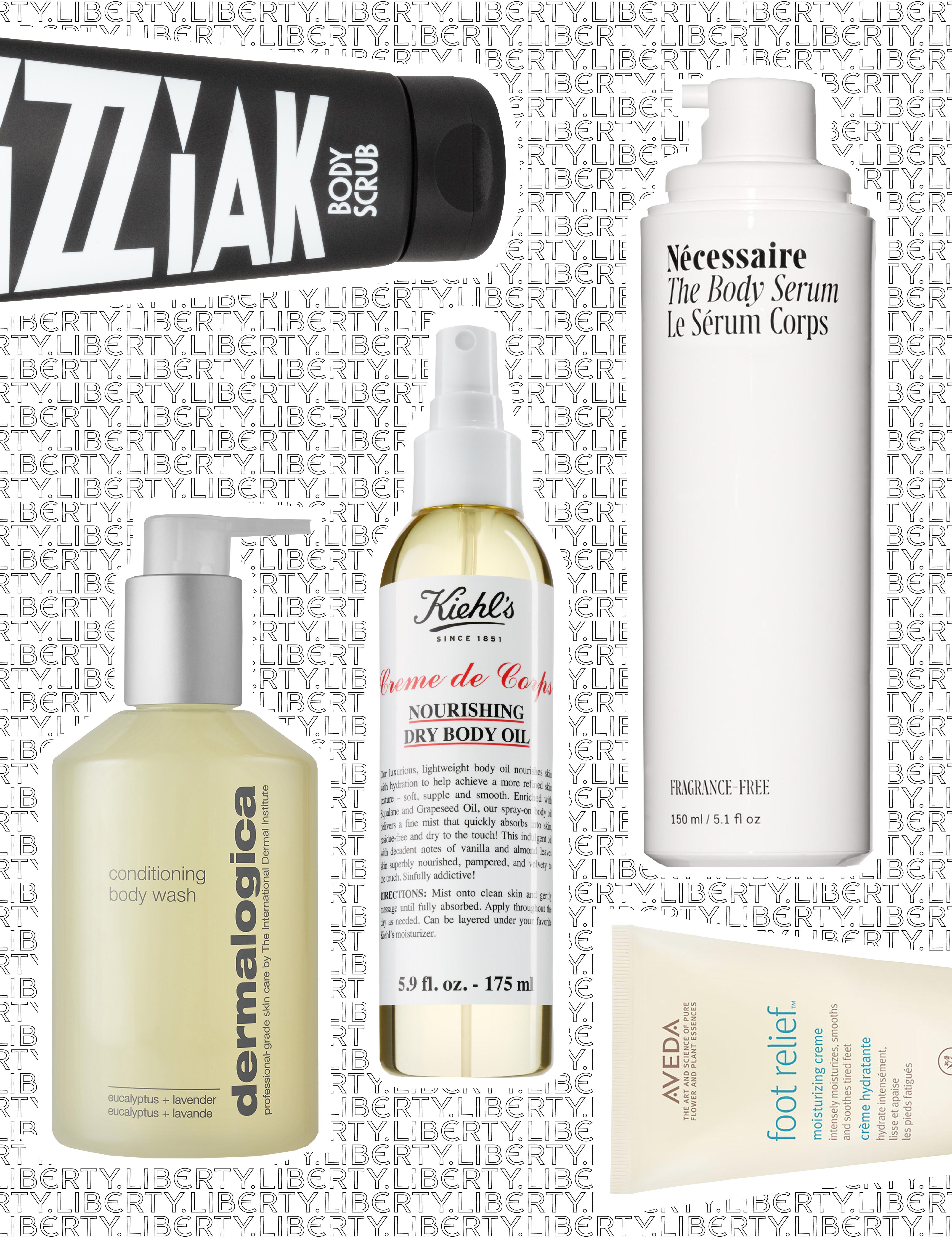 How to Build an Effective Bodycare Routine
Seek solace in Liberty's guide to maintaining comfortable, glowing skin, whatever the weather
By: Laura Kennedy
On the average winter day, it can be easy to forget that we have skin in need of care underneath all those warm layers. Cocooned in soft knits and buttery leather boots on our annual mission to maximise winter snugness, we can lose touch with our skin. We ask a lot of it, subjecting it to everything from gruelling, sweaty workouts and fabric friction to the temperature fluctuation of chilly streets and heated offices. Without a winter skincare routine, the result is tight, flaky, and itchy skin that feels uncomfortable and looks dull or irritated. This is easily preventable with a good bodycare routine and the right products. Here's everything you need to know to build a winter skincare routine for your skin type, the Liberty way.
The Cleanser
On a dark morning, something aromatic helps to enliven us and get us ready for the day, but skin health always comes first. This naturally scented and nourishing formula combines antibacterial rosemary with sharp Chinese eucalyptus, warm sandalwood and soothing lavender. Skin is perfectly cleansed and prepped for skincare.
Shop Now
The Hydrator
We're all familiar with the hydrating miracles that hyaluronic acid can perform. It absorbs instantly into the skin, providing immediate hydration and relief during the cold winter months. This unscented body serum gives winter skin a tremendous hydration boost resulting in glowier, more comfortable skin.
Shop Now
The Moisturiser
If you are prone to dry or flaking skin, a great moisturiser will help boost your skin's barrier function, preventing transepidermal water loss and keeping moisture in the skin. Perfect for dryer skin types, this rich, buttery body cream is packed with nourishing ingredients like inca inchi oil and shea butter for intense, lasting moisturisation.
Shop Now
The Cuticle Care
A hand cream is always good to have in your bag, but many formulations are too thick to absorb efficiently into cuticles and nails without also absorbing into your laptop keyboard, your hair and everything else you happen to touch throughout the day. This hydrating serum contains nourishing oils, including antibacterial tea trea, and is perfect for weak, brittle nails or fraying and damaged cuticles, but it won't feel heavy on the skin. Apply as needed, and before bed.
Shop Now
The Exfoliator
If your skin is oily, a scrub twice weekly will help prevent congestion and keep things in tip top condition. If you're on the dry end of the spectrum, a scrub once a week will prevent dullness and maximise the efficacy of your other skincare. This is the perfect winter scrub – with babassu oil and glycerin, it doesn't strip or stress, but moisturises even as it sloughs away dull surface skin to reveal the plumper, more glowing layer beneath.
Shop Now
The Foot Cream
Every spring we attempt to put neglected feet into open-toed shoes and despair. By maintaining moisturised, comforted skin through the winter, you ensure crack- and callous-free, sandal-ready feet when the time comes. Enriched with lavender, castor and jojoba oils, this softening and deodorising cream will keep feet at their best. Just massage it in before going to bed a couple of nights a week so that it can work its magic as you sleep.
Shop Now
The Oil
Some people love to use a body oil daily for the pretty gloss it gives the skin, and for their intensive moisturising power. This dry oil is supremely comforting, bolstering your skin's natural barrier and keeping it supple and soft. To stave off flakiness and tightness, use a good body oil like this one in place of a serum and moisturiser at least weekly. If you find oil a faff to apply, try massaging it into wet skin in the shower after washing, then towel off as usual when you emerge. Your oil will go further, and you'll be left with intensely moisturised skin rather than any residue.
Shop Now