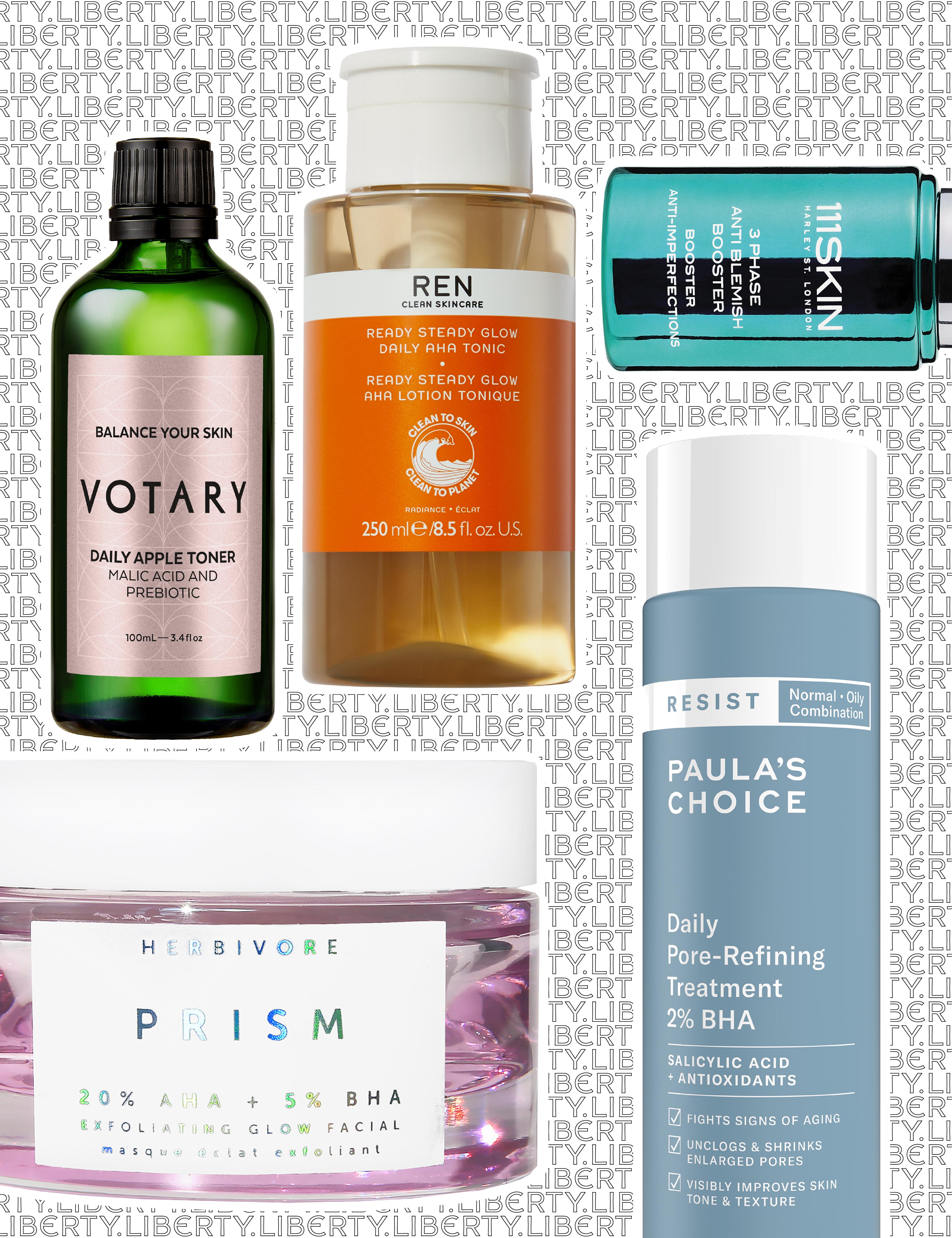 Which Exfoliating Acid Is Right for You?
We know that exfoliating acids can be transformative, but how can you find 'the one' for your skin? Liberty tells all
By: Laura Kennedy
There are three main types of exfoliating acids that we use to chemically exfoliate our skin. AHAs (alpha hydroxy acids), BHAs (beta hydroxy acids) and PHAs (polyhydroxy acids). All three are chemical exfoliants which work to remove dead skin cells, smoothing and brightening skin in the process. Depending on your skin type and needs, some acids will work more effectively for you than others. You can even use some acids in combination for best results.

Hero AHAs are glycolic acid, lactic acid and malic acid. While it's highly effective in speeding up cell turnover, banishing dullness, smoothing texture, minimising lines and wrinkles and improving skin pigmentation, glycolic acid isn't right for everyone. Some people with sensitive skin find that it can cause stinging and irritation. Lactic acid does a similar job but is gentler and can also help with skin hydration, while malic acid is especially good for acne-prone skin and even is known to boost the effectiveness of its fellow AHAs. Unlike BHAs such salicylic acid, AHAs are not oil soluble, so they can't work inside the pores. They work their magic on the surface of the skin.
BHAs are the most effective acids for those who are prone to breakouts and congestion. Salicylic acid is the best-known BHA – it's oil soluble, so it can get right into pores to break down the sebaceous blockages that cause blackheads and spots. In other words, it's an incredibly effective pore 'degunker' (that may not be the scientific lingo, but you get the idea). It's also an effective anti-inflammatory ingredient, helping to reduce redness which can give you clearer, glowier skin. Salicylic acid is your secret weapon when you wake up with an unwanted breakout.
Hyperpigmentation can be challenging to tackle – AHAs are your hyperpigmentation go-tos in tandem with vitamin C. Together, they attack unwanted dark spots and patches with maximum efficiency. When addressing hyperpigmentation with AHAs, glycolic acid is best as the smaller molecular weight allows it to penetrate the skin more deeply. It sloughs away older hyperpigmented skin cells on the surface to reveal the brighter skin underneath.
You can give gentle AHAs like lactic acid a go, but if skin sensitivity is still an issue for you, try PHAs instead. Their molecular size is larger than that of AHAs, so they are gentler on the skin. When you flip over a tub or bottle to look at the ingredients list, look for 'gluconolactone' or 'lactobionic acid'.
Glycolic acid is the gold standard of potent exfoliating acids, and it will work for you. It can cause irritation in some people though. If your skin doesn't tolerate it comfortably, consider a gentler alternative. PHAs are gentlest, but like lactic acid, mandelic acid is one of the gentler AHAs. Like other AHAs, it's effective in reducing the appearance of fine lines exacerbated by dehydration and smoothing uneven skin tone, all of which can become more obvious as we age. Mandelic acid is also a natural humectant, drawing water into dehydrated skin, and it's gentle enough to use daily, so you can sustain its effects over time.